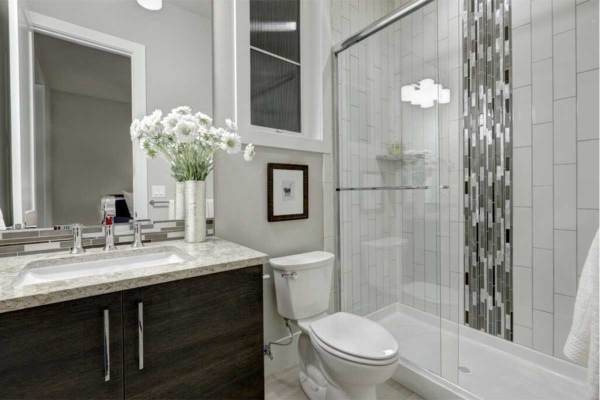 Don't overlook the difference painting your bathroom can make. According to the top interior designers in 2022, the color trends to paint the bathroom are light greens, warm neutral colors and modern blues. As usual, taupe and all-white are trending too. Finding the right color can transform a run-down, average-looking bathroom into a clean, pristine sanctuary. Let's learn more about what the best colors for a bathroom are.
 If you are looking to open the space with paint, picking the right color is an easy and inexpensive way to make it look bigger than it is.
Extra White (SW 7006) – Bright white paint is one of the most popular choices for a bathroom, as it opens the space and is warm enough to make a room feel welcoming. If you increase proper lighting, white is the perfect bathroom color for light energy and is easy to pair with bathroom décor. 
Accessible Beige (SW 7036) – This beige color has hints of brown, creamy white and grey, which combine to make a great neutral color.
 Modern Lavender (SW 9688) – This lavender color is excellent for adding a splash of color to a small bathroom. With touches of equally warm and cool colors, this modern lavender brings a sense of calm to the bathroom.
 Byte Blue (SW 6498) – This light and airy blue can turn any bathroom into a coastal oasis with a spa-like energy. Add in the combination of natural light and a newfound sense of energy will come into the room.
 Georgian Bay (SW 6509) – This bold and energetic pop of blue is one way to spice up a bathroom and this shade of blue would also pair well with light blue or beige décor.
 Agreeable Gray (SW 7029) – This shade of grey is the perfect combination of beige, brown and gray and pairs well with white and other neutral types of décor. This shade of paint becomes brighter with an increased quality of light.
 Other tips:
Increase the quality of light. Keep windows open and let natural light in. If there are no windows in the bathroom, add new light fixtures to increase the quality of light.

Paint every wall the same color. Painting the walls and the ceiling the same color eliminates a break in space and gives the illusion of taller walls, which opens the room.

Choose the tone wisely. Stick to colors and décor in the room that match to create a sense of calm and relaxation.

Less is More. For décor, limit how much you select to put in a small or medium bathroom. Too many decorations can cause a space to seem more cluttered.
If you are looking for professional painters to take care of your bathroom paint job, contact the Nevada Painting Company. The Painting Company is the top residential and commercial painting company in Arizona and Nevada, and we can help you plan your paint job today when you contact us. If you still can't decide which color is best for your bathroom, we offer color consulting to ensure you are happy with the result. Try our online color consulting tools, such as the Sherwin-Williams color online simulation tool.
Members of the editorial and news staff of the Las Vegas Review-Journal were not involved in the creation of this content.