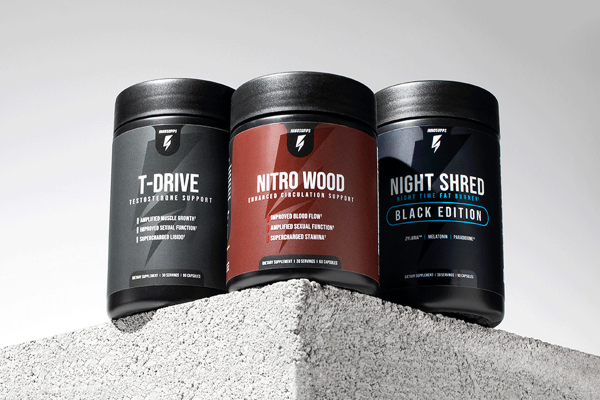 If you've heard of Inno Supps' Supercharged Male Stack, then you're probably aware of their claim to revolutionize men's health on every level. 
But what do they mean by "every level" of men's health? 
How does revolutionizing each of these levels impact your performance? 
And is the Supercharged Male Stack actually effective when it comes to improving each area of men's health?
We decided to examine these claims in order to discover what the Supercharged Male Stack is and what it means for men's health, performance and virility.
Keep reading to discover the three elements of male performance and how each supplement in the Supercharged Male Stack impacts male vitality in the gym and beyond.
The 3 Elements of Maximum Male Performance
#1. Testosterone is tied to nearly every aspect of men's health and performance. When levels are optimal like they are in your 20s, you have plenty of energy, endurance and drive. 
As time goes on, several factors can interfere with testosterone, draining your virility and resulting in symptoms like…
Brain fog 

Muscle loss

Mood swings

Low drive
If you're experiencing any of these symptoms, optimizing your testosterone levels is CRITICAL for operating at your best. 
#2. Circulation is crucial for overall health. When blood flows freely, oxygen and nutrients are delivered to your brain, muscles, bones and organs. 
But poor circulation can create issues like:
Swelling and puffiness

Impaired muscle recovery

Low energy

Unstable blood pressure
Boosting circulation is a key element of male performance in the gym, the bedroom and beyond. 
#3. Sleep is critical for natural testosterone production, muscle recovery, energy levels and overall health.
But tossing and turning for hours on end and waking up feeling groggy doesn't really count. 
Poor sleep quality can drain your vitality on all levels, from energy to motivation and even mood. 
Getting eight hours of deep rejuvenating sleep allows your body and mind to fully recover from your day so you have what you need to perform your best. 
Supercharged Male Stack by Inno Supps
The Supercharged Male Stack is a combination of three supplements that target the three elements of maximum male virility: testosterone levels, circulation and sleep. 
While some supplement companies skimp on quality ingredients, Inno Supps' commitment to helping people achieve real results shines through in their products. 
Each supplement includes only the cleanest, most researched natural ingredients at clinically effective doses to ensure their products are safe to use and actually do what they claim. 
Keep reading for a quick breakdown of each supplement in the Supercharged Male Stack and how it can completely transform each element of your performance and virility. 
T-Drive: The Best Supplement for Boosting Testosterone
Optimizing your hormone levels means more than just boosting testosterone. 
Science shows that men's health and performance may have less to do with total testosterone levels and more to do with the stress hormone cortisol.   
Elevated cortisol levels can completely block the effects of testosterone and prevent your body from making more. This is the real reason why many men experience symptoms like fatigue, muscle weakness and unstable mood. 
In order to combat cortisol and boost testosterone, T-Drive includes a highly concentrated, full-spectrum extract of ashwagandha called KSM-66®.
In a study of 64 adults, KSM-66 lowered cortisol levels by 27.9% in a matter of eight weeks.
In another 90-day pilot study of 46 male patients who consumed 675 mg of KSM-66 ashwagandha daily, they reported a 17% increase in serum testosterone levels.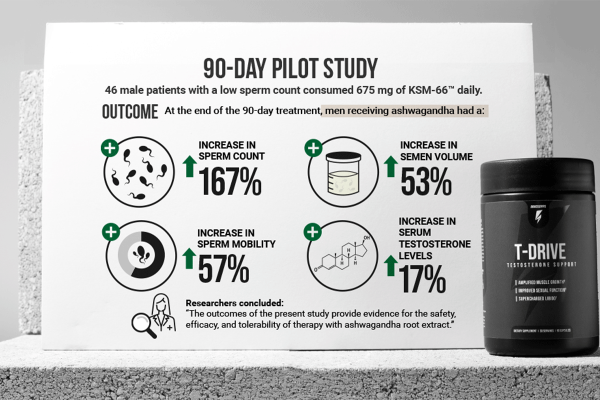 T-Drive also includes a group of nine other herbs, vitamins and minerals, which are clinically shown to help your body produce more testosterone naturally.
By combating cortisol and helping your body produce more testosterone, T-Drive is a game-changer for optimizing male hormones. 
Nitro Wood: Groundbreaking Blood Flow Booster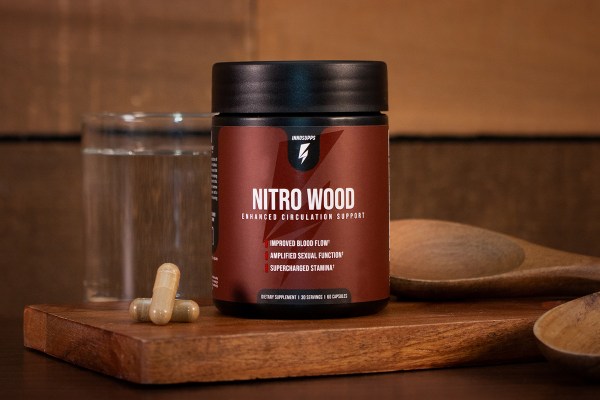 Nitro Wood is a cutting-edge combination of natural ingredients that increases blood flow throughout your entire body. 
Here's how it works:
Nitric oxide is your lifeline for improving blood flow. It's a natural compound produced by your body and it helps your blood vessels expand, which helps blood flow freely to every area of your body. 
S7®, the main ingredient in Nitro Wood, has been clinically shown to help your body increase nitric oxide production by up to 230%.
Nitro Wood also includes six other circulation-boosting ingredients to help: 
Increase strength and endurance in the gym

Improve muscle recovery while reducing soreness 

Improve mental clarity, focus and energy 
With supercharged circulation, you'll also find it easier to perform at your best in all areas of life.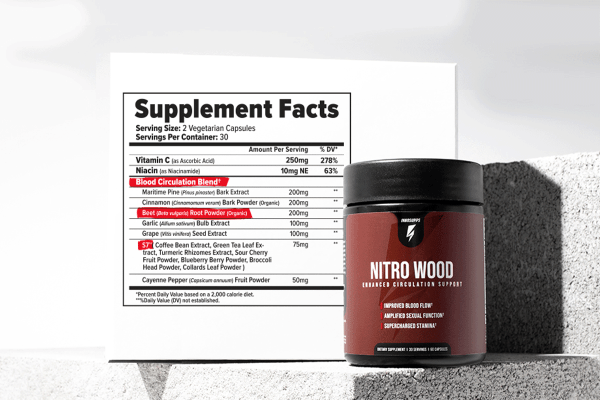 Night Shred Black: Get Deep Sleep While Burning Fat All Night
Night Shred Black is a life-saver for anyone struggling with sleep, and its added effects make it a must-have supplement for any man looking for a shredded physique
Night Shred Black contains Zylaria™ which helps relax the nervous system from the inside out and primes your body for deep REM sleep.
Unlike over-the-counter sleep aids, the effects of Zylaria won't wear off after a few days, and you'll wake up feeling refreshed and energized — never groggy. 
Night Shred Black also includes grains of paradise. This herbal extract activates brown adipose tissue which boosts your metabolism and helps your body burn fat around the clock. 
By promoting deep sleep while priming your body to burn fat, Night Shred Black is crucial for optimal performance, overall health and a lean, strong physique!
Conclusion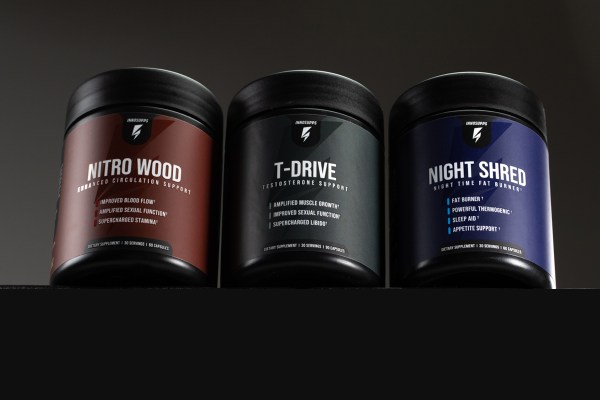 By optimizing your hormone levels, supercharging circulation and promoting great sleep the Supercharged Male Stack naturally helps:
Supercharge mental and physical performance

Massively boost energy levels and physical endurance

Increase mental clarity and focus

Promote muscle growth and increased strength

Balance out your mood and reignite your motivation 

Accelerate weight loss for a shredded lean physique 
This stack gives your body everything it needs to reach peak performance in the gym, the workplace and beyond.
Plus, all Inno Supps products are clean, natural and made right here in the USA with a rigorous third-party certification and testing process. 
That means you can trust each product to be safe, natural and effective. 
They stand by their products with a 30-day money-back guarantee, so you can try the Supercharged Male Stack for yourself with NO risk. 
Click here to head on over to the Inno Supps site to learn more and get your supply.
Members of the editorial and news staff of the Las Vegas Review-Journal were not involved in the creation of this content.
The opinions in this article do not necessarily reflect the opinions of the Las Vegas Review-Journal and you should consult your doctor before beginning any new health related practice.