When I made the decision to lose weight (again), I promised myself I wouldn't try another crash diet. I know they don't work long term, but can you blame a girl for wanting to see overnight results?! 
I did a lot of research and stumbled upon an "inside-out" approach to weight loss that isn't a crash diet but does have the potential to provide results within 24 to 48 hours. But even better, it promises to prime your body to be in a better place to continue to lose weight and keep it off.
I had no idea all the ways the gut impacts our overall health. Turns out the state of your gut plays a significant role in weight loss. There are even studies that show lean people have different bacteria than those that are obese. (1,2)
I discovered that cleansing the gut of toxins is the first step in giving gut bacteria a healthy place to thrive, so I decided to give Inno Supps Inno Cleanse a try. I never thought I'd be telling the world about what goes on behind my bathroom door, but here we are. 
What Is Inno Cleanse and What Are The Ingredients?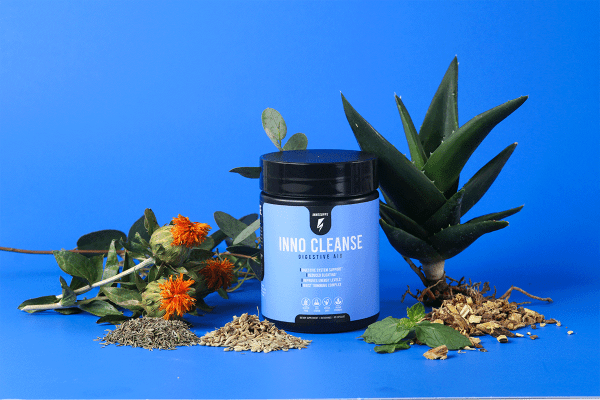 I picked Inno Cleanse because it has thousands of positive reviews and is endorsed by a highly trusted gastroenterologist. I've also used several other products by Inno Supps, the company that formulates Inno Cleanse, with excellent results, and I know they are a trusted supplement company. 
Inno Cleanse is a unique mix of clinically backed natural ingredients known to gently clean and detoxify the gastrointestinal tract (you won't be rushing to the bathroom or double over in pain), helping your digestive system do its work faster and safer. 
Here is a breakdown of the clinically studied ingredients in Inno Cleanse and how they work together to detoxify the gut, decrease bloat and tighten your waist! 
Cascara Sagrada: A gentle laxative that works by causing painless muscle contractions in the intestines. It can help move stool through the intestines, helps excrete excess intestinal waste and can help prevent loose and watery stools.
Cape Aloe: Also a mild and natural laxative, cape aloe is well-known to support bulk bowel movements and colon health. Studies show its effectiveness in promoting regularity and naturally relieving constipation. It also is touted for its anti-inflammatory properties.
Fennel Seed: Using fennel is clinically shown to help reduce water retention by helping flush out excess fluids from your body and cleansing the urinary tract and digestive system. Fennel seed is also a rich source of fiber and can help improve vitamin and mineral absorption in the body, reduce food cravings and mildly suppress the appetite.
Bentonite: Bentonite is widely known as a detoxifying agent. For a long time, bentonite was considered a treatment for diarrhea. Bentonite clay also helps your gut absorb more nutrients by increasing the flora in your intestines.
Milk Thistle: The gut and liver are very closely connected; one has the power to influence the other. This herb is widely known to support liver health by protecting it against harmful toxins. 
Inno Cleanse also contains senna leaf powder, frangula bark powder, burdock root powder, licorice root extract, slippery elm bark powder and capsicum – all of which are natural ingredients that have clinical backing to further promote healthy digestion, waste elimination, reduced bloating, hunger regulation and improved overall gut health.
Once your gut is free of all this backed-up waste, it creates a domino effect that improves overall health, such as:

Improved immunity 

Better sleep 

An improved mood 

Improved digestion

And most importantly (for the topic of this review anyway) – weight loss!!! 
Yes, some of the weight you lose when taking Inno Cleanse is "waste," but some is fat too! A healthy, cleansed-out gut creates an environment for a more balanced gut microbiome, which is shown to be connected to our ability to lose weight and keep it off! (1,2)
Additionally, many herbs in Inno Cleanse are shown to suppress the appetite, relieve water retention and improve liver health — all things that can make weight loss faster and easier!
What I Noticed In The First 48 Hours Of Taking Inno Cleanse
Considering my past experiences with other cleanses that left me running to the bathroom and sitting on the toilet all day in pain, I didn't want to take Inno Cleanse for the first time on a workday. So, I picked a weekend I would be at home with no plans.
I took Inno Cleanse on a Saturday evening around 8 p.m., went to bed and woke up around 6 a.m. Nothing immediately, so I went about my usual morning routine of yoga, a protein shake and some errands. Shortly after, around 10 a.m., I got "that feeling." Not the one I experienced with other cleansing products. I just felt a slight gurgling in my stomach, telling me I needed to go No. 2. 
Sorry if this is TMI; I promised an honest review…
I went A LOT! I didn't know that so much "waste" could be stuck in my body!! It wasn't painful, I had no cramping, and my stool was soft and easy to pass. That was round one. I didn't think there was ANY way anything else could come out of me, but shortly after lunch, I went again. I didn't "flush away" as much the second time, but it was still a healthy amount.
That was it for the day. I felt lighter and tighter, and the bloat I usually had throughout the day was completely gone! 
I did weigh myself on morning one. Before going on day two, I stepped on the scale and was shocked. I was three pounds lighter than the day before!!! I continued to monitor my weight, and after only three days of taking Inno Cleanse, I was already down six pounds!!! 

What I Noticed After Two Weeks Of Taking Inno Cleanse

I continued to take Inno Cleanse every evening before bed for 14 days– which is the recommended protocol. After the first few days, I didn't go "as much," but I continued to have a healthy bowel movement every day and was still flushing away much more than usual. 
I didn't step on the scale again until the end of 14 days. To my surprise, I lost a total of eight pounds! I hadn't changed anything about my diet, exercise, sleep, etc. The only change was taking Inno Cleanse. 
Weight loss wasn't the only perk. My stomach continued to tighten up more and more every day, my jeans fit better, I noticed my energy levels were MUCH higher, and I was in an overall better mood! 

What I Noticed After Consistent Use Of Inno Cleanse 
I continued to follow the protocol of two weeks on and two weeks off and have been doing this for three months. During the weeks I'm taking Inno Cleanse, I definitely "flush away" more waste. But Inno Cleanse continues to work even when I'm not taking it. I go every day, sometimes twice a day and my bowel movements are much healthier. I don't have bloat anymore and am finally seeing lines in my abs I've never seen before!! 
After three months, I was down 12 pounds (and have kept it off) and feel lighter, tighter, more energized and happier than ever. 
How Inno Cleanse Compares To Other 'Cleanses' I've Tried 
There isn't a comparison. Every cleanse or laxative pill I've tried in the past either hasn't worked, been unpredictable, or left me rushing for a bathroom, doubled over in pain, bloated, gassy and miserable. I did not experience any of these things with Inno Cleanse.
I don't know how they do it considering some (not all) of the ingredients in Inno Cleanse are found in other popular natural cleanses. I guess it's the quality, dosages and combination of ingredients that they use? Either way, they nailed the formula.
For the sake of my gut health and waistline, I hope they never stop selling Inno Cleanse. 
Inno Cleanse Value 
Inno Cleanse could have cost 4x the amount it does, and I'd still say it's worth every penny, but luckily it is very affordable. 
Inno Cleanse is priced the same (if not slightly less expensive) as other "cleanses" I've tried, running around $39.99 a bottle. But I get it for 57% off because I signed up for the 90-day supply subscription.
Inno Supps also frequently offers a percentage off promotion if you are on their email list or follow them on social media.
Final Thoughts On Inno Supps Inno Cleanse 
I've always been a "fad diet" junky. I never considered taking an inside out approach to weight loss and then following that up with the basics– eating enough protein, focusing on whole foods, and exercising a few days a week with resistance and a little bit of cardio. I get it now and will never go back to my old ways. 
Inno Cleanse will forever be part of my supplement stack and TMI or not, I'll happily share my "toilet confessionals" with everyone I know (and the millions of people reading this that I don't).  
Give it a try! You have nothing to lose (except some weight) because Inno Supps offers a money-back guarantee! If you don't have the same experience that I did, just hit them up for a full refund! Click here to read more raving reviews and pick up your bottle of Inno Cleanse risk free today!

P.S.
After further research, I realized it shouldn't end there. You need to flood your gut with a variety of good bacteria (prebiotics and probiotics) and then seal the deal with postbiotics (something I'd never heard of before). So, I decided to upgrade and purchase Inno Supps Complete Gut Health Stack, which includes Inno Cleanse, Inno Gut Restore, and Inno Gut Protect, for total gut restoration from three crucial angles. 
References
1: https://www.ncbi.nlm.nih.gov/pmc/articles/PMC4933688/ 
2: https://link.springer.com/article/10.1007/s13238-018-0546-3
Members of the editorial and news staff of the Las Vegas Review-Journal were not involved in the creation of this content.
The opinions in this article do not necessarily reflect the opinions of the Las Vegas Review-Journal and you should consult your doctor before beginning any new health related practice.