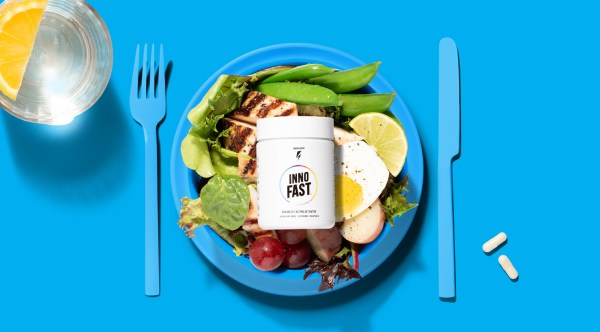 There's an excellent reason why intermittent fasting is one of the No. 1 diets in the world!
Unlike traditional diets that focus solely on what you eat, intermittent fasting emphasizes when you eat. By incorporating periods of fasting into your routine, your body can tap into its natural ability to heal and optimize overall health. 
Weight loss is one of the main benefits, but intermittent fasting offers so much more! It can help fight aging, enhance longevity, support healthy blood sugar levels, improve cognition, energy levels, gut health and sleep.
What happens to your body when you fast? 
But first, I will explain what happens within your body when you fast. During fasting, your insulin levels decrease, leading to fat-burning and ketone production. This metabolic shift can promote healthy blood sugar levels and increase glucose sensitivity, which offers decisive advantages for overall well-being and effective weight management.
Fasting also forces your body to break down stored fat into energy. This explains the incredible weight loss benefits of fasting, as your body sheds excess fat for a healthier, lean physique. 
Since body fat is a more efficient fuel source, you may also experience other benefits of utilizing fat as fuel, such as elevated energy and sharper mental clarity.
Intermittent fasting and autophagy 
Fasting also triggers autophagy, a cellular process where damaged cells and cellular components are recycled and used to generate new, healthy cells. This renewal process produces powerful anti-aging effects that you can both see and feel and can support longevity. 
Old cells are also a significant source of free radicals and contribute to oxidative stress and inflammation. Removing them through autophagy can break this cycle and help improve immune function while preventing disease and promoting longevity from within.
When your body is in a fasting state, it also dramatically improves cognitive function by triggering the release of beneficial hormones such as acetylcholine and Brain-Derived Neurotrophic Factor, also known as BDNF.
These powerful hormones work synergistically to help enhance focus, memory, mental clarity, mood and motivation. 
While all forms of fasting offer benefits, it's important to note that many of the processes mentioned above occur at advanced stages, typically 18 hours of fasting and beyond. 
As a practicing physician, I have seen firsthand the incredible health benefits that intermittent fasting has unlocked for my patients' help, which is why I am so passionate about ensuring the benefits of fasting are accessible to everyone. 
Introducing Inno Supps Inno Fast, the intermittent fasting solution for success
Nutritional supplements like Inno Supps Inno Fast, by nutritional supplement company Inno Supps, are playing an increasingly vital role in supporting and optimizing the benefits of intermittent fasting.
Recognizing the challenges and limitations of extended fasting, Inno Fast offers a convenient and effective way to unlock the benefits of fasting in three unique ways:
Fasting with food – The cutting-edge formula of Inno Supps Inno Fast harnesses clinically proven natural ingredients that mimic the effects of fasting, even without changing your eating habits.
Kickstart Your Fasting Journey –  Inno Fast is the ideal starting point for anyone interested in fasting. Experience reduced cravings, boosted metabolism and minimized carb absorption, making fasting accessible and effective for all.*
Enhance Your Fast – Inno Fast serves as a powerful catalyst to amplify and expedite the benefits of fasting by unlocking results that are usually available only after extended fasting periods.
These three incredible mechanisms make Inno Fast a complete game-changer for anyone interested in intermittent fasting, making the benefits accessible to all.
A few of the revolutionary ingredients in Inno Fast are broken down and explained why they are so effective at unlocking the benefits of fasting for everyone. 
Cutting-edge ingredients for intermittent fasting results
Yuth™ activates autophagy by tricking the body into thinking it's in a fasted state. This unlocks the anti-aging benefits of cellular renewal without extended fasting and enhances the benefits you receive in shorter fasting periods.
SoWell™ has incredible benefits, especially for cognitive function. The neuroprotective properties help improve mood, motivation, stress levels, memory and focus. 
Niacin is an ingredient that can increase NAD+ levels in the body. Increasing these levels can have profoundly positive effects for mimicking or enhancing the benefits associated with intermittent fasting, like DNA repair, energy metabolism and metabolic health.
Chromax® helps enhance metabolism, supports healthy blood sugar levels and suppresses appetite and cravings, making it easier and healthier to get started on your fast while accelerating weight loss results. 
As a board-certified MD, I wholeheartedly recommend Inno Supps Inno Fast to anyone looking to experience the benefits of fasting. With this innovative blend, you can optimize the benefits of fasting in a safe and controlled manner and the results only get better with time. 
Like intermittent fasting, the best results tend to happen between 90 to 180 days, leading to rapid fat-focused weight loss, powerful anti-aging effects and incredible improvements to overall health, wellness and longevity. 
Inno Fast is made with the highest quality natural ingredients, manufactured in GMP-certified facilities according to the strictest guidelines and third-party tested to help keep you safe. 
If you're looking to:  
Unlock the fountain of youth and enhance longevity

Activate laser-sharp focus and mental performance 

Lose and maintain weight loss
Give Inno Supps Inno Fast a try!
The opinions in this article do not necessarily reflect the opinions of the Las Vegas Review-Journal and you should consult your doctor before beginning any new health related practice.
Members of the editorial and news staff of the Las Vegas Review-Journal were not involved in the creation of this content.