Are you looking for a way to maximize your weight loss goals, get an energy boost, and sustain that feeling throughout the day? You're working hard to eat healthy and exercise, but you don't see the results you want. It's frustrating when you're doing everything "right" and don't see the progress you expect. You may feel like you're stuck on a plateau or that your metabolism is just slow. The Inno Supps Thermo Shred Stack can help. 
This powerful supplement stack features natural ingredients designed to help support healthy metabolism and fat-burning. These four supplements include a fat burner, a night-time fat burner and sleep aid, thermogenic carnitine and digestive aid. Taken together, these supplements will help boost your metabolism, burn fat while you sleep, improve digestion and give you more energy throughout the day. 
Read on to learn more about the unique products in this stack and how they can help achieve your desired results in less time!
Inno Shred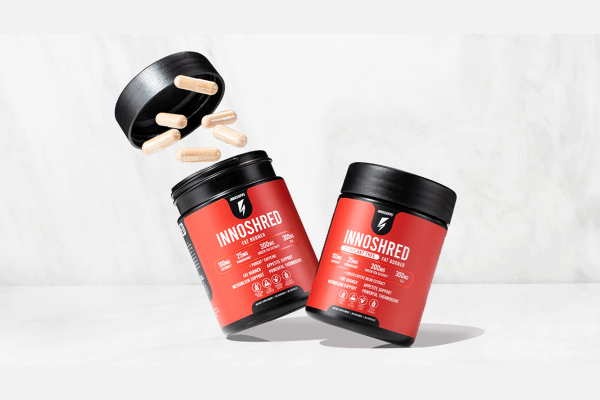 Introducing Inno Supps Inno Shred — the ultimate fat burner! This premium product contains natural ingredients such as Capsimax® and grains of paradise to help your body burn fat 24/7 (). It also includes other beneficial fat-burning ingredients, such as green tea extract, alpha yohimbine and caffeine. 
These natural ingredients give you all the power you need to:
Rapidly burn fat.

Improve your metabolism.

Increase BAT (brown adipose tissue) to burn more fat year-round. 
Night Shred
Next up is Night Shred, a special blend of vitamins and minerals that'll deliver excellent fat-burning results and also help you sleep. So take Night Shred before bedtime as part of a balanced diet and exercise plan and watch the pounds melt away! 
What makes Night Shred so special? The key factor is its combination of ingredients that optimize the quality and quantity of your sleep and put your body in a fat-burning state as you get shut-eye. These ingredients include:
GABA (gamma-Aminobutyric acid)

Chamomile

Passionflower

Valerian Root

Ashwagandha (KSM-66Ⓡ)

Grains of Paradise

CLA (Conjugated Linoleic Acid)

L-Carnitine

Melatonin
Not only does this lead to better fat-burning results, but it also helps with optimal muscle recovery, leading to improved workouts over time. 
In addition, Night Shred doesn't include any caffeine or other stimulating ingredients, making it perfect for those wanting to achieve their dreams without insomnia that many fat burners have — making it the ideal fat burner to take at night! 
Volcarn 2000
Volcarn 2000, a thermogenic carnitine supplement to enhance your workout regimen, is also included in the Thermo Shred Stack. Volcarn 2000 helps you burn fat and convert it into ATP — usable energy for more intense physical activities. 
After taking Volcarn 2000, you'll feel the effects for up to three hours, sweating more as your body utilizes its fat cells for energy.
With Volcarn 2000, you can take your fitness routine to the next level. Its thermogenic properties will help you push harder and longer than ever before. In addition, it's engineered from a top-shelf combination of ingredients — L-carnitine base + GBEEC (gamma-butyrobetaine ethyl ester chloride) — to maximize effectiveness.
So working out while taking Volcarn 2000 is an enriching experience. It suits many sports activities as it helps maintain energy levels during workouts or events — ensuring that you can achieve peak performance without feeling drained afterward. 
With Volcarn 2000 in your system, challenging workouts become just a bit easier, allowing you to take on more intense ones and master them without depleting all your energy reserves too quickly!
Inno Cleanse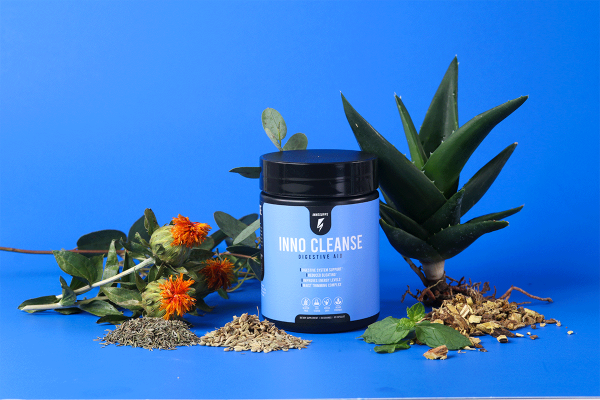 Are you looking for a new way to feel clean and energized? Introducing Inno Supps' Inno Cleanse: the ultimate digestive aid that nourishes and flushes out your gut and intestine. This product is specifically designed to push out unwanted toxins from the body, helping you look and feel your best in no time. 
This is all thanks to its blend of key ingredients, such as cascara sagrada (), cape aloe, fennel seed, bentonite and milk thistle. 
With regular consumption, users have reported the following:
Weight loss

Increased energy levels

Improved digestion

A general feeling of being light and healthy
You can expect to start seeing changes within 24 to 48 hours — waste will be eliminated, and your waist will begin to trim down. No more bloating, constipation and an insatiable appetite! Plus, since Inno Cleanse comes in convenient capsules, there's no need to buy unique juice mixes or adhere to strict diets — add the supplement to your existing routine!
Why Choose Inno Supps?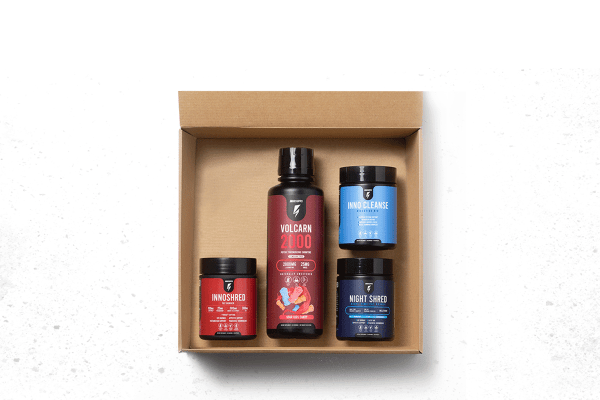 Inno Supps is the creator of the Thermo Shred Stack. Inno Supps is a trusted brand that offers premium quality supplements. With years of experience in the industry, they have developed a reputation for delivering high-quality products that are safe and effective. 
All their supplements are manufactured in a USA FDA-approved facility that follows GMP guidelines, so you can be sure you're getting the highest-quality product. 
All Inno Supps supplements contain zero artificial sweeteners, fillers and harmful additives, separating themselves from the herd. Unfortunately, most supplement brands can't say the same, and many that claim to be "all-natural" contain sucralose (sugar + chlorine). 
Overall Value
If you want to boost your metabolism and help your body burn fat more efficiently, Inno Supps Thermo Shred Stack is the way to go. Packed with powerful thermo-energizing ingredients, this stack of four supplements provides the ultimate combination of fat-burning and energizing benefits. 
This powerful combination of supplements releases free fatty acids into your bloodstream and forces your body to burn them for energy. Plus, getting these supplements in a stack will keep more money in your wallet. 
Don't wait any longer to start shredding fat — order Inno Suppps Thermo Shred Stack today to unleash your inner beast! 
Members of the editorial and news staff of the Las Vegas Review-Journal were not involved in the creation of this content.
The opinions in this article do not necessarily reflect the opinions of the Las Vegas Review-Journal and you should consult your doctor before beginning any new health related practice.