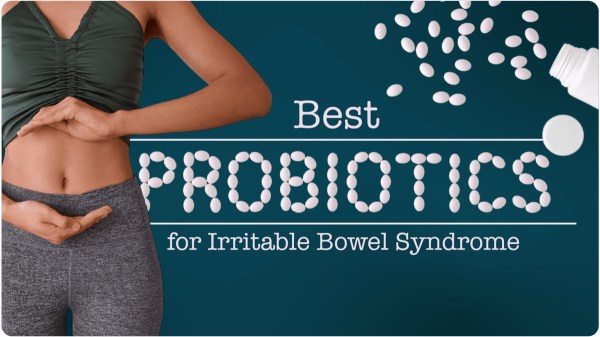 Irritable Bowel Syndrome, commonly known as IBS, is a gastrointestinal illness that can significantly lower your quality of life. While the condition isn't chronic, it can make you miss out on important work, school, or social activities, exactly why it's essential to address the problem and minimize the symptoms.
Common symptoms associated with IBS include abdominal discomfort, bloating, constipation and diarrhea. Fortunately, several trusted and proven ways exist to manage IBS and treat its symptoms.  In addition to lifestyle changes and taking up a healthy diet, you can use probiotics to improve your gut health and keep the symptoms of IBS at bay. However, for probiotics to have the desired effect, you must invest in high-quality products with the right balance of nutrients. 
But what are some of the best probiotics, and what should you look for when planning to include them in your diet? We'll review some of the best probiotics in the market, paying close attention to factors like bacteria strains, colony forming units (CFU) count, dosage, form, pricing and customer reviews. 
What Are the Best Probiotics for IBS (Irritable Bowel Syndrome)

VSL 3 contains eight bacteria strains from three genera that function synergistically to make the probiotic potent. You can choose from three potency options: 112.5 billion CFU, 450 billion CFU and 900 billion CFU, which is significantly higher than many brands. 
The probiotic supplement is manufactured in GMP-grade facilities and is shipped cold to guarantee peak viability throughout its shelf life. VSL3 stands out as one of the most recommended multi-strain probiotics and is suitable for use up to four times a day, depending on your unique needs. 
With over 1,500 5-star reviews on Amazon, there is no denying that VSL3 is among the best probiotics for people looking to manage IBS symptoms and improve their overall health. 
Bacteria Strains
Streptococcus thermophilus

Bifidobacterium breve

Bifidobacterium lactis 

Lactobacillus acidophilus

Lactobacillus helveticus 

Lactobacillus plantarum 

Lactobacillus paracasei
Colony Forming Units (CFU) Count 
Quantity 
60 capsules per bottle 
Dosage
1 to 2 capsules, as needed. It can be taken up to four times daily, and it is best to consult your physician to determine the ideal dosage based on your condition. 
Form 
Capsules 
Pricing 
1 bottle

– $65

2 bottles

– $124.95

3 bottles

– $161.06

4 bottles

– $202.46
Customer Review  
VSL3 stands out as one of the few probiotics with excellent online reviews. Doctors highly recommend it, and most clients love that it works fast. Several clients claim that it's the only probiotic that works for them to contain the symptoms of IBS. Almost every user claims that IBS symptoms tend to resurface if the probiotic isn't taken daily. 
>> Check out VSL 3 <<
Pros 
100 billion live bacteria 

Stored and shipped under refrigerated conditions

Bacteria diversity

Recommended by gastroenterologists

Can be stored at room temperature for up to two weeks
Cons

Clear Gut and Immunity features a 5-in-1 formula that, besides improving your gut health, also helps reduce IBS symptoms. It contains two probiotic strains that balance the gut microbiome, improving digestive health, systemic wellness and mood. You can also count on the probiotic to boost your immune function and energy levels, as its unique blend promotes efficient absorption and nutrient processing. 
In addition to the bacteria strains present, Clear Gut and Immunity also contain ingredients like Slippery Elm and the Reishi mushroom in addition to the bacteria strains present. These two ingredients are vital for soothing the gut (Slippery Elm) and supporting cardiovascular health (Reishi mushroom). 
It's also worth noting that the veggie capsules are delayed-release, which ensures that the probiotics make their way past stomach acids and deep into the gut. The probiotic is arguably your best bet if you're looking for a top-drawer product that doesn't require refrigeration. 
Bacteria Strains
Lactobacillus Rhamnosus 

Bifidobacterium longum
Colony Forming Units
20 billion 
Quantity 
60 delayed-release capsules 
Dosage
2 capsules daily (with or without food)
Form 
Veggie capsules
Pricing 
1 Bottle

– $27.30 

3 Pack

– $23.70

6 Pack

– $56.70
Customer Reviews 
The product has many positive reviews, with most clients appreciating its ability to restore gut health and stop bloating. While some clients claim the effects become apparent within a week of usage, they all agree that consistency is key for the product to work its magic. Some clients complain about taking two pills daily but that the outcomes are well worth the effort. 
>> Check out Clear Gut and Immunity <<
Pros 
20 billion CFU

Vegan 

Preservative free

Shelf stable

5-in-1 prebiotics and probiotics formula

365-day money-back guarantee

Boosts immune function while boosting digestion and energy
Cons
Not the largest variety of bacterial strains

The Mindbodygreen Probiotic is designed to be taken once daily (one capsule in the morning) with or without consuming food. By the second week of taking the probiotic daily, you'll notice a reduction in abdominal discomfort and healthy bowel movements. There will also be a significant reduction of gas and your body's overall digestion time. 
By the third week of consuming Mindbodygreen Probiotic, you'll notice reduced bloating and a significant reduction of severe IBS symptoms. Once you've taken the probiotic for six months, you'll notice a reduction in waist circumferences, especially if you have a healthy lifestyle and consistent workout routine. Most clients who've used the products report a 3 to 4 percent reduction in fat mass in the abdomen. 
The Mindbodygreen Probiotic+ improves gut health and reduces irritable bowel syndrome symptoms, keeping your weight in check. The trick is to be as consistent as possible by taking the capsules daily to increase the number of beneficial intestinal microbiota.
Bacteria Strains 
Bifidobacterium lactis BI-O7

Bifidobacterium lactis B420

Bifidobacterium lactis HN019

Lactobacillus acidophilus NCF
Colony Forming Units 
32 billion
Quantity 
30 pills per bottle 
Dosage 
One pill every morning (with or without food)
Form 
Capsules
Pricing
One bottle – $80

One-month subscription- $69

3 bottles – $206.4
Customer Reviews 
Most clients claim that the probiotic is ideal for daily use and mainly helps with bloating. Several reviewers appear content with the probiotic dosage as you'll only need to take one capsule every morning, unlike other products that require you to take two or even four capsules daily. 
>> Check out The Mindbodygreen Probiotic <<
Pros 
No preservatives, shellacs, gums, coating, or binders

GMO-free

Reduces bloating

Helps with weight management 

Free US shipping on orders above $98

Helps with nutrient absorption and digestion
Cons
Relatively costly 

Takes some time to work
The Women's Probiotics and Prebiotics contain D-Mannose and Crantiva Cranberry juice powder that help remove yeasts and bacteria from the urinary tract, effectively reducing the risks of UTI.  The four bacteria strains are crucial to improving your immune system and gut health. 
Regular usage of the probiotic translates to improved digestion and reduced bloating. What's more, the increased number of good bacteria in the gut enhances nutrient absorption, leaving your skin looking younger while promoting sustainable weight loss. 
It's also worth noting that the product uses an Activ-Polymer bottle to limit exposure to moisture. The bottle has a desiccant sleeve that keeps the capsules in tip-top condition for up to 2 years at room temperature. 
Bacteria Strains 
Lactobacillus acidophilus La-14 

Bifidobacterium lactis B1-04

Bifidobacterium bifidum Bb-06

Bifidobacterium longum B1-05
Colony Forming Units 
Quantity 
60 vegetarian capsules per bottle 
Dosage 
One capsule per day, most preferably in the morning hours before breakfast 
Form 
Capsules 
Pricing 
$20.99
Customer Reviews 
Based on the thousands of positive online reviews, it's safe to assert that Women's Probiotics is ideal for both gut and feminine health. Ladies appreciate the money-back guarantee that comes with the product. Hundreds of female users claim a reduction in cases like yeast and bacterial infection in the urinary tract. 
>> Check out Women's Probiotics and Prebiotics <<
Pros 
Uses Activ-Polymer bottles to keep contents fresh and potent 

Improves vaginal health and prevents UTIs

Delayed release capsules 

Nut, dairy, egg, soy and salt-free

2-year shelf-life at room temperature

100 percent money-back guarantee
Cons 
Not the highest CFU count
Culturelle Digestive Daily Probiotic Capsules are your best bet if you're the type that's affected by occasional gut problems like bloating, diarrhea and gas during travel. While a single daily dosage is highly recommended, you can take the probiotic when traveling. In such instances, it's best to start taking the capsules three to four days before the actual travel to refresh your gut and reduce the chances of digestive upset. 
Bacteria Strains
Lactobacillus rhamnosus  
Colony Forming Units 
10 billion
Quantity 
30 capsules per bottle, also available in a larger bottle containing 50 capsules 
Dosage 
One capsule a day (for daily use)

Two capsules a day (if experiencing digestive upset)

Two capsules a day when traveling and you experience digestive upset
Form 
Capsules 
Pricing 
$16.19
Customer Reviews 
Culturelle Digestive Daily Probiotic has hundreds of positive online reviews compared to the scattered negative ones. Those who complain about the product mention the time taken to notice positive effects. However, several appreciate that it can be taken more frequently during travel to tone down gut problems. 
Pros 
Suitable for travel 

GMO, nut, dairy and wheat-free

Shelve-friendly 

Double aluminum blister card for better protection

Flexible usage
Cons 
How Do We Pick the Best Probiotics for IBS
When coming up with our list of best irritable bowel syndrome (IBS) probiotics, we considered several factors to ensure that we only review top-drawer supplements, as explained below.
Safety
The whole idea of using supplements is to boost your health and not expose you to additional health risks. All our top picks are cGMP-certified, meaning they observe industry standards during manufacture. We also considered the ingredients used. All our top picks are GMO-free and don't come with artificial ingredients, fillers, or preservatives, making them ideal for people with the most sensitive tummies. 
Lab Test Results 
We strongly recommend settling for probiotics that have undergone independent third-party testing. While genuine manufacturers provide accurate details about CFUs and ingredients, third-party lab tests help guarantee that the information is not exaggerated, ensuring you get quality products free of harmful ingredients. Third parties have reviewed all the products on our list and indicated the ingredients in the product label. 
Vetting
All the products that made it to our review were thoroughly vetted to ensure they satisfy industry standards. We only included brands that adhere to FDA-set current Good Manufacturing Practices (cGMPs). In addition to checking for cGMP certification, we also ensured all probiotic strains and CFU counts were indicated on the product label to guarantee that we are dealing with quality products. 
CFU Count
CFU, short for colony forming units, refers to the estimated number of live bacteria present in a supplement. We picked products with high CFU counts per serving, which boosts the total number of good bacteria in your gut microbiota to help with the symptoms of IBS. We also choose products that contain probiotic strains that help with IBS, such as lactobacillus plantarum, Bifidobacterium infantis and lactobacillus acidophilus. 
Brand Reputation
Another crucial consideration we made when compiling our list of best probiotics for irritable bowel syndrome is brand reputation. All our top picks are manufactured by well-reputed brands, prioritizing quality over everything. The probiotics are manufactured in GMP plants and contain high-quality ingredients. We choose products manufactured by companies with more positive than negative reviews, which translates to high customer satisfaction rates. 
What Are Probiotics for IBS
Probiotics are living yeasts and bacteria that are beneficial to the functioning of the human body, specifically the digestive system. Since symptoms of IBS manifest when there is an imbalance between the good and bad bacteria, taking probiotics helps restore microbiome balance in the gut.
Supplementing your body with multiple probiotic strains is a great way to minimize the frequency and severity of IBS symptoms. Lactobacillus and Bifidobacterium are two commonly studied probiotic strains that directly reduce the common symptoms of IBS. It is advisable to buy from reputable sources to ensure the probiotic survives the acidic stomach environment and gets to the colon. 
Benefits of Probiotics for Irritable Bowel Disease (IBS)
The symptoms of IBS have been linked to changes in gut flora. A study published by the National Library of Medicine on probiotics and IBS revealed that people with the condition tend to have decreased amounts of Bifidobacterium and Lactobacillus in their guts. Worryingly, the study found that people diagnosed with the condition have high levels of harmful clostridium, E. coli and streptococcus. 
Changes in your gut's flora can reduce immune function, increase gas sensitivity, inflammation, and alter digestive motility. The good news, however, is introducing probiotics like lactobacillus acidophilus to your intestinal microflora can improve your digestive health in the following ways. 
Reduced Abdominal Pain 
A PubMed study on the symptoms of irritable bowel syndrome and how it differs from other gastrointestinal diseases found that people diagnosed with IBS usually struggle with abdominal pain, mainly in the lower abdomen. The pain often tends to subside after bowel movements but can even get worse depending on the severity of the condition. 
Several studies have found that probiotics like lactobacillus plantarum and Bifidobacterium lactis are associated with reduced abdominal pain for people who use the product. In a study on the effects of probiotics on IBS symptoms, participants were required to take a probiotic solution consisting of B. lactis, B. bifidum, L. acidophilus and L. casei for two months. The probiotic group recorded a 64 percent pain reduction compared to 38 percent in the control group.  
Reduced Bloating and Gas
IBS is associated with increased sensitivity and gas production, often leading to uncomfortable bloating. A PubMed study on the therapeutic role of probiotics on IBS found that probiotics can help reduce bloating and gas. L. plantarum was found to reduce the severity and frequency of bloating symptoms compared to a control group. 
Another study found that participants taking a probiotic supplement containing B.lactis, L.acidophilus, S. thermophilus and L. bulgaricus experienced significantly reduced bloating after four weeks of treatment compared to a placebo. 
While further studies are needed to determine the effectiveness of probiotic strains in reducing bloating and gas, it's safe to say that supplements containing B.lactis and L.acidophilus can come in handy in addressing these symptoms. 
Stops and Prevents Diarrhea 
A Pubmed study on the various irritable bowel syndrome subtypes revealed that diarrhea is a common symptom that tends to get worse if not treated accordingly. The study found that Bacillus Coagulans positively affect digestion, stool frequency and overall gut health. 
Another study investigating the potency and effects of VSL3 found that the multi-strain probiotic helps reduce gas and slow down the bowels. The study further investigated Duolac 7, a multi-strain probiotic, and found that the patients using the product experienced improved stool consistency compared to the placebo group. 
Constipation
Constipation is a common IBS symptom, affecting up to 55 percent of people diagnosed with the condition. Studies examining the effects of probiotics in treating constipation-predominant IBS point toward a direct effect between using probiotics and improved bowel movements. 
Probiotics containing bacteria strains like L. acidophilus, L. reuteri, L. rhamnosus, L. lactis and L.plantarum are useful in alleviating IBS symptoms like constipation and diarrhea. 
So, if you're constantly dealing with constipation as a primary IBS symptom, it's advisable to try out probiotics containing these strains, as they've been proven to help relieve symptoms like constipation and bloating. 
Improved Digestion
Probiotics help improve your gut health and digestion by increasing the number of good bacteria in the gut. This translates to faster digestion rates and better absorption. By neutralizing and overpowering the harmful bacteria in your gut, probiotics create a healthy microbiome balance, effectively reducing IBS-related symptoms.
Improved Gut Health
In addition to alleviating digestive stress, probiotics help prevent the negative effects of other drugs that reduce the overall number of good bacteria. Probiotic strains like L. casei and L. plantarum strengthen your gut lining by restoring microbiome balance, effectively improving digestion and your overall gut health. In addition to restoring a healthy gut microbiome balance, probiotics help prevent illnesses while improving overall digestion and nutrient absorption.
When to Choose Probiotics for Irritable Bowel Disease
Probiotics can come in handy in treating IBS symptoms and improving your gut health. You should consider probiotics if dealing with one of the following issues. 
Antibiotic-Associated Diarrhea
Antibiotic-associated diarrhea, as the name suggests, refers to passing watery stools several times a day post-medication. This usually occurs after taking medication to treat bacterial infections. According to Mayo Clinic reports one in every five people taking antibiotics experiences this type of side effect. 
While antibiotic-associated diarrhea is mostly mild and doesn't require treatment, using probiotics can help you reduce the frequency of diarrhea and even stop it altogether. Taking probiotics with high CFU and multiple bacterial strains can help restore your gut microbiome balance and reduce the severity or frequency of diarrhea overall. 
Clostridium Difficile-Associated Diarrhea
Clostridioides difficile is a harmful bacterium that attacks the colon, causing symptoms that range from diarrhea to even life-threatening damage to the large intestine. The bacteria mainly occurs after antibiotics and manifests in watery diarrhea (over three times) daily, abdominal cramping, and increased tenderness. 
However, a severe infection can lead to watery diarrhea more than 10 to 15 times a day and severe abdominal cramps. The condition is also associated with a rapid heart rate, fever, nausea, dehydration, loss of appetite, kidney failure and even pus in the stool. 
Most doctors will recommend using probiotics upon the diagnosis of the condition to help treat it early enough and prevent it from becoming severe. Using the best probiotics with large CFU counts will help restore bacterial balance in the gut, which results in reduced symptoms within a few days, allowing you to manage your gastrointestinal disorder.
Irritable Bowel Syndrome
Irritable bowel syndrome (IBS) affects the intestines and the stomach. Some of the common symptoms of IBS include abdominal pain, cramping, diarrhea, gas, constipation and bloating. It is a common condition that usually manifests through mild symptoms. The condition can be managed through proper diet and lifestyle changes. 
Including probiotics in your diet can help increase the number of good bacteria in your gut and consequently reduce the effects of IBS. Regularly consuming probiotics has been associated with reducing symptoms such as diarrhea, constipation, gas and bloating. 
Functional Gastrointestinal Disorders
Functional gastrointestinal disorders (FGIDs), also known as gut-brain interaction disorders, are prevalent in adolescents, children and adults and tend to cause sensitivity in the gastrointestinal tract (GI) tract. These disorders can occur anywhere in the GI tract, including the stomach, intestines and esophagus. 
If your doctor diagnoses you with the condition, they might advise you to supplement your diet with probiotics to improve your gut health. Regular probiotic intake can help control the symptoms of FGIDs, consequently improving your quality of life. 
Crohn's Disease
Crohn's disease is an inflammatory bowel disease (IBD) that causes inflammation along the digestive tract. The condition often leads to abdominal pain, fatigue, severe diarrhea and even malnutrition.
Unfortunately, there is no known cure for Crohn's disease; however, therapies can significantly reduce the symptoms of the condition and even heal the inflammation. Your doctor can recommend using probiotics to help with inflammation and issues like diarrhea. Most people diagnosed with Crohn's disease take up healthy lifestyles and include probiotics as part of their day-to-day diets. 
Ulcerative Colitis
Ulcerative colitis is an IBD that, besides causing inflammation in your digestive tract, also leads to the formation of ulcers. It affects the colon's innermost lining and the rectum and is often associated with diarrhea (with pus or blood), rectal bleeding, abdominal cramping, and pain. 
Taking up healthy lifestyles and including probiotics in your diet is highly recommended to manage the symptoms of ulcerative colitis. In addition to recommending medication to help manage the condition, your physician will most probably recommend the use of high CFU probiotics. 
How to Choose Probiotics
With several products, it's crucial to know what to look for when choosing probiotics for irritable bowel syndrome, especially if it's your first time using these supplements. In this section, we shed more light on factors to consider when choosing probiotics for irritable bowel syndrome. 
Intended Use
When choosing probiotics, confirming the ingredients, specifically the bacteria strains, is crucial to ensure you get a product specifically designed to help with IBS. We'd strongly recommend choosing probiotics with multiple strains as their functionality and gut health benefits tend to be more diverse. 
Most probiotics for irritable bowel syndrome contain beneficial bacteria like Streptococcus thermophilus, Bifidobacterium breve, Bifidobacterium lactis, Lactobacillus plantarum and Lactobacillus acidophilus, among others that are known to help improve gut health. 
Ingredients 
Another crucial factor to consider when choosing probiotics for irritable bowel syndrome is the ingredients used. Anyone diagnosed with IBS needs to be on the lookout for what they consume, not only in terms of food but also supplements and medicinal products. A good rule to observe is to ensure you don't take probiotic supplements containing fillers, GMOs, or artificial ingredients. 
Budget 
Budget is another important consideration to make when choosing probiotics for irritable bowel syndrome, more so because these supplements work best when taken consistently. As such, it is advisable to choose probiotics that you can afford to purchase every month or whenever your supply runs out. 
You'll find that probiotics with more bacterial strains and high CFUs tend to cost more than those with limited ingredients. Additionally, you might want to buy probiotics in bulk as they're usually much more affordable than single bottles. 
Customer Reviews
With hundreds of probiotics out there, choosing the right ones for your unique needs can prove daunting. Customer reviews can help you learn more about the product and its effectiveness. Check what other clients think about the product and the brand's overall service in terms of satisfaction guarantees, shipping and discounts. 
Shelf Stability
Another vital consideration when choosing probiotics for irritable bowel syndrome is its shelf stability. Most probiotic manufacturers utilize modern technology to make the packaging as effective and air-tight as possible to eliminate the need for refrigeration once opened, as the beneficial bacteria are only effective if alive. As such, you should check out a product's packaging and stability before making a purchase. 
FAQs on Best Probiotics for IBS
How Can I Improve My Diet Health Naturally by Using Probiotics for IBS? 
You can improve your diet health naturally by using probiotic supplements for IBS consistently. While taking up a healthy lifestyle and incorporating healthy foods is recommended, taking probiotics daily will help improve and maintain your gut health while toning down other IBS symptoms. Other ways to improve your gut health and reduce IBS symptoms include reducing your portions of gas-inducing foods, avoiding fried, fatty meals and maintaining a timed feeding routine.
What Are the Most Important Probiotics for Irritable Bowel Syndrome? 
Some of the most important probiotics for irritable bowel syndrome include lactobacillus and bifidobacterium. Lactobacillus is arguably the most common probiotic strain in fermented foods and products like yogurt.
acidophilus is a probiotic strain that aids with fighting harmful gut bacteria, digestion and vitamin production. The probiotic supplement also helps in the production of lactic acid, which is directly associated with increased pH in the intestines, making the environment unsuitable for pathogenic bacteria.
On the other hand, Bifidobacterium helps increase the number of beneficial probiotic bacteria in the gut, helping neutralize the symptoms of IBS and boosting your digestive system health.
What Happens When You Take Probiotics for IBS? 
Taking probiotic supplements replenishes the number of good bacteria in your body. They help balance the good and bad bacteria to ensure your body's various systems function as expected. 
Probiotics are especially useful after taking antibiotics or when you've been diagnosed with IBS and want to minimize the frequency and severity of its symptoms. The more you take probiotics, the more good bacteria you'll have in your gut, effectively improving your body's ability to neutralize harmful bacteria and manage IBS symptoms. 
Who Should Not Take Probiotics for IBS?
Probiotics are generally considered safe for consumption as they tend to have few to no side effects. And while it's rare to hear of IBS patients affected by probiotics, some mild symptoms you might experience include allergy flare-ups, headaches and abdominal distress.
However, pregnant women and people with underlying medical conditions should consult with their healthcare providers before using probiotics. Doing so will ensure that the probiotics do not react with any other products you might be taking or flare up any allergic reactions. 
Related Content
Best Probiotics for IBS: Wrapping Up
Now that we've looked closely at some of the best probiotics for irritable bowel syndrome, you should be well-placed to choose one that best meets your unique needs. Our top pick is VSL3, one of the most recommended probiotics for managing IBS symptoms by doctors. It contains eight bacteria strains and boasts an impressive CFU of 112.5 billion. It's your best bet if you're looking for a long-term, high-quality solution to IBS symptoms like diarrhea, constipation and bloating. 
Clear Gut and Immunity is a well-reputed probiotic known for its soothing effects and contains ingredients like  Slippery Elm and the Reishi mushroom that are vital for soothing the gut (Slippery Elm) and supporting cardiovascular health (Reishi mushroom). 
Before settling for a particular probiotic, it's highly advisable to consider factors such as brand reputation, ingredients, bacterial strains, CFU count and shelf stability. Since most probiotic supplements for IBS are meant for daily use, you should be sure to take the dosage as instructed without fail. Purchasing the supplements in bulk is highly recommended to ensure you don't skip a dosage. It is also advisable to take up a healthy lifestyle and steer clear of fatty foods and junk to boost the effectiveness of the supplements. 
Lastly, be sure to consult with your doctor before you start taking probiotics for irritable bowel syndrome. Consultation is essential if you're already on medication for IBS or have an underlying medical condition. 
Disclaimer: The information provided here is meant to increase your awareness about health and the potential benefits of the use of the products described in this article. It is not intended as medical advice, diagnosis, or treatment. Before starting any new health program or supplement regimen, consult a healthcare provider or a qualified medical professional.
The opinions in this article do not necessarily reflect the opinions of the Las Vegas Review-Journal and you should consult your doctor before beginning any new health related practice.
Members of the editorial and news staff of the Las Vegas Review-Journal were not involved in the creation of this content.