It can be hard to lose weight and even harder to do so when you're struggling to get a good night's sleep. Getting enough sleep is one of the biggest obstacles to weight loss. When you're tired, your body produces more ghrelin, which makes you hungry and less leptin, which controls satiation. Inno Supps Night Shred and Night Shred Black are advanced sleep aids and fat burners. 
They help you fall asleep faster, stay asleep longer and burn fat while you sleep. They're a combination of powerful ingredients designed to shred away excess fat that has set these supplements apart from similar products on the market. In other words, these aren't your average sleep aid. 
What's the difference between them, though? Let's look at their key features and benefits so you know the best one to pick. 
Night Shred vs. Night Shred Black 
Although both Night Shred and Night Shred Black are premium supplements for giving you deep sleep and helping you burn fat simultaneously, they have some key differences. These contrasts will help you determine which one is best suited for you. 
Night Shred 
Night Shred maximizes the quality and quantity of your sleep. This means you'll be able to wake up feeling more energized, focused and refreshed. Through its carefully crafted combination of powerful ingredients, including GABA, ashwagandha, magnesium, valerian root, melatonin, grains of paradise, CLA and l-carnitine, Night Shred helps cultivate deeper sleep cycles while supporting healthy metabolism and muscle recovery.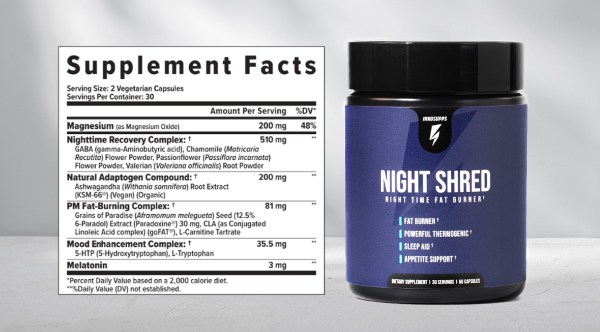 The natural herb ashwagandha in this supplement also has stress-relieving properties that can help reduce insomnia without relying on artificial chemicals or prescription medications. 
Night Shred Black 
Night Shred Black also has GABA, valerian root and melatonin. But it utilizes the revolutionary sleep-enhancing formula of Zylaria™, a cutting-edge sleep-inducting ingredient that allows you to unlock the deepest sleep. This formula also combines powerful metabolic-boosting ingredients like grains of paradise, CLA and l-carnitine to help curb nighttime cravings and accelerate fat burning.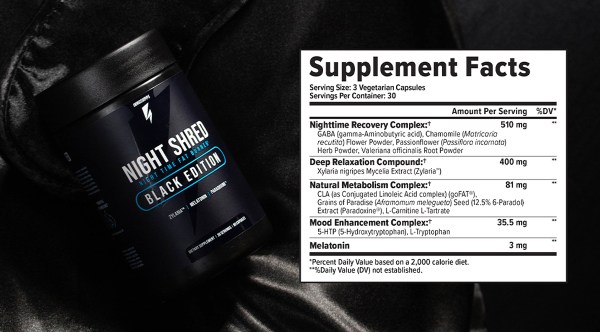 Key Differences
After a brief overview of these two supplements, you have noticed that the major difference between them is that Night Shred uses ashwagandha and Night Shred Black utilizes Xlyaria for its nighttime sleep aid. 
Ashwagandha 
Ashwagandha, also known as Indian ginseng, has been used in ayurvedic medicine for centuries — and with good reason. KSM-66 is a premier form of ashwagandha that is gaining increased recognition among health professionals and consumers. 
Its primary benefit is its ability to reduce stress levels, leading to better sleep quality and overall health (). On top of this, it can provide immune system support, improve cognitive performance and control blood sugar levels. 
Zylaria™
Zylaria™ is a safe, natural way to relax and improve the quality of your sleep (). It's meant to induce a pleasant, calming effect on the body to help bring about a peaceful night's rest. Additionally, it can be taken any time, day or night, with no drowsiness or grogginess the following morning. 
Which One Is Better? 
So which one is better? It depends. 
Zylaria™ and ashwagandha are both herbal supplements used to promote sleep. Zylaria™ is derived from Xylaria, fungi found on dead wood, while ashwagandha is made from the root of an Indian shrub. Though they have similar effects, they work in slightly different ways. 
Zylaria™ works by helping to increase GABA levels in the brain, a relaxant messenger molecule, while ashwagandha helps reduce stress and anxiety hormones. Depending on their needs, those seeking a natural remedy for insomnia may find one herb preferable over the other. 
If you're looking for something that'll help you relax enough to drift off, Zylaria™ may be more suitable as it can be calming and help reduce anxiety naturally. On the other hand, if your sleeplessness stems from feeling overwhelmed or stressed out, ashwagandha may do a better job of helping you banish those stresses before settling in for sleep. 
Ultimately, whichever supplement you choose should depend on what keeps you up at night. Consult with your health care provider can further inform your decision-making regarding either product.
Why Inno Supps?
Inno Supps offers something for everyone, from elite athletes striving to reach peak performance levels to those who want to stay healthy, with their range of vitamins, minerals, probiotics and proteins, which are rigorously tested . You can trust that all your needs are covered! 
Not only this, but with customized regimens created according to individual goals in mind, it's never been easier to find tailored solutions for any health challenge life throws. That's why thousands have already chosen Inno Supps as their premium nutritional supplement go-to. today!
Final Word
In conclusion, Night Shred and Night Shred Black are excellent sleep enhancers and fat burners. They contain similar ingredients, but the main difference is that Night Shred has ashwagandha while Night Shred Black has Zylaria™. If you're struggling with stress and anxiety keeping you up at night, we suggest going with Night Shred. However, if you have difficulty winding down at night, we recommend trying Night Shred Black. Either way, you can't go wrong!
The opinions in this article do not necessarily reflect the opinions of the Las Vegas Review-Journal and you should consult your doctor before beginning any new health related practice.
Members of the editorial and news staff of the Las Vegas Review-Journal were not involved in the creation of this content.