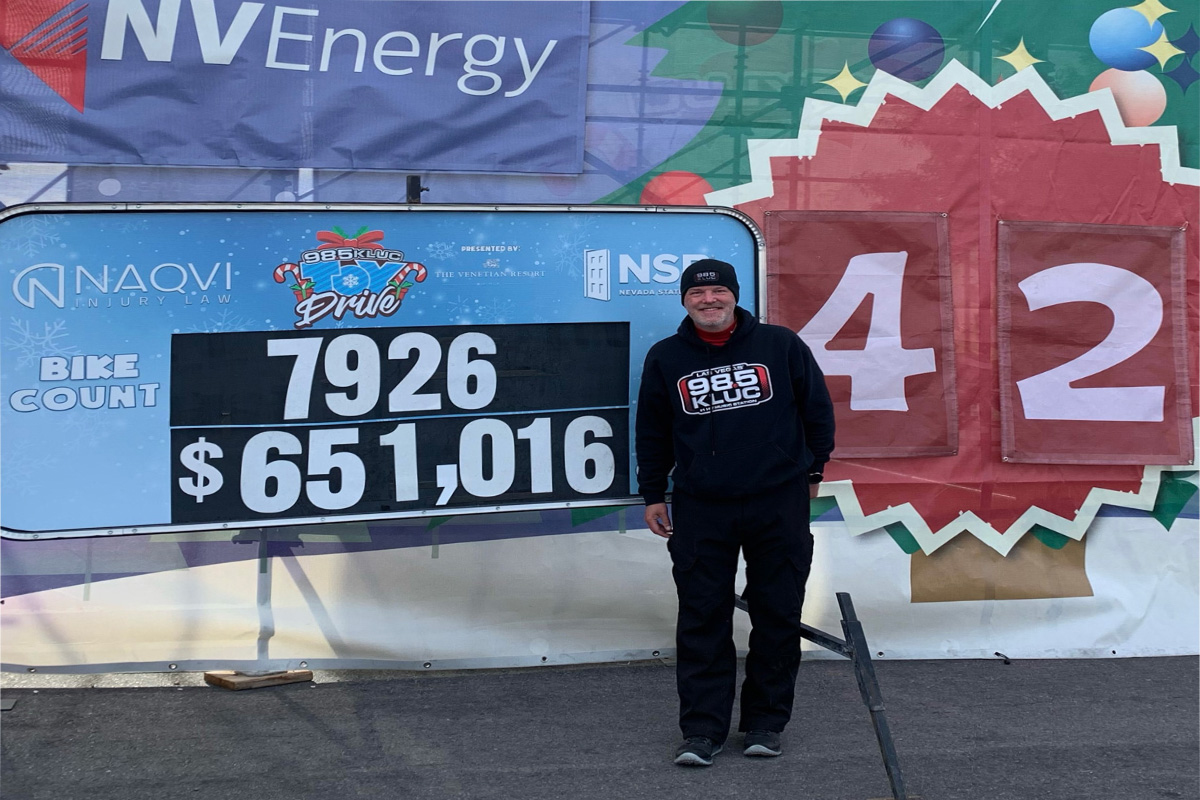 As I sat down to write this column on the day after the 23rd Annual 98.5 KLUC Chet Buchanan Show Toy Drive ended, I stopped to check emails that I hadn't seen since things got busy on the 30-foot scaffold. Every year, I get emails from people who criticize Toy Drive and literally ask the question, "Do you honestly think your toy drive makes a positive impact?"
Toy Drive isn't meant to solve the world's problems. We never dreamed in 1999 that it would become anyone's family tradition. For 23 years, we've have had the goal of one more toy, one more bike, one more dollar. Positive impact? What about Ariana, who came to Toy Drive in her wheelchair with her family, and literally freaked out when her father was showing her the Sea of Bikes? If a bike meant that much to a kid who would never ride one, consider what it means to a kid who never expected one? Or – and this is what drives me – what would it mean to a parent who is crushed at the thought of not being able to provide Christmas for their family? Not while I can do something about it. Not while WE can do something about it.
The families that benefit from Toy Drive come from every part of the valley and from just about every neighborhood. I'm able to tell a different story every day about people who benefited from Toy Drive and return to make their own donations. Even more often, there are people who struggled and were unable to donate and are ecstatic to be back in a position to help, because they know how quickly things change. They raise bikes above their heads like it's the Stanley Cup.
Bad things happen: unexpected medical issues, a death in the family, a sudden downsizing at work, divorce, abuse, etc. I often speak of how Toy Drive is a hand UP, not a hand OUT. I encourage both supporters and doubters to volunteer at distribution. It will inspire you while you give hope to others. Christmas is just one day, but it's a big, meaningful day. Helping someone that day lets them know they're not alone when they are at their lowest point. It's Christmas, for Scrooge's sake.
This year at Toy Drive, we filled 42 semitrailers, collected 7,926 bicycles, and received $651,016 in cash and gift cards. Many people have started their own toy drives, collecting from their friends, neighbors, and coworkers to bring down. Then there's a literal volunteer army that sorts toys and bikes, puts  them on trucks, greets donors, hands out commemorative Toy Drive ornaments and "I Gave" stickers…and every one of them does it cheerfully and without expectation. We wouldn't be able to help as many as we do without HELP of Southern Nevada's network and amazing  distribution system. HELP's own distribution is incredible. More than 100 charities and organizations will benefit from the generosity of Southern Nevadans, reaching more than 45,000 kids each  year. They literally create a store where recipients can "shop" for their children's gifts. Hope and a hand-UP.
For 12 days, I tell people's stories and ask for this amazing community's help and every time, this city shows up … and my most important job, is to say THANK YOU. Everyone plays their role.
Whether it's a refreshing of your holiday spirit with the satisfaction that comes from giving, the feeling of wonder and excitement while experiencing the Sea of Bikes with their tassels shimmering, or maybe it's just that emotion that comes when you know that you have done something truly selfless, Toy Drive lets you put some good in an oftentimes negative world.
Yes, it definitely makes a positive impact. We call it "Feeling The Tingle" … and that's real holiday spirit.
Members of the editorial and news staff of the Las Vegas Review-Journal were not involved in the creation of this content.