Chef Dalton Wilson,
DW Bistro
My favorite summer produce is corn. My dad makes a fabulous dish — coconut scallops with green chili, corn relish, coconut milk, Jamaican curry, fish sauce and brown sugar. Everything I learn about cooking starts with my dad.
Chef Bryan Forgione, Buddy V's Ristorante
One of my favorite things about food in the summer is picking it from the garden. I feel blessed when I visit my folks in California that we rarely go out to eat because of all the food right in their back yard. This is one of the dishes we make — simply turning heirloom tomatoes and figs into a caprese. Take the smaller, sweet tomatoes and confit them by heating them with olive oil, garlic, lemon and herbs. You want the tomatoes and figs while they are still warm from the sun (it makes a big difference!). Slice the tomatoes and halve the figs, drizzle with 18-year balsamic and olive oil, and top with burrata cheese, basil and the tomato confit. Serve it with grilled, crusty Italian bread, and give a big thanks to Mother Earth!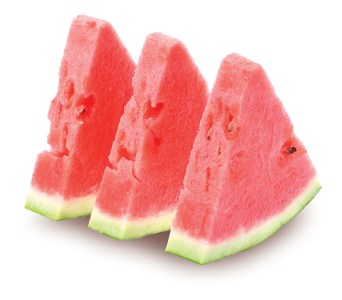 Chef Joe Mosconi,
Sake Rok
My favorite summer produce is watermelon. It has a great taste, and it's refreshing during Las Vegas' heat wave. I use watermelon in many ways, from pickling the rind to using it in a salad with feta, incorporating it in summer cocktails and eating it as is. It's perfect as a side when you're grilling favorite cuts of meat or smoking brisket or ribs. The possibilities are endless and delicious.