Are you feeling stressed or overwhelmed by anxiety? Want to boost your brain function? While there are countless herbal and botanical supplements on the market, one that you can trust for proven effects is ashwagandha. 
Also known as winter cherry, this herb has been used for centuries and is a staple in ayurvedic medicine. For thousands of years ashwagandha has been used to boost energy levels, relieve stress and improve concentration.
Ashwagandha is a potent adaptogen that offers various health benefits, whether ingested in tincture, tea, raw or capsule form. If you're in the market for a high-quality ashwagandha supplement, we've got you covered.
Our team has spent hours researching dozens of products on the market to create a guide to the 10 best ashwagandha supplements. Below you'll learn all of the important details about these products. We'll also discuss the benefits of ashwagandha along with dosing information.
Goli Ashwagandha Gummies

Transparent Labs KSM-66 Ashwagandha

Pattern Wellness Ashwagandha Complex

Spring Valley Extra Strength Ashwagandha

Gaia Herbs Ashwagandha Root

Nature's Truth Ashwagandha Gummies

Himalaya Organic Ashwagandha

NutriRise Ashwagandha Gummy +
Top 10 Ashwagandha Supplements on the Market
There are countless ashwagandha supplements available today. However, not all supplements are made equal. Our list contains only high-quality products that are made using a potent form of ashwagandha. They're also third party tested to ensure safety and purity.
Keep reading to learn about the 10 best supplements that will help you feel your best from the inside out.
At the top of the list is Elm & Rye Ashwagandha. This supplement is formulated by a world-class team of researchers that know the ins and outs of this green leafy plant. Ashwagandha may offer a wide range of health benefits, including lowered blood pressure, reduced inflammation, less stress and anxiety and even a stronger immune system.
When taken as suggested, Elm & Rye Ashwagandha supports healthy cortisol levels and nourishes other aspects of your health from the inside. Each capsule is packed with premium ashwagandha root extract and each batch is lab tested for purity and quality.
Get back to feeling your best mentally and physically with Penguin CBD Ashwagandha. This daily ashwagandha supplement provides holistic health benefits that will improve your performance at home, at work, and even at the gym.
What's unique about Penguin CBD Ashwagandha is that it's not only enriched with premium ashwagandha, it's also loaded with high-quality CBD extract. Like ashwagandha, CBD is a natural compound that offers a wide range of health and therapeutic benefits.
Kick stress to the curb with a powerful combination of ashwagandha and CBD. These two natural ingredients have potent anti-stress and anti-inflammatory properties.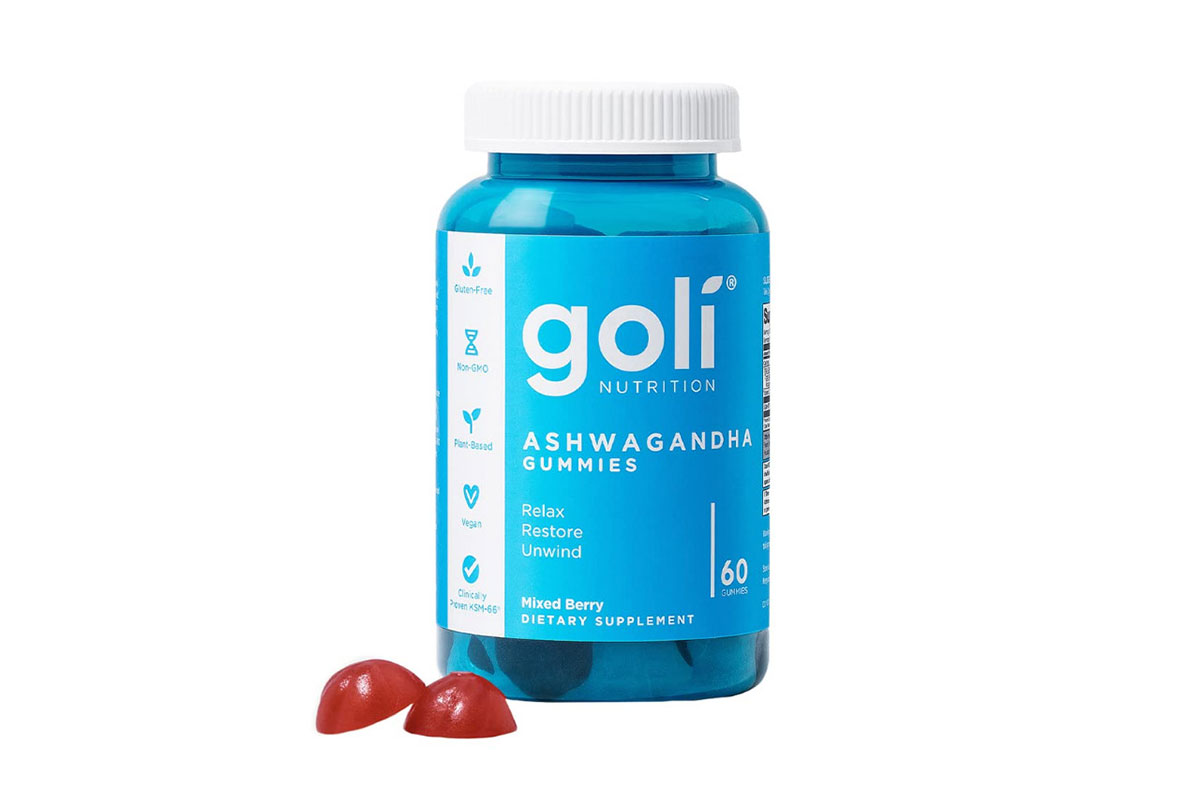 3. Goli Ashwagandha Gummies
Not a fan of taking pills? Get your daily dose of CBD in the most delicious way possible with Goli Ashwagandha Gummies. These mixed berry flavored chews are specially formulated to help you unwind, relax and restore so that you can put forth your best today and tomorrow. These gummies are loaded with potent KSM-66 Ashwagandha along with vitamin D to boost immune function.
Goli Ashwagandha Gummies are vegan, non-GMO, gluten-free and gelatin-free. Improve your quality of life, promote natural relaxation, keep stress-related cravings at bay and improve your quality of sleep with two delicious gummies daily.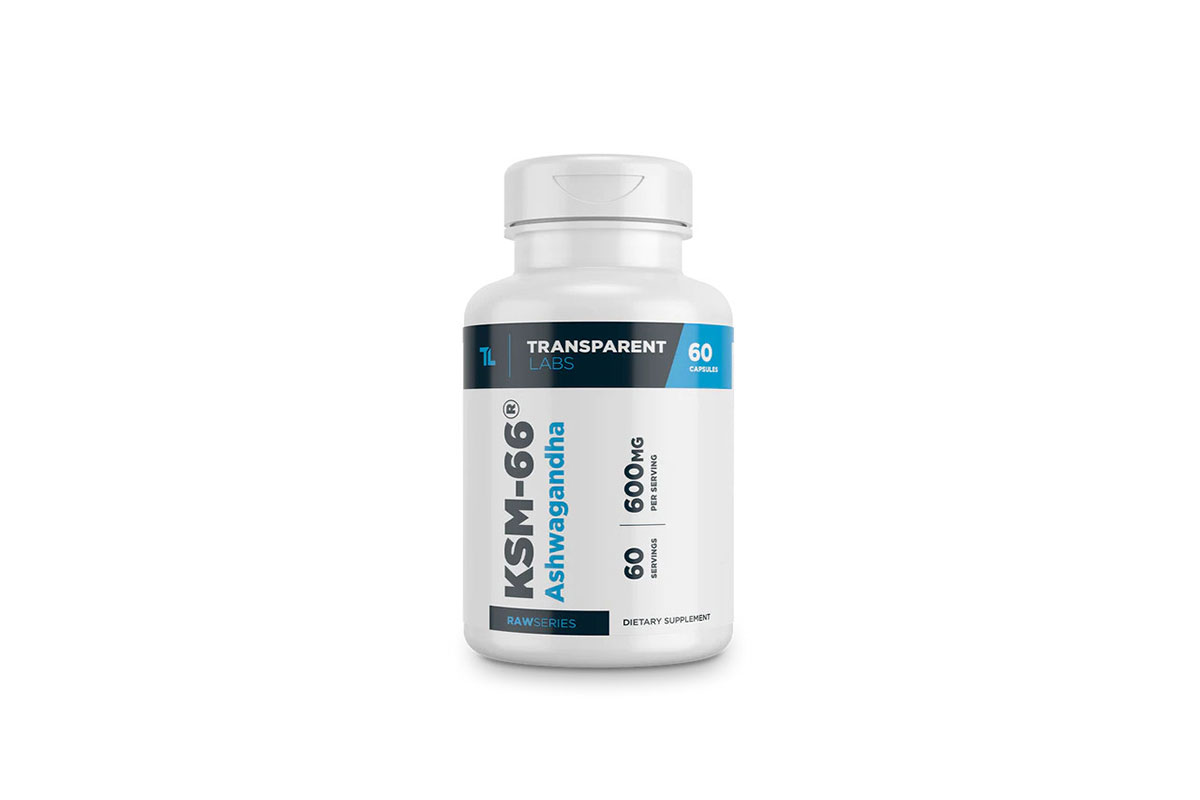 4. Transparent Labs KSM-66 Ashwagandha
Minimize your stress and anxiety, lower inflammation, boost your mood and protect your brain and body against oxidative stress with Transparent Labs KSM-66 Ashwagandha. These capsules provide a powerful 600 mg of KSM-66 Ashwagandha extract, which is a highly effective dose for most people.
Unlike other supplements, these ashwagandha capsules don't contain any fillers or unnecessary ingredients. Transparent Labs KSM-66 Ashwagandha are made without any artificial colors, sweeteners or preservatives. For best results, take one capsule once or twice daily.
5. NATURELO Ashwagandha
Feel better than you have in a long time with NATURELO Ashwagandha. These capsules work to calm the nerves, reduce cortisol levels, and boost your body's resilience to stress. Calm your nervous system and balance your mood without any worry of drowsiness or habit-forming compounds.
NATURELO Ashwagandha is formulated with black pepper extract, which boosts absorption and bioavailability. This ashwagandha supplement is non-GMO, soy-free, gluten-free and preservative free. It's also vegan and vegetarian friendly.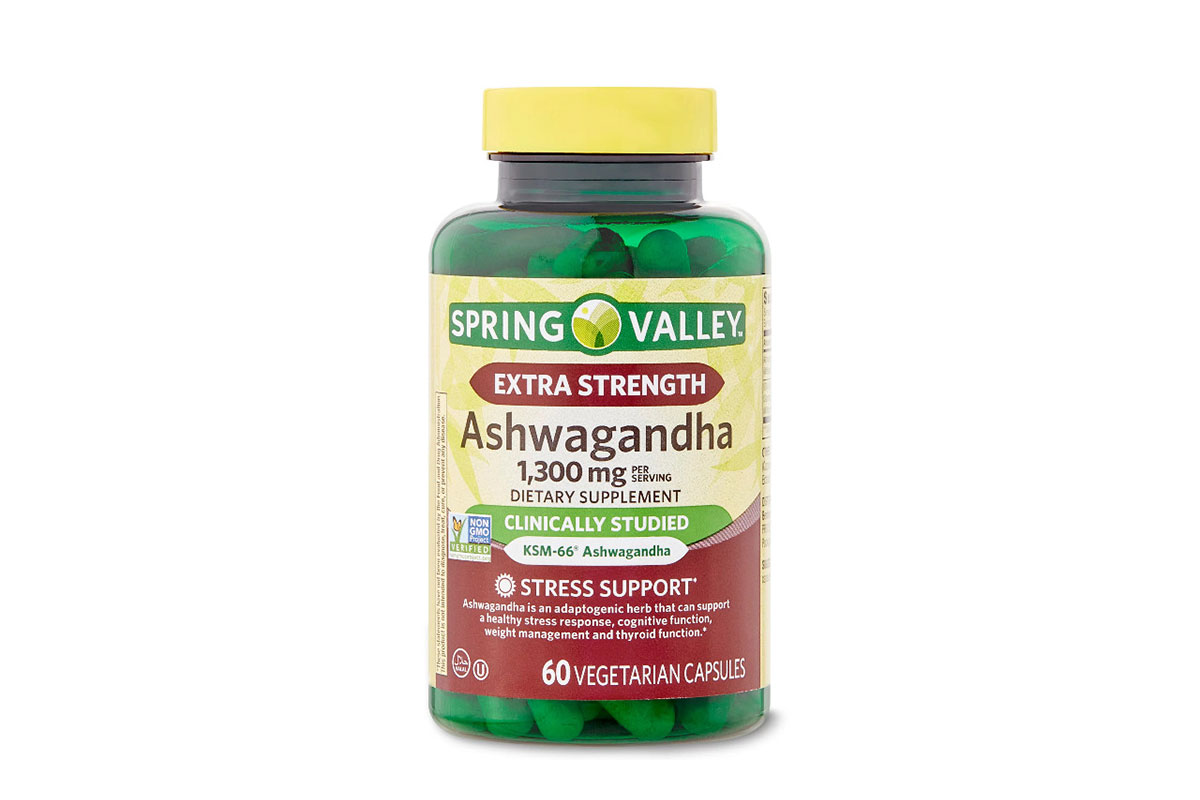 6. Spring Valley Extra Strength Ashwagandha
Support cognitive function, weight management and a healthy stress response with Spring Valley Extra Strength Ashwagandha. These capsules are made with clinically studied KSM-66 Ashwagandha. Each serving packs a powerful 1,300 mg of ashwagandha that works quickly to keep your mind and body balanced and at ease.
Spring Valley Extra Strength Ashwagandha doesn't contain any gluten, wheat, yeast, lactose, soy or sugar. These capsules non-GMO Project verified and are formulated with any artificial colors or flavors.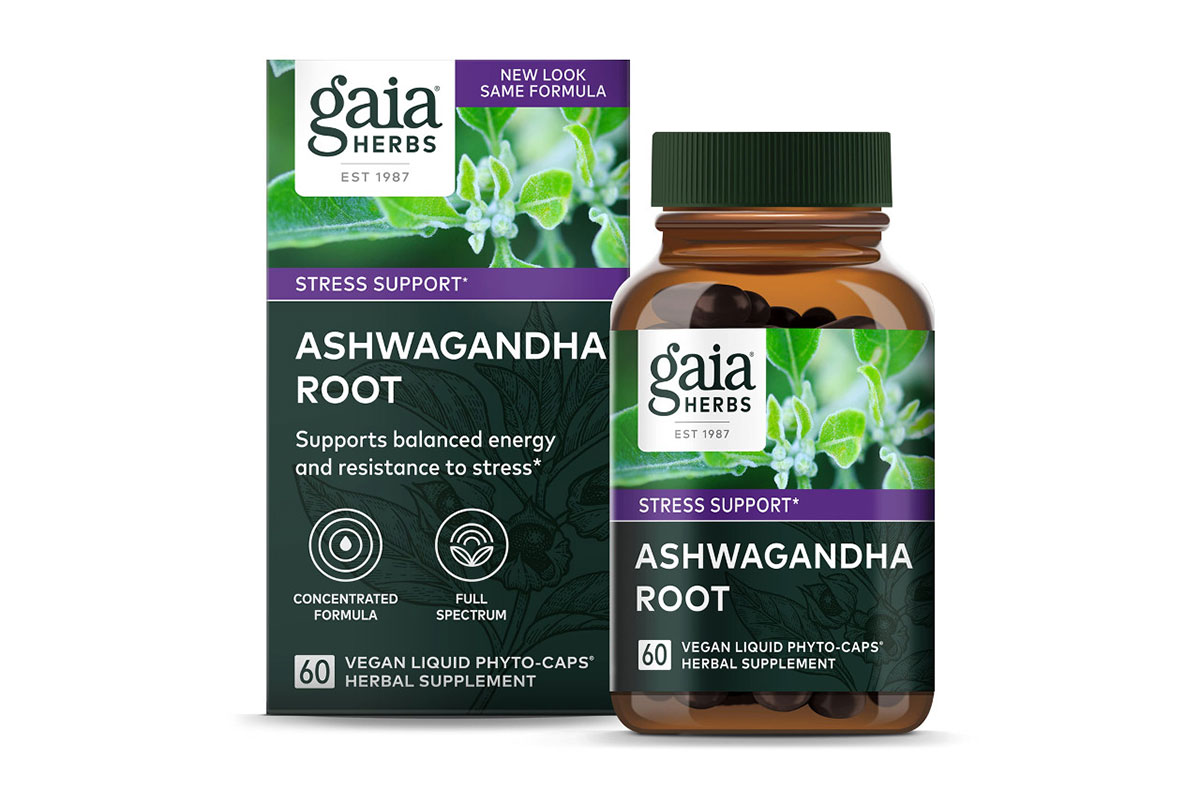 7. Gaia Herbs Ashwagandha Root
Boost your body's resistance to stress and support balanced energy throughout the day with Gaia Herbs Ashwagandha Root. These capsules are made with a concentrated formula of full spectrum ashwagandha that help you cope with life's challenges.
Ongoing stress and occasional anxiousness are no match for these ashwagandha capsules. Embrace tranquility and serenity with a single capsule dose that provides 350 mg of ashwagandha extract blend.
Gaia Herbs Ashwagandha Root capsules are vegan, dairy-free, soy-free and gluten-free. They're also purity tested, which means that you can take them with total confidence and peace of mind.
8. Nature's Truth Ashwagandha Gummies
Enjoy all of the benefits of ashwagandha in the tastiest way possible with Nature's Truth Ashwagandha Gummies. These tropical fruit flavored chews are specially formulated to help you unwind and restore, even after the most hectic day. Each gummy is loaded with 500 mg of KSM-66 Ashwagandha to balance your stress, energy, and mood.
Nature's Truth Ashwagandha Gummies are pectin-based vegan gummies that you can enjoy any time of day. These delicious chews are non-GMO, gluten-free, dairy-free and soy-free. They're also made without any artificial flavors or sweeteners.


9. Himalaya Organic Ashwagandha
Ashwagandha has been used for thousands of years to minimize stress while boosting energy levels and cognitive function. Himalaya Organic Ashwagandha is made with a blend of ashwagandha root powder and root extract for balanced benefits. These capsules are formulated to provide holistic stress relief by balancing cortisol levels and adrenals.
Himalaya Organic Ashwagandha are USDA organic and non-GMO. These capsules are also vegan, gluten-free, dairy-free soy-free, and corn-free. They don't contain any artificial fillers or animal gelatin.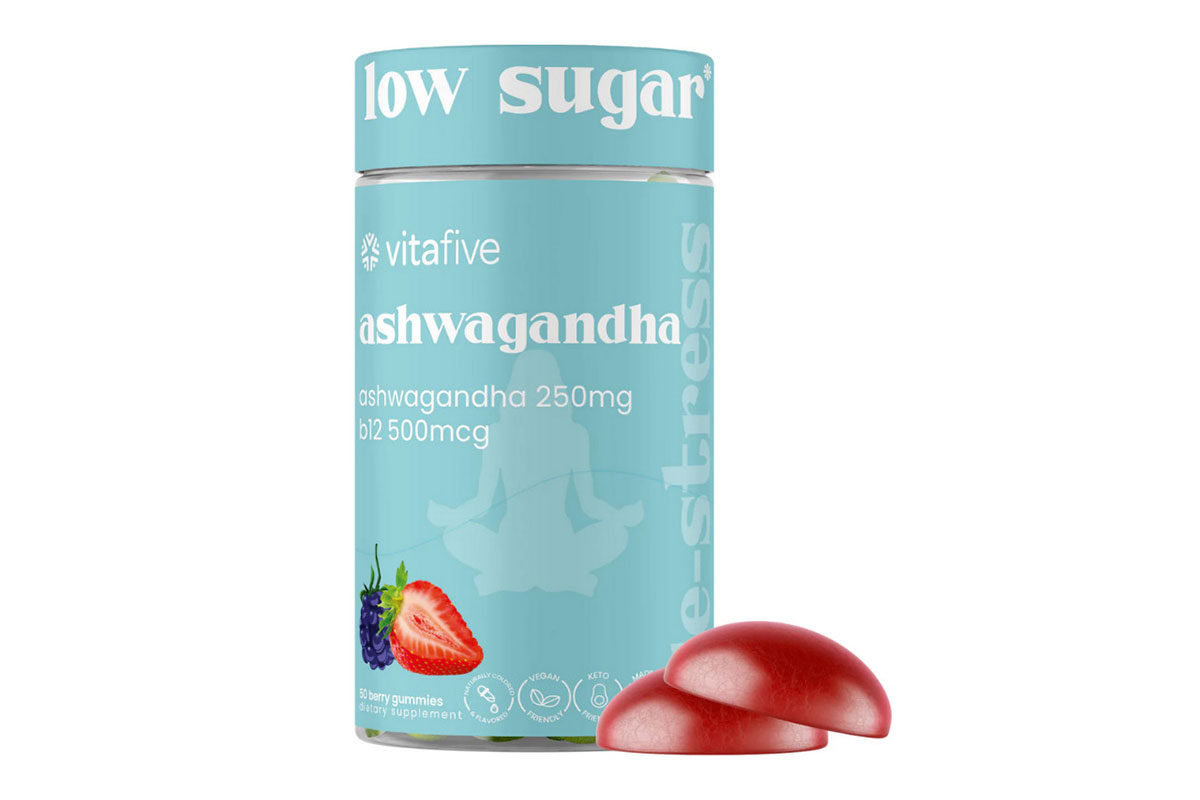 10. Vitafive Ashwagandha Gummies
Chew your way to reduced stress and anxiety while improving your mind and body's resilience to stress with vitafive Ashwagandha Gummies. These mixed berry flavored chews provide all of the natural benefits of ashwagandha along with a health boost of energy from vitamin B12.
Each serving contains 250 mg of ashwagandha and 500 mcg of B12. These gummies contain less than 1g of sugar, which means you can feel good about taking them each day.
Vitafive Ashwagandha Gummies are vegan-friendly and gluten-free. They're also naturally colored and flavored. Each gummy is sweetened with tapioca syrup and is made with pectin instead of gelatin.
Top Health Benefits of Ashwagandha
Ashwagandha offers many different therapeutic and health benefits. Here are some of the top benefits that you can experience when taking ashwagandha supplements.
May Reduce Inflammation
Ashwagandha contains many different compounds that reduce inflammation throughout the body. Animal studies have found  the herb targets inflammatory pathways in the body, as well as inflammatory proteins like interleukin.
May Reduce Stress and Anxiety
One of the top benefits of ashwagandha is its ability to ease stress and anxiety. In fact, the herb is classified as an adaptogen, which means it helps the body to cope and adapt to stress.
Research has found that ashwagandha controls stress mediators and lowers cortisol and kinase. It also reduces hypothalamic-pituitary-adrenal axis activity, which is the system that regulates the body's stress response.
Studies have also found that ashwagandha may relieve anxiety and perceived stress.
May Reduce Symptoms of Certain Mental Health Conditions
There is some evidence that shows that ashwagandha may reduce the symptoms of depression, anxiety and possibly even schizophrenia. The herb may have antidepressant effects due to its adaptogenic properties.
May Boost Brain Function
If you feel mentally sluggish or if you're struggling to focus or concentrate, ashwagandha may be able to help. It may improve cognitive functioning, especially amongst older adults and even those with schizophrenia.
Ashwagandha may improve reaction time, attention and brain function. It also may support attention, processing speed and general memory.
May Reduce Blood Sugar Levels
For people with high blood sugar levels or diabetes, ashwagandha may help to regulate levels. Studies involving ashwagandha found that the herb significantly reduces blood sugar, blood lipids, A1C and oxidative stress markers.
Ashwagandha contains a compound known as withaferin A, which may stimulate the cells intake of glucose.
May Boost Athletic Performance
Ashwagandha may have positive effects on athletic performance, making it a great option for athletes. One study found that men and women who took an ashwagandha supplement daily experienced enhanced physical performance, to include improved oxygen and strength.
The herb may boost muscle strength. This means greater gains in size each time you hit the gym.
May Boost Testosterone Levels in Men
Ashwagandha supplements may be quite beneficial for men who have low testosterone levels and fertility issues. One study found that ashwagandha boosts testosterone production while also increasing semen volume, sperm concentration and sperm motility.
How Much Ashwagandha Should I Take Daily?
There's no one-size-fits all serving when it comes to ashwagandha. Instead, the proper dosage for you depends on your age, your overall health and what benefits you're looking to get from the herb.
Research has found that most people experience the best benefits when taking 500-600 mg of ashwagandha. For people taking ashwagandha to lower their blood sugar levels, doses as low as 250 mg can be beneficial.
As with any supplement, the best way to dose ashwagandha is to start low and slow. Begin with a low dose and then slowly increase the amount until you feel the effects that you want.
Are Ashwagandha Supplements Safe?
Ashwagandha is a widely studied herb and most research has found that it's generally safe. However, be mindful that formulations vary based on where you buy your supplements from. Since the supplement industry isn't regulated, it's important to only purchase ashwagandha from a quality brand that uses premium ingredients and third-party tests its products.
While adverse effects are extremely uncommon, ashwagandha may cause some people to experience vomiting, nausea, diarrhea and general gastrointestinal upset. In large doses the herb may cause drowsiness.
Other possible side effects include changes in appetite, constipation and increased libido.
Before adding an ashwagandha supplement to your daily regimen, be sure to consult with your doctor first. This is especially important if you take other medications, as ashwagandha may negatively interact with certain drugs.
If you are pregnant, breastfeeding, have a thyroid condition or are immunocompromised, check with your doctor to ensure that you can safely take ashwagandha. People who are allergic to certain types of grass and nightshades don't typically tolerate ashwagandha well.
What's the Best Type of Ashwagandha Supplement?
Ashwagandha can be ingested in many different ways. The most common form is capsules. Capsules are easy to take and are perfect when you're on-the-go or at work. Other common types of ashwagandha supplements include:
Tea

– Made by boiling ashwagandha leaves and/or roots in water

Tinctures

– Alcohol-based extracts that are taken sublingually

Powder

– Ashwagandha powder is finely ground and can be added to smoothies, oatmeal and water. It can also be added to stews and soups.
At the end of the day, no certain type of ashwagandha supplement is better than another. The best way to take ashwagandha all depends on what works best for you. For example, if you don't like taking pills, don't opt for a capsule form. Or if you're someone who drinks tea daily, try ashwagandha tea or powder.
Final Thoughts
Adding an ashwagandha supplement as part of your daily health regimen is a great way to naturally support your physical and mental well-being. This ayurvedic herb has been used for centuries to treat a wide range of health conditions.
No matter if you're looking for stress or anxiety relief, better sleep, or if you want to boost your cognitive function, taking a premium ashwagandha supplement can provide the results that you want. Remember, start with a low dose and gradually increase the amount until you feel the effects.
Members of the editorial and news staff of the Las Vegas Review-Journal were not involved in the creation of this content.