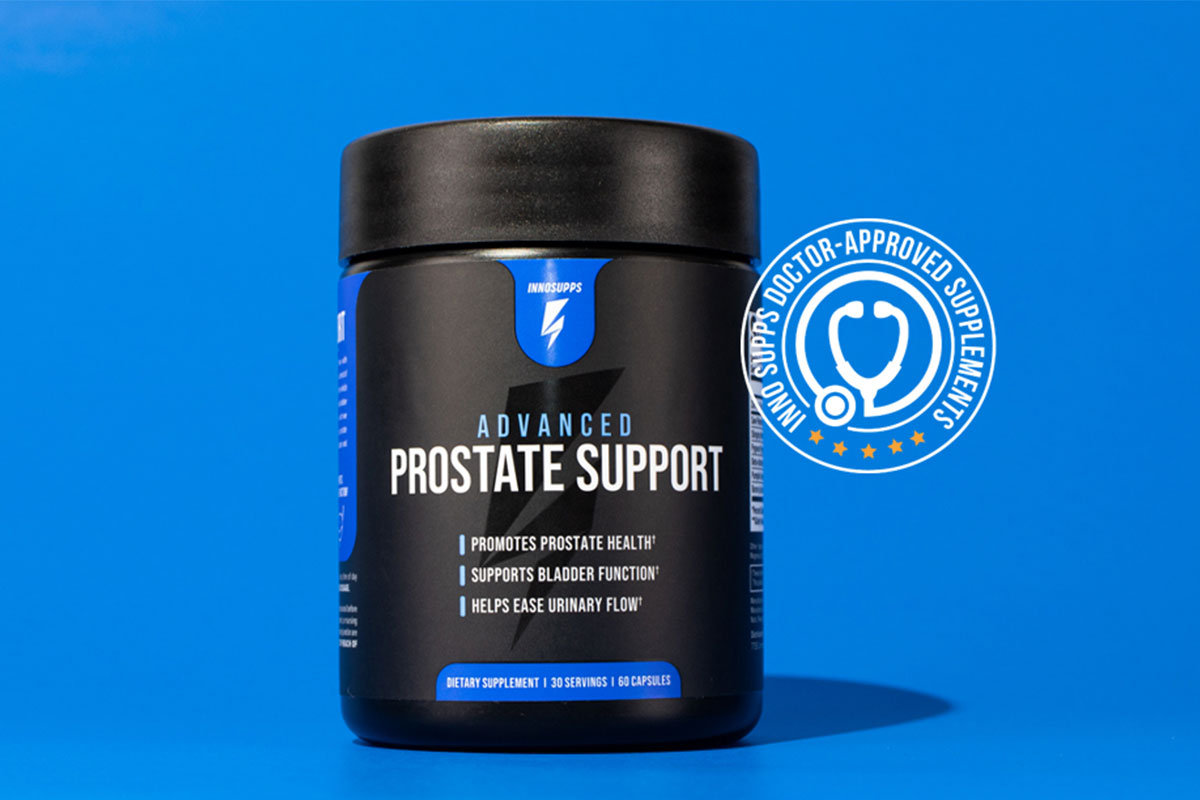 If you or anyone you know has struggled with unhealthy prostate growth, then you understand the enormous impact that this little gland can have on your quality of life. 
Nighttime urges to urinate make a full night's rest impossible, wreaking havoc on energy, mood and mental clarity. 
With a weaker flow and reduced ability to empty the bladder, frequent urges can make men feel like they are handcuffed to the bathroom, an embarrassing situation that can disrupt their work life, social life and favorite hobbies. 
Unhealthy urinary flow and function and also create problems for men's intimacy and performance, and therefore their relationships. 
Many men report that these worsening symptoms along with invasive exams and surgeries make them feel like they now live at the whim of these bothersome symptoms that take them away from the things that make life enjoyable. 
What can men do to protect their prostate and age on their own terms? And how does Inno Supps Advanced Prostate Support promise to help?
INNO SUPPS SYNERGISTIC FORMULA FOR TARGETED PROSTATE HEALTH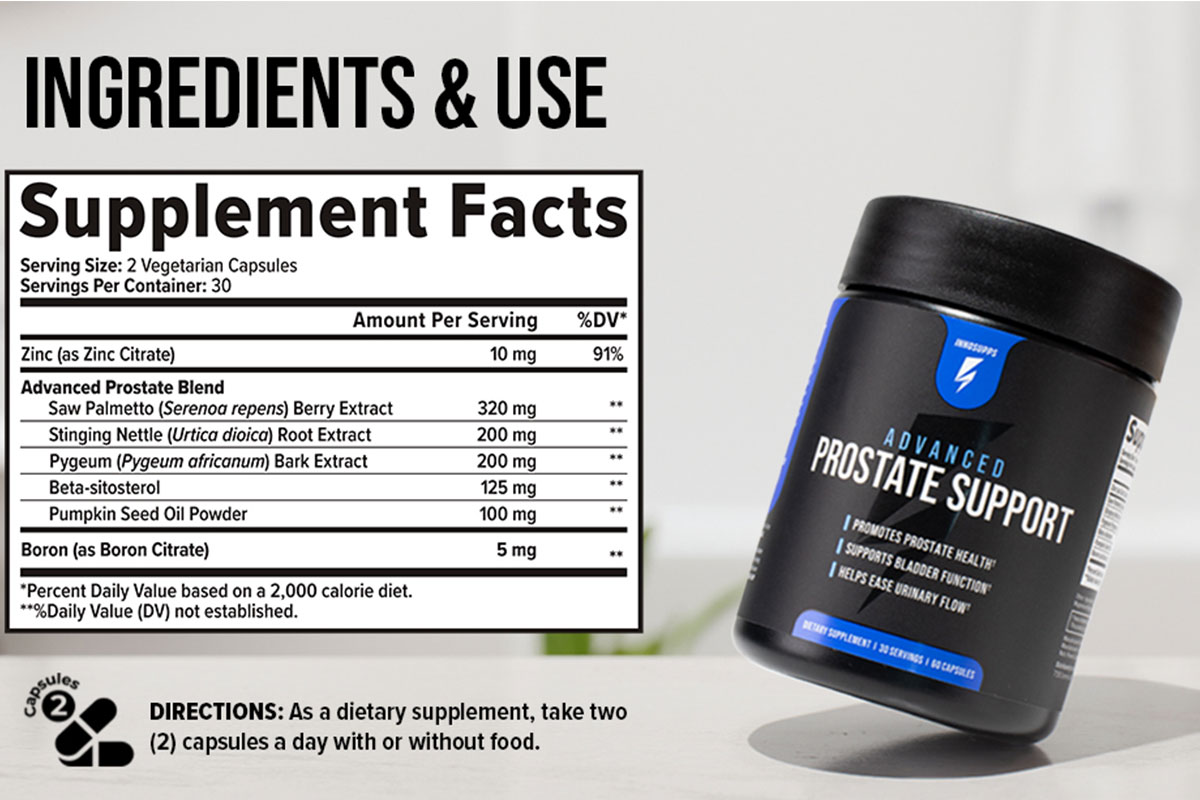 Advanced Prostate Support was developed after rigorous research to uncover the root cause of unhealthy prostate growth and how to treat it. 
Research shows that the presence of a hormone called DHT is known to cause unhealthy prostate growth in aging men. DHT is a derivative of testosterone, and levels rise when an enzyme called 5-alpha-reductase converts testosterone into DHT. 
Most doctors recommend pharmaceutical treatments like finasteride to help inhibit 5-alpha-reductase, thus lowering DHT to fight prostate growth. But at what cost? 
"Use of pharmaceutical DHT blockers like finasteride is known to interfere with sexual. drive and function in some men" says board-certified urologist, Dr. Anika Ackerman. "Many of my patients feel that using these drugs to manage their prostate health means trading in one set of unacceptable symptoms for another."
The physical side effects of pharmaceutical DHT blockers drove the team at Inno Supps to find an effective way to combat DHT naturally — without compromising men's intimacy. 
The foundation of Advanced Prostate Support's DHT blocking power is a clinically effective dose of saw palmetto. This potent plant extract has been carefully studied and shown to help inhibit the activity of 5-alpha-reductase — thus helping lower DHT levels in men. 
The result?
Many men who supplemented with saw palmetto for a minimum of 24 weeks reported a significant improvement in urinary symptoms, without a negative impact on intimacy. 
Inno Supps also amplified the power of saw palmetto with 2 other ingredients in Advanced Prostate Support that work synergistically to target DHT in support of a healthy prostate:
Pumpkin seed oil – clinical studies show that pumpkin seed oil is also effective at inhibiting 5-alpha-reductase to help protect your prostate from DHT.
Beta-sitosterol – studies show that supplementation with saw palmetto is more effective when taken along with beta-sitosterol. 
These 3 ingredients work together to provide powerful prostate protection and urinary symptom relief for men at any age — without the trade-off. 
DOES ADVANCED PROSTATE SUPPORT OFFER THE MOST COMPREHENSIVE SUPPORT FOR A HEALTHY PROSTATE?
Invasive exams and risky surgeries that could render a man impotent or incontinent are terrifying options that some men turn to out of desperation to restore their quality of life. 
Like all Inno Supps products, Advanced Prostate Support was born from their commitment to create the most effective supplements to help people achieve their health and fitness goals. 
Advanced Prostate Support goes beyond targeting the root cause of prostate growth, and provides complete natural support for prostate health, bladder function, urinary flow and male physical performance. 
Added plant sterols from stinging nettle root — considered to be the top natural source for prostate health by some experts — and pygeum bark help take this formula to the next level. 
Stinging nettle root and pygeum bark are both shown to have a powerful effect on urinary health, such as helping…
Reduce nighttime urination

Reduce frequency of urination

Promote easier bladder emptying

Restore a stronger stream

Slow prostate cell growth
These two ingredients also help support a healthy inflammatory response and provide antioxidant protection for optimal prostate health and urinary function. 
Advanced Prostate Support also includes essential micronutrients zinc and boron which are crucial vitamins and minerals to boost testosterone levels and enhance male performance from the gym to the bedroom.
With such a comprehensive formula, Advanced Prostate Support provides men at any age with everything they need to keep their prostate healthy and age on their own terms. 
CONCLUSION: INNO SUPPS ADVANCED PROSTATE SUPPORT IS A GAME-CHANGER FOR MEN'S HEALTH
A careful review of the natural formula behind Advanced Prostate Support reveals a targeted, comprehensive formula with proven ingredients to promote prostate, bladder and urinary health. 
Advanced Prostate Support is a must-have for any man looking to:
Restore a healthy sleep pattern with fewer nighttime urges

Free themselves of the embarrassment of frequent bathroom trips

Restore drive and function with increased testosterone levels 
"I happily endorse Advanced Prostate Support and recommend it to any man looking for a natural remedy to improve or protect his prostate health," says Dr. Ackerman. "I truly believe that this product contains all the necessary ingredients to help men take control of their quality of life as they age."
If you want to learn more about Advanced Prostate Support, then click here to visit the Inno Supps website today. 
Medical Disclaimer: All content and information in this blog is for informational and educational purposes only and does not constitute medical advice.
Members of the editorial and news staff of the Las Vegas Review-Journal were not involved in the creation of this content.