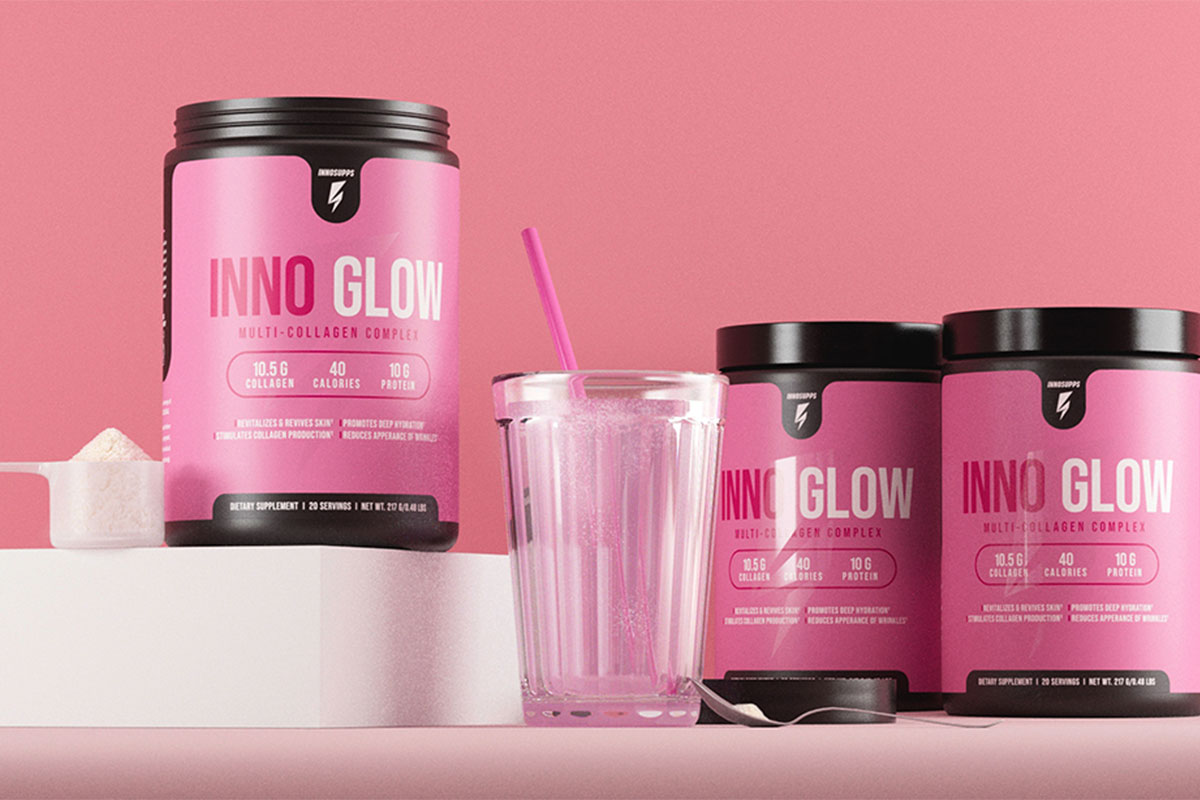 I'm not sure why I was shocked when I looked in the mirror in my late 30s to see my face marked with a few fine lines. Or why I had a slight nervous breakdown when I hit 40, and those fine lines developed into deeper wrinkles, and my once tight skin started to sag.
I know these things happen with age. Plus, my mom always warned me, "You better stop laying out in the sun, going out drinking and slacking on sleep; it's going to catch up with you when you're my age." 
She was right. Aging, combined with years of bad habits, were haunting me in ways much worse than the parched skin and hangovers from my 20s. 
My body had started to lose collagen, the most abundant protein in our body that plays an essential role in keeping us feeling and looking youthful.
In a desperate attempt to restore my youthful vigor, I spent many years trying every product with the word "collagen." All it took was seeing a catchy advertisement or my favorite influencer suggesting a collagen product, and I'd buy it. 
Considering I'm a journalist and it's my job to ask questions, you'd think I would have done my homework before forking over my hard-earned money. 
But it wasn't until I recently did a beauty drawer purge and calculated the hundreds of dollars I'd wasted on collagen products that didn't live up to their beauty-boosting claims that I decided to stop being so quick to buy and start using my research skills to do some digging before adding to my cart. 
A few months ago, the time arrived to put my reporter skills to use.
I saw several ads for a new collagen product called Inno Glow. It had great reviews, and I noticed that one of my favorite med spa doctors, Dr. Anika Ackerman, highly recommends it.
I almost bought Inno Glow without hesitation, but I'd promised myself that I'd do some research before I purchased another product that promised to be the fountain of youth.
I got to work and looked into every claim and ingredient in Inno Glow. I also dug into Inno Supps, the company that formulates and sells the multi-collagen collagen booster that claims to have six age-reversing, beauty-enhancing benefits. 
Here's what I found out and what happened to my hair, skin, nails joints – and even my waistline – after consistently adding this flavorless natural powder to my daily routine. 
Inno Glow Goes Beyond the Surface to Boost Beauty from Within
When it comes to replenishing lost collagen, every legit study I read states the best way to achieve that is not with creams or serums because collagen can't penetrate the top layer of skin.
I couldn't find much solid research proving that topical creams stimulate collagen synthesis or growth; however, I found several that show ingesting a quality multi-collagen can.
Inno Glow isn't topical; it is a flavorless powder that attacks collagen loss from the inside out.

Inno Glow Has Type 1, Type 2 and Type 3 Collagen
I didn't realize there are dozens of types of collagen in the human body. After some reading, it appears the types of collagen we need to focus on replenishing are type I, type II and type III. That's because they account for most collagen in our bodies (about 80-90%) and are crucial in maintaining skin integrity and joint health. 
Even though a collagen supplement should contain all three, I was shocked to discover most of the collagen supplements I'd purchased in years past only had type I collagen, a few had types 1 and 2, and none of them had type 3. 
Inno Glow is a multi-collagen formula. It has an impressive 10,550 mg trio of chicken, bovine and marine collagen, which are rich in all three major types of collagen our bodies need for healthy skin, hair, nails, bones, joints and ligaments. 
Inno Glow Includes an Enzyme Needed For Collagen Absorption
Collagen can't be absorbed by the body in its whole form; it needs to be broken down to be effective. Most of the collagen I'd tried had no mention of these enzymes, which might explain why they weren't working. 
Inno Glow is formulated with a cutting-edge collagen absorption enzyme called Pepzyme AG™. In my research, I found that Pepzyme AG™ is extremely effective at breaking down collagen proteins into their most bioactive and bioavailable forms, making it easier for your body to use its beauty-boosting properties. 
Inno Glow has a Unique Ingredient that "Boosts" Collagen Production
Inno Glow is formulated with another ingredient I'd never heard of and couldn't find on the labels of collagen supplements I'd been using. 
It's called Astrion™…
After some digging, I learned that Astrion™ is a trademarked proprietary blend of extracts from two plants that have been used for years in Chinese medicine for their beauty-boosting properties.
Western medicine docs were usually on to something long before modern-day scientists and researchers, but I still wanted to see if any recent clinical studies back Astrion's™ claims to boost the body's ability to stimulate collagen and provide hyper-hydration from within. 
Sure enough, I found some. Clinical studies show Astrion™: 
Increased collagen production in dermal cells (middle layer of the skin) by 80%

Increased collagen production in epidermal cells (middle layer of the skin) by 60%

Boosts hyaluronic acid production in epidermal cells by 20%.

Reduced wrinkles by 15%. 
After seeing these impressive stats, I'm not sure how a collagen supplement could be complete without this collagen-boosting plant extract. Inno Glow contains a clinically effective dose of 25 mg per scoop.
Inno Glow is Tested, Clean and Doctor Endorsed
Dietary supplements aren't regulated by the FDA, so you have to ensure the supplement you are taking is formulated by a trusted company that takes extra steps to test its supplements.

All Inno Supps products, including Inno Glow, undergo vigorous, NSF-certified third-party testing and are manufactured in the United States in a state-of-the-art, FDA-approved and GMP-certified (Good Manufacturing Practices) facility.

I also think it's a "green flag" if a reputable doctor gives a supplement a thumbs up and suggests it to their patients. One of my favorite Medspa doctors says Inno Glow is the collagen supplement she suggests.

"The combination of natural, clinically studied ingredients in Inno Glow is incredibly effective at boosting collagen production and combating signs of aging. I stand by this product and highly recommend it." – Dr. Anika Ackerman, M.D.
Final Verdict
Inno Glow made some pretty bold claims, but in my research, they are all legit statements backed by clinical studies. 
However, it was my own "personal research trial" that sealed the deal.
I've been taking Inno Glow for 12 weeks, and the results shocked me. Honestly, I could have confidently raved about Inno Glow sooner because I noticed changes after the first bottle, which have only improved over time. 
I had to get my nails done sooner than the usual 3-4 weeks I usually go between fills because they were growing fast!  

My hair seemed more manageable, and when I went in to get a trim, my stylist said I didn't have as much" breakage" as usual.

 

My morning back pain wasn't as bad, and I wasn't as sore after my personal training sessions. 

I also noticed my jeans fit looser!! I've not changed anything about my diet or exercise regime. I assume this little bit of weight loss is because I am consuming fewer calories. I put Inno Glow in my morning smoothie. Since it has 10 g of protein, that extra protein boost must keep me fuller longer because I no longer reach for a late morning snack before lunch.
When it comes to my skin, it's definitely more radiant and smooth. My deep wrinkles aren't gone. Not that I expected them to be; after all, collagen supplements aren't magic and can't totally reverse the aging process.
Plus, I've only been taking Inno Glow for 3 months. In all my research, the beauty-boosting skin benefits of a quality collagen supplement take a little more time to produce significant results. That is probably why Inno Supps offers a 3-bottle bundle as an option.
I can say without a doubt that Inno Supps Inno Glow works. It is the only collagen supplement I'll be using from here on out. I even signed up to have it delivered monthly, so I never run out (plus, you get 20% off when you subscribe.)
I hope you found my digging and review of Inno Glow helpful! If you are ready to try it, click here!
Members of the editorial and news staff of the Las Vegas Review-Journal were not involved in the creation of this content.