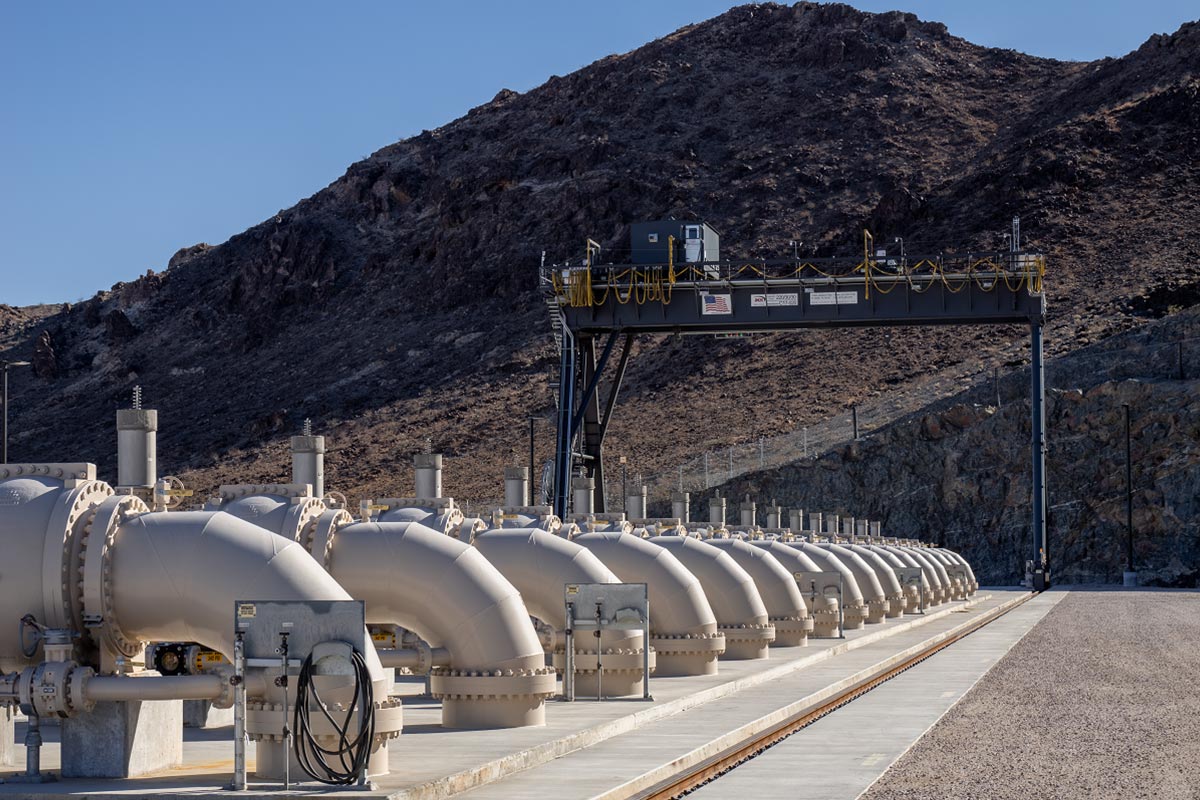 As climate-change fueled megadrought impacts water availability in the Colorado River Basin, the Southern Nevada Water Authority continues to invest in critical infrastructure projects that assure a safe, reliable supply of water for the community.
Among these investments is the new Low Lake Level Pumping Station (L3PS) at Lake Mead, the source of 90 percent of our community's water.
Working in conjunction with a third intake, L3PS allow Southern Nevada to access water supplies below Lake Mead's "dead pool" elevation of 895 feet — the point at which no water can pass through Hoover Dam to generate power or meet downstream water demands in California, Arizona or Mexico.
Completed in 2020 and put into full operation in April of this year, the large-scale pumps at L3PS can deliver up to 900 million gallons a day to the SNWA's two water treatment facilities, allowing the agency to continue sustainable management of Southern Nevada's water resources in conjunction with the community's ongoing and highly successful conservation efforts.
Recognizing the potential risk of declining water levels in Lake Mead and the need to adapt to climate change, SNWA's citizen's advisory committee formally recommended construction of L3PS in 2014. While initial construction estimates came in at $650 million, the project was finished well under budget at $522 million.
L3PS is one key element of a network of water intakes, treatment facilities, pumping stations, reservoirs and pipelines operating 24 hours a day, seven days a week. Combined, these facilities can store up to 1 billion gallons of water and pump more than 1 million gallons per minute through thousands of miles of pipes.
A stable and robust economy is dependent on a secure and reliable water supply. To achieve this, the community must continue its investment in its regional water treatment and delivery system.
With SNWA's long-range water resource planning, the community's ongoing water conservation achievements, and the third intake and L3PS, water will continue to be accessible and affordable in Southern Nevada.
We're all connected through water. Use it wisely.
For more information, visit snwa.com.
Members of the editorial and news staff of the Las Vegas Review-Journal were not involved in the creation of this content.