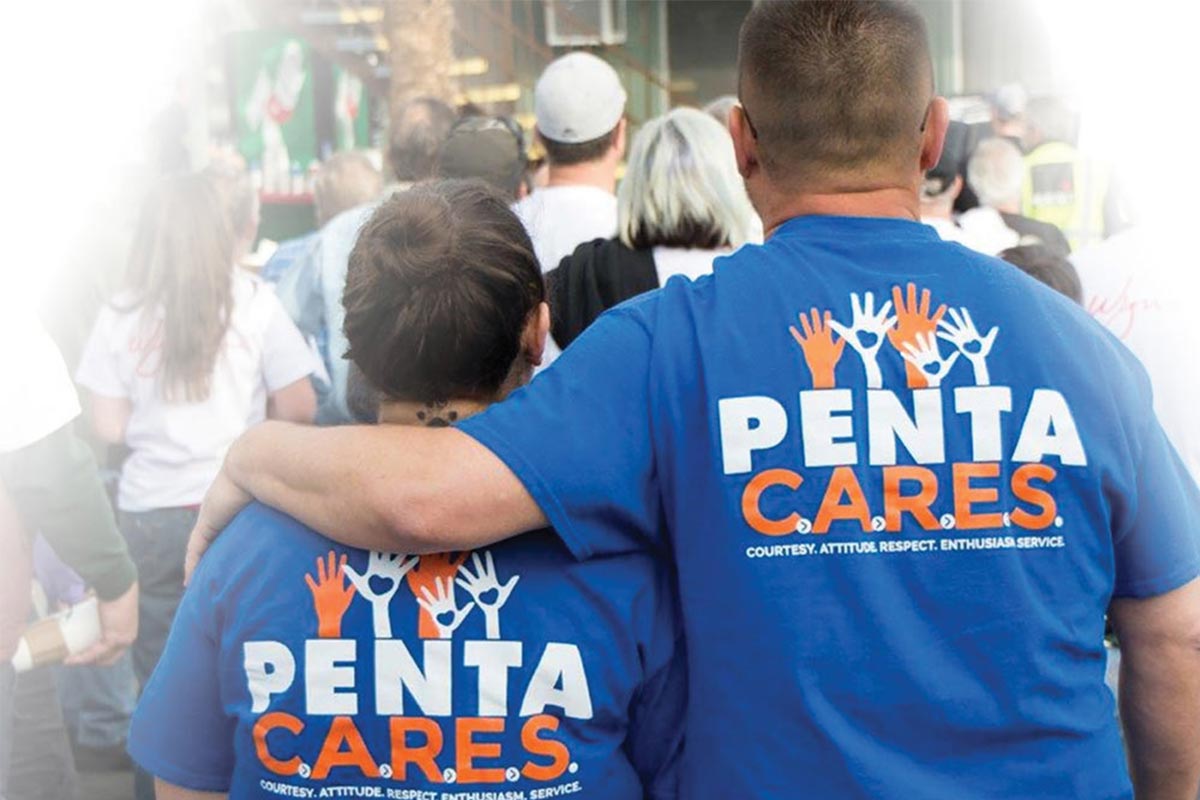 Thank you, Las Vegas, for being such a great place to live, raise our families, and make trusted friends.
Las Vegas is known for a lot of things, but surprisingly, the best part of Las Vegas is known only to locals – its strong sense of community. Considering that Las Vegas is one of the most well-known cities in the world; it's amazing how small the local community feels.
At The PENTA Building Group (PENTA), we've been privileged to contribute to this great community professionally, through our work – building iconic structures throughout the Las Vegas area. Whether we're talking about T-Mobile Arena (home of the Golden Knights), world-class convention spaces such as Caesars Forum Convention Center, or other important local landmarks like the Las Vegas Ballpark, Metro Police Headquarters, or the UNLV Student Union, we've been fortunate to be an important part of the amazing growth Las Vegas has seen over the past two decades.
We have had the good fortune of fantastic clients, partners, subcontractors, and employees. People who care about Las Vegas and work every day to make it a great place to live and to visit. We are so proud of all the people we work with and their passion for giving back to the community.
A lot of places talk about caring for their community; but we've noticed that in Las Vegas people put their money (and their time) where their mouth is. Las Vegas is filled with some of the most generous people and businesses in the country. It's an inspiring feeling we hope the city never loses.
So, for our small part, we created PENTA CARES; a not-for-profit foundation that allows PENTA and our partners to channel our passion to give back to the amazing local charities throughout Las Vegas.
Through PENTA CARES, we have been able to contribute over $10M and thousands of volunteer hours to local charities. Whether it's organizing a dedicated coalition of Contractors to build a new structure for Veterans' Village or pouring concrete at Opportunity Village's Magical Forest; PENTA CARES has allowed us to give back to this wonderful community where we live and work.
But why are we writing about this in the Las Vegas Review-Journal? Simple, we want to say thank you to all of our clients, partners, subcontractors, and employees who've made PENTA CARES successful. We are grateful for everything you've done. Your generosity in the true spirit of building community is greatly appreciated.
Now, more than ever, it's important to continue our commitment to keeping Las Vegas strong.  Regardless of our perspectives and opinions on the world today; one thing we can agree on is that it's been a tough year. Opinions matter, but patience and community matter more.
We're proud that through PENTA CARES, we've been able to give back a little to the Las Vegas community that has been so amazing to our company and our people. There are so many great ways to help each other; we hope that this article will inspire you to find your own way to help make Las Vegas even stronger…
– John Cannito, President and CEO, The PENTA Building Group
Members of the editorial and news staff of the Las Vegas Review-Journal were not involved in the creation of this content.