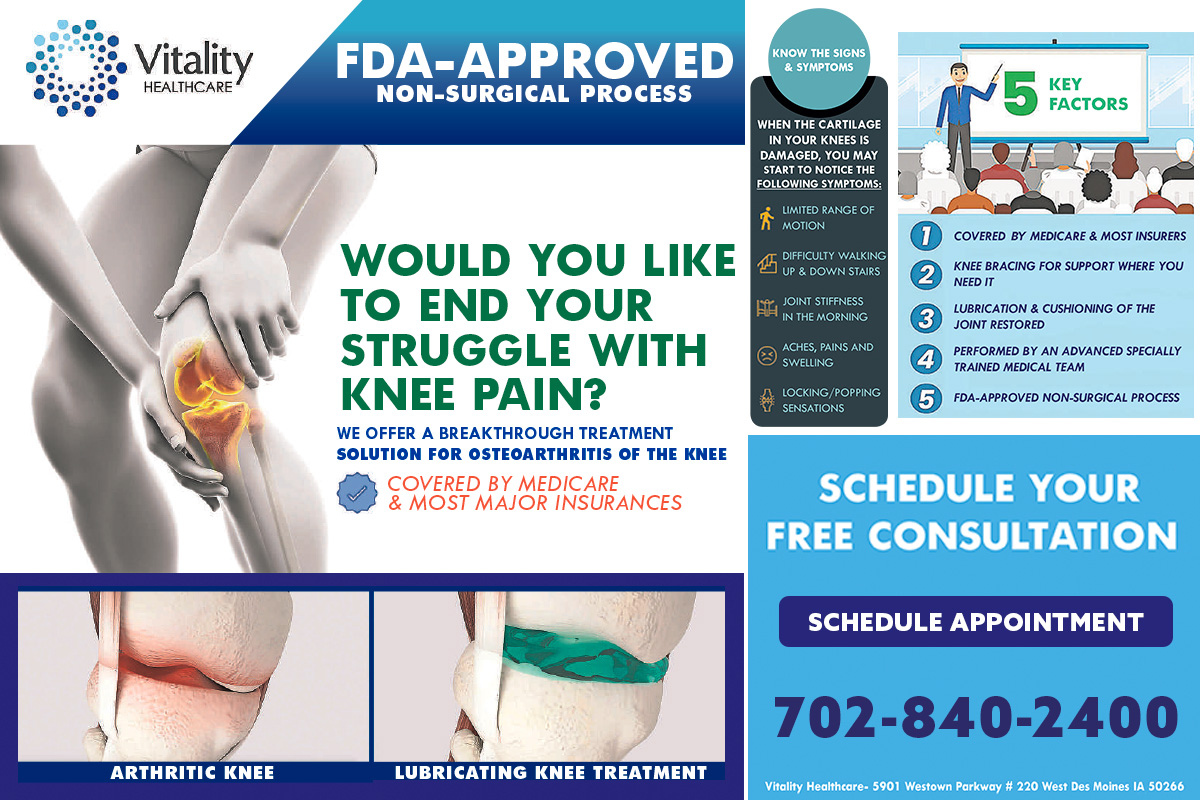 Do you want to end your struggle with knee pain and avoid knee replacement surgery? You are not alone! We may have your solution. Using an FDA-approved treatment program, our advanced medical team uses precision image guided injections to lubricate and cushion the knee, cutting edge digital imaging that allows us to see the knee in real time, and follow up care to maintain long lasting results. Our process allows us to get to the real cause of your pain and help you achieve an active lifestyle.
Call today for a free one on one consultation with our advanced and caring medical team.
We are offering a complimentary, no-obligation consultation with our doctors where we will listen to you and put together a customized plan to achieve lasting relief of your pain.
WHY CHOOSE US?
We offer some of the most innovative FDA-approved procedures for relieving chronic pain. Our knowledgeable medical team offers the latest medical technology advancements. Our approach offers procedures that will improve your health with the utmost safety and precision. We pride ourselves on providing an accurate diagnosis and a solution to fit your needs and desires. From your initial visit when you meet our friendly staff, you will get a sense of our deep commitment to your health and to you as a person. We will customize a program specifically for your needs and condition. Instead of just treating your symptoms, we address the cause and take a whole body approach to offer long lasting results.
This complimentary consultation is no obligation and allows our knowledgeable medical team to determine if you are a candidate for this innovative treatment.
OUR PATIENT COORDINATORS ARE TAKING CALLS RIGHT NOW.
Vitality Healthcare is now scheduling a free consultation for patients to determine eligibility.
Call 702-840-2400 or visit the website, vitalityhcg.com for more information.
Vitality Healthcare has two locations in Nevada.
Las Vegas: 
Vitality Healthcare
8530 W. Sunset Road, Suite 305
Reno:
Vitality Healthcare
343 Elm St., St
Members of the editorial and news staff of the Las Vegas Review-Journal were not involved in the creation of this content.

Learn more about how you can benefit from this treatment
Enter your information here to have one of our professionals schedule your free consultation today.