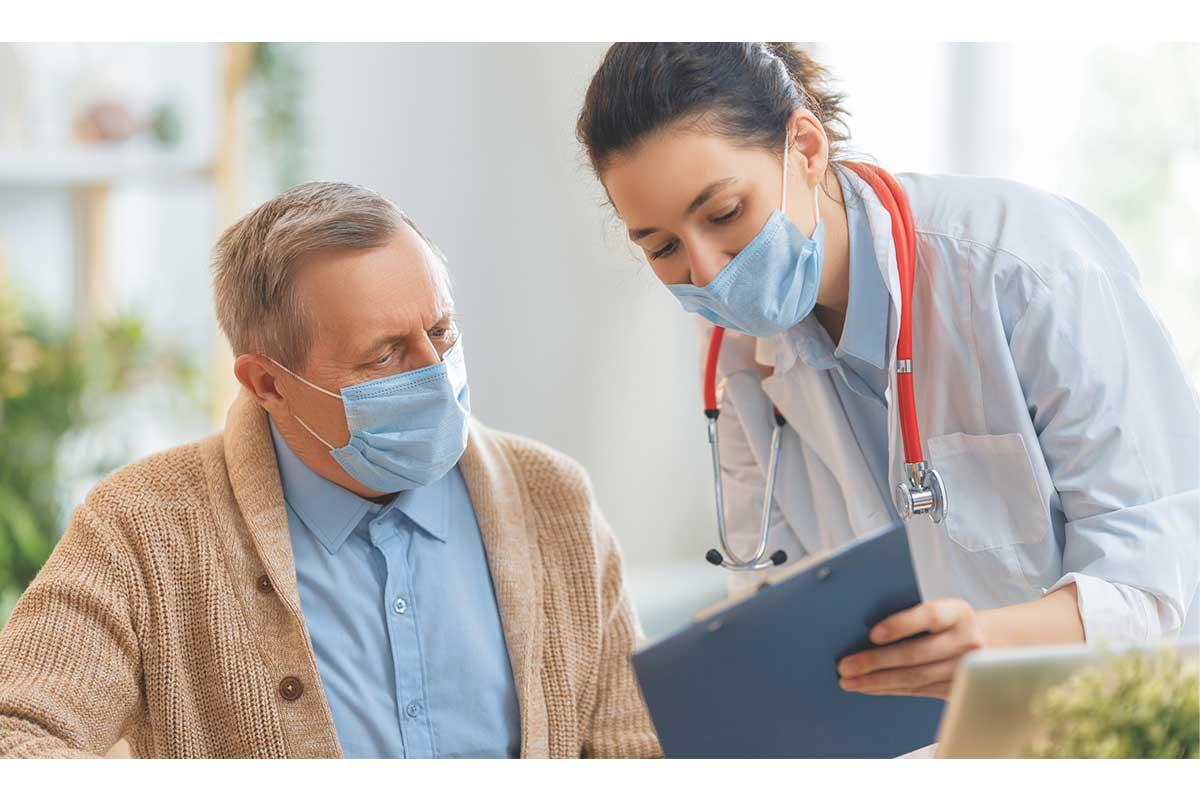 As the COVID-19 pandemic continues to impact Nevada and the nation, the Las Vegas Review-Journal hosted an Aging Wellness Webinar focused on Preventative Health Care which was presented by Southwest Medical, part of OptumCare, on Oct. 28, 2020.
During the one hourlong webinar, Associate Medical Director Dr. Girisha Kaur, Team Lead Dr. Hilary Schroder and Dr. Guarav Zirath, the core faculty of the Family Medicine Residency Program at Southwest Medical, discussed the importance of preventative health care in face of the spreading COVID-19 virus.
COVID-19 has affected millions of people and their families throughout the world, especially senior citizens. Here in Nevada, Southwest Medical was the first in the state to introduce curbside COVID-19 testing for patients and helped the UNLV School of Medicine conduct testing during the pandemic.
As many seniors remain concerned about going to medical offices during the pandemic, the doctors reminded patients about the importance of having wellness checkups once a year. Southwest Medical has taken significant precautions to follow guidelines issued by the Centers for Disease Control and Prevention by limiting the number of patients in the waiting room, requiring temperature checks, and answering screening questions upon entry into the lobby. Further, exam rooms and equipment are cleaned after every patient, minimizing risks for visiting doctors' offices.
Patients who put their primary care on hold could face larger issues later. The doctors stressed that patients can't ignore their medical condition, even if it is under control. Patients with medical conditions such as heart disease, diabetes, asthma, and kidney disease require regular checkups with their medical providers. Putting off a health care visit could impact a patient's overall health. Those living with a chronic illness who have not seen a healthcare team in the past three to six months should call their doctor.
Southwest Medical offers other options for patients that have chronic conditions and are still fearful to come into an office. Medical providers and staff can go outside to the patient's car or participate in a tele-health visit. Either option would be appropriate for patients with stable chronic conditions who need to refill prescriptions, review their lab results, or want to touch base with their primary care provider.
Southwest Medical also offers a mobile medical clinic that travels to local neighborhoods where patients can be seen and receive care. The Now Clinic App (available in the Apple and Google app stores), a video portal for patients wishing to speak with a medical professional, is an available option.
For many patients who don't feel technically savvy, they can just pick up the phone to speak to a doctor about their medications, schedule a routine follow-up, or request a  review of their lab work.  Southwest Medical is doing everything it can to minimize both patient and staff risks, and employs a variety of specialists, including cardiologists, endocrinologists, rheumatologists, OBGYNs, and pediatricians on board.
As one might imagine, video visits have increased substantially.  In 2019 there was an average of 70 visits per day, while in recent weeks there are upwards of 700 visits per day.  There is no lack in quality of care as Southwest Medical has a state-of-the-art system that integrates every aspect of medicine.
Whether it's in the clinic, or over the phone, everything stays put in one place. Southwest Medical offers patients access 24-7 to their own medical records through an online portal.  Doctors are able to securely send all prescriptions and lab orders electronically.  Patients who prefer to minimize paper waste can simply download the app or go to SMAlv.com and look for e-health tools.
Southwest Medical also offers lifestyle centers that are more of a social club for the elderly and aging population. You don't have to be a member of the health plan to join in the activities. The lifestyle centers offer social activities, a chance to meet new friends, and diet and exercise lessons offered as well.  Exercise is a great way to keep yourself mentally and physically active, help beat depression, and can reduce your risk for falls.
Another topic of concern is flu season. Southwest Medical has flu vaccines available. Getting the vaccine early does have some benefits. A vaccine reduces the risk and tends to substantially lower flu symptoms.  Also, for the senior population, the flu vaccine can help avoid hospital stays by minimizing the severity of the illness.
Meanwhile, access to a patient's medical information has never been easier. Patients who sign up for the Southwest Medical app or go to smalv.com can track and manage medication lists, blood pressure results, blood test results, imaging and more.
Southwest Medical also offers a telephone advice nurse line, where a nurse is on duty to answer questions and assist in helping patients make next day appointments.  The service is offered 24 hours a day, seven days a week.
For more information or to view the "Preventative Health Care" Webinar On Demand, be sure to visit agingwellnessexpo.com/webinars. The Las Vegas Review-Journal editorial and news staff were not involved in the creation of this content.
Members of the editorial and news staff of the Las Vegas Review-Journal were not involved in the creation of this content.