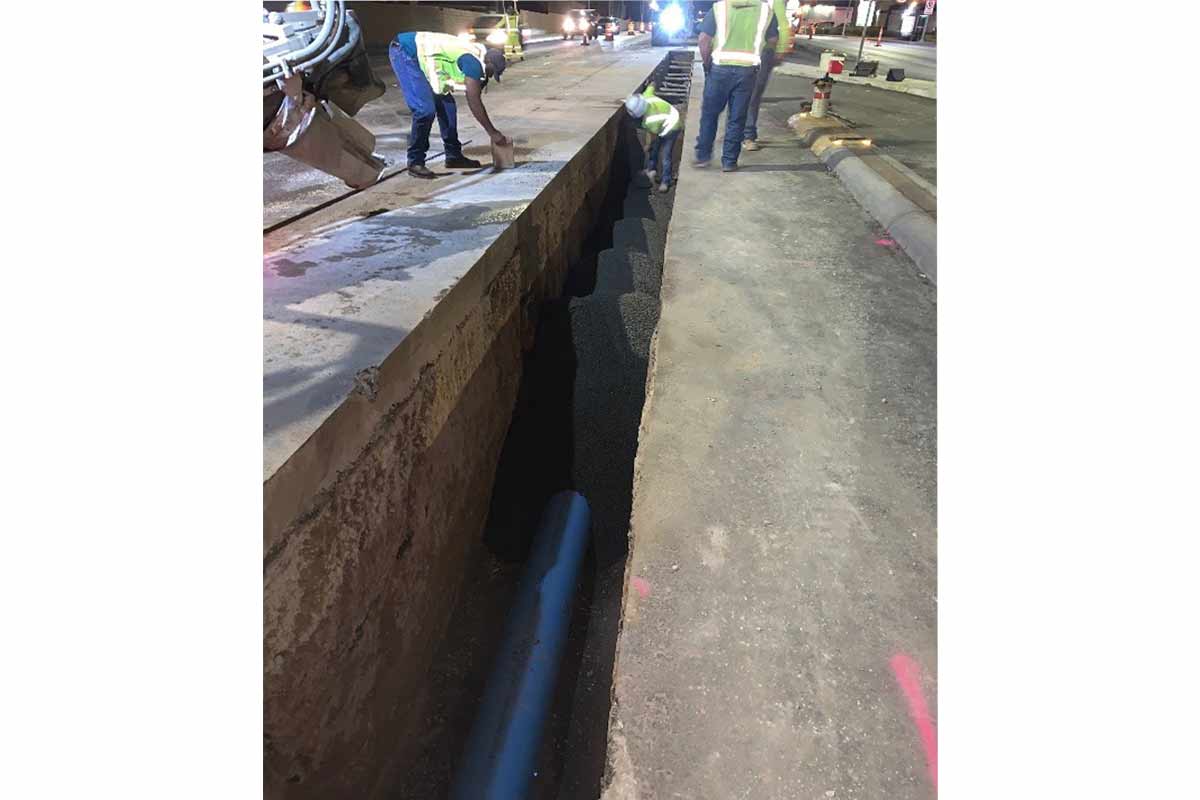 Last summer, an infrastructure assessment team for the Las Vegas Valley Water District (LVVWD) evaluated a section of aging pipeline to determine its reliability and reduce the potential of a large break that could cause major water service interruptions to the homes and business in the area. Located in the Francisco Park neighborhood near Valley High School, the pipeline suffered a small cluster of leaks that required a series of repairs and short service interruptions for some customers.
Installed in the 1970s, the pipeline was already slated for replacement as part of the LVVWD's proactive asset management program that ensures the Water District's 300-square-mile service area has a reliable water supply. However, based on the assessment team's review, the project to replace the aging infrastructure was reprioritized to limit customer disruptions with repair work.
"We saw a pattern and didn't want to chase one bad pipe after another. It's more expensive and disruptive if we wait until a major system failure to replace aging infrastructure," said Doa Ross, LVVWD Deputy General Manager of Engineering. "We constantly assess our water system to determine what needs repairs or replacement and then schedule the projects to keep water flowing to our community's homes and businesses."
The continuous investment LVVWD makes in the water distribution system has resulted in a rate of main breaks that is eight times lower than the national average, and the LVVWD is an industry leader in minimizing water losses from leaky infrastructure.
Many areas of the community were built more than half a century ago and pipelines don't last forever. Actively preventing service outages and lost water requires continuous effort by LVVWD's Engineering and Infrastructure Management departments, which keep track of the millions of components that comprise the community's water delivery system and systematically replace the components before they fail and leave customers high and dry.
In addition to scheduled maintenance, repairs and replacement, LVVWD staff interacts with state and local agencies to plan water system upgrades around other major construction projects to help reduce disruptions to neighborhoods.
For example, when LVVWD learned of the Nevada Department of Transportation (NDOT) Tropicana Overlay project on Tropicana Avenue from Maryland Parkway to Boulder Highway, it coordinated with NDOT on construction scheduling. LVVWD is adding additional networks of pipelines and replacing aging valves on the 60-inch diameter water main running under the major thoroughfare. By coordinating the project with NDOT, the LVVWD avoids digging up freshly-paved streets just weeks or months after NDOT removes its orange construction cones.
Combined with some additional water system work, the project includes replacing large diameter valves, repairing small sections of pipeline and adding water system redundancy in this area, which increases service reliability for our customers and minimizes the potential for water service interruptions.
"As we upgrade more mature sections of our distribution system, we have the ability to isolate sections of the main for inspection and repairs, and use the bypass pipelines to reroute the water so that there is minimal impact to the community," Ross said, explaining the lengths that the LVVWD goes to coordinate challenging infrastructure repairs and shutdowns. "We will be able to go into smaller sections of the pipeline, inspect it and then make the necessary repairs only where they're needed without having to interrupt service to large number of customers."
Over the next decade, LVVWD will be conducting similar projects to protect the community's $1.7 billion water system. Construction-related outlays represent the lion's share of the LVVWD's budget, accounting for more than double the expenditures associated with staffing. To learn more about Las Vegas' water system, visit lvvwd.com.
Members of the editorial and news staff of the Las Vegas Review-Journal were not involved in the creation of this content.