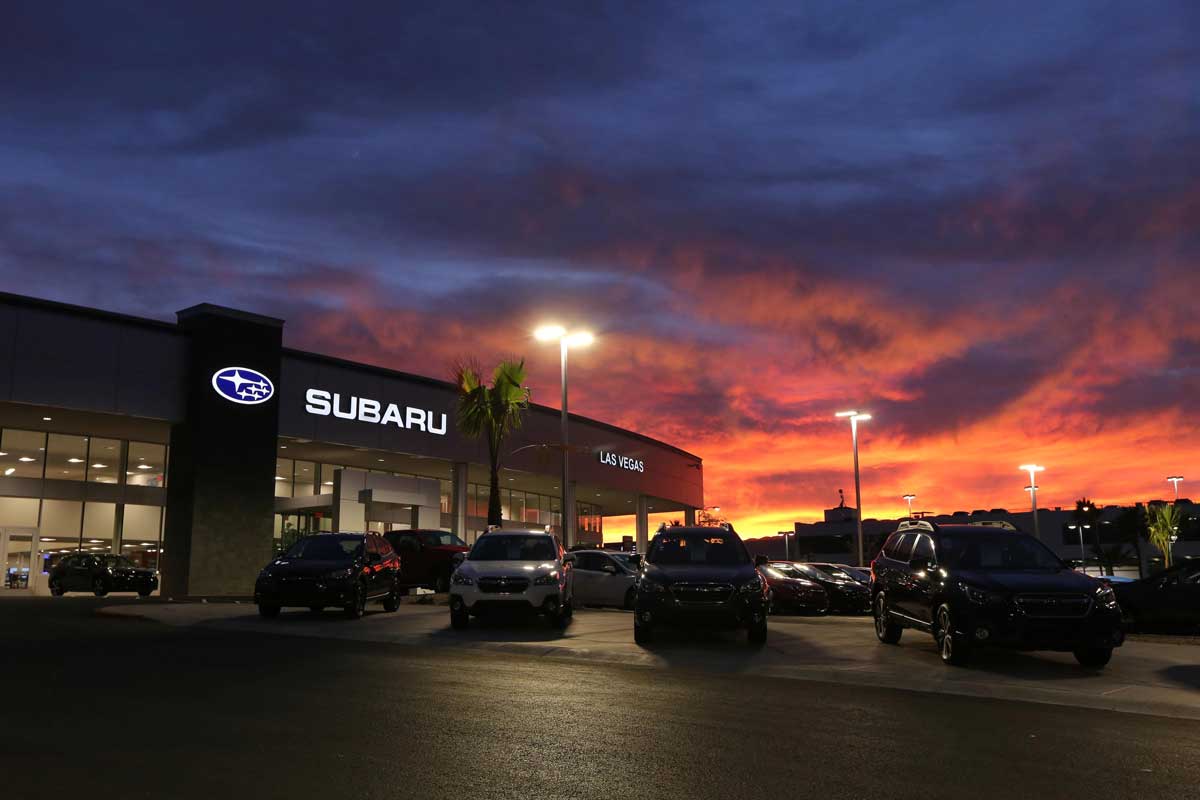 At Subaru of Las Vegas, it's all about the culture, and General Manager Burton Hughes says it's a cool one.
The dealership that's part of the Findlay Automotive Group is the first import brand the company added to its Oldsmobile franchise in 1971, and it's far from your typical car dealer.
When the 70,000-square-foot, two-story facility opened three years ago, it was built with Subaru owners and their lifestyle in mind.
"This dealership was designed from the ground up to be pet-friendly, Burton said. "We have a dog park out in front, and pet-friendly facilities inside. The average Subaru owner also has a dog and some of them have cats so that's part of the fun vibe you feel at our facility with dogs running around the dealership throughout the day."
Inside the bright and airy showroom you'll find an expansive customer lounge with a variety of seating options from club chairs to a "quiet" area; an entertainment space; to the Discovery Children's Museum Kids Zone. Central to all of that is the STI Café with complimentary fruits, snacks, espresso drinks, slushies and boxed water to help with the environment. With COVID restrictions limiting the availability of self-serve refreshments in many locations, Subaru of Las Vegas chose to hire staff to serve the customers and preserve the unique environment focused around extraordinary customer service.
The customer lounge is also home to a classic 1969 Subaru minivan, which was featured on the History Channel's program "Tanked." The episode turned the minivan into a 350-gallon, saltwater aquarium with tropical fish. Guests regularly take selfies in front of it and post to social media.
The showroom floor also has an award-winning Subaru STI race car on display which garners a lot of attention as well.
Subaru of Las Vegas is at 6455 Roy Horn Way along the 215 Beltway between Rainbow and Jones boulevards, and has about 500 new and used cars on its grounds at any given time.
To facilitate the service needs of the growing population of Subaru cars and SUVs in the valley, Subaru of Las Vegas has more than 40 service bays to serve the customers. The parts and accessories department features an array of products beyond what you would typically find at a dealership.
"People who buy Subarus like to engage with the great outdoors, and so we have rooftop tents and all kinds of accessories to help facilitate all of the things you can do in a Subaru," Hughes said.
Hughes has served as general manager since 2007 and guided the dealership during the Great Recession, which took its toll on the valley. The dealership was down to 17 employees at one time and is now back up to 135. It sells about 200 or more Subarus a month and currently offers zero-percent financing for many new models to well-qualified buyers.
"There's no question that God has blessed me with this opportunity to represent a really great brand within the Findlay Automotive Group," Hughes said. "All-wheel drive vehicles in the desert were certainly not the norm. When I became the general manager, we were probably selling 25 new Suburus a month and those 25 people were probably the ones that wanted to take it up in the mountains or travel into areas with inclement weather. Since then, Subaru has continued to build and improve on their all-wheel drive system, safety reputation and reliability. They build a great product."
Consumer magazines and their ratings score Subaru high for resale value and longevity. Kelly Blue Book has named it the Most Trusted Brand for five years running.
"There is such a great story of where Subaru has come from," Hughes said. "One of the things that sets Subaru apart is that most manufacturers want their retailers to just sell a lot of cars and service their customers correctly. Subaru goes a step beyond that in that they want us to engage with our local communities — to give back. They built a platform to do that — it's called the Subaru Love Promise, and the expression of those promises is how we engage with our community. We're constantly looking for opportunities and building partnerships with great organizations like Make-A-Wish, Feeding America, Meals On Wheels, the National Park Foundation, ASPCA, and so many more. We're just not selling cars. The whole focus and culture of our store and brand is to engage and make the world a better place to live for all of us. It's why we are here and what we do."
Members of the editorial and news staff of the Las Vegas Review-Journal were not involved in the creation of this content.