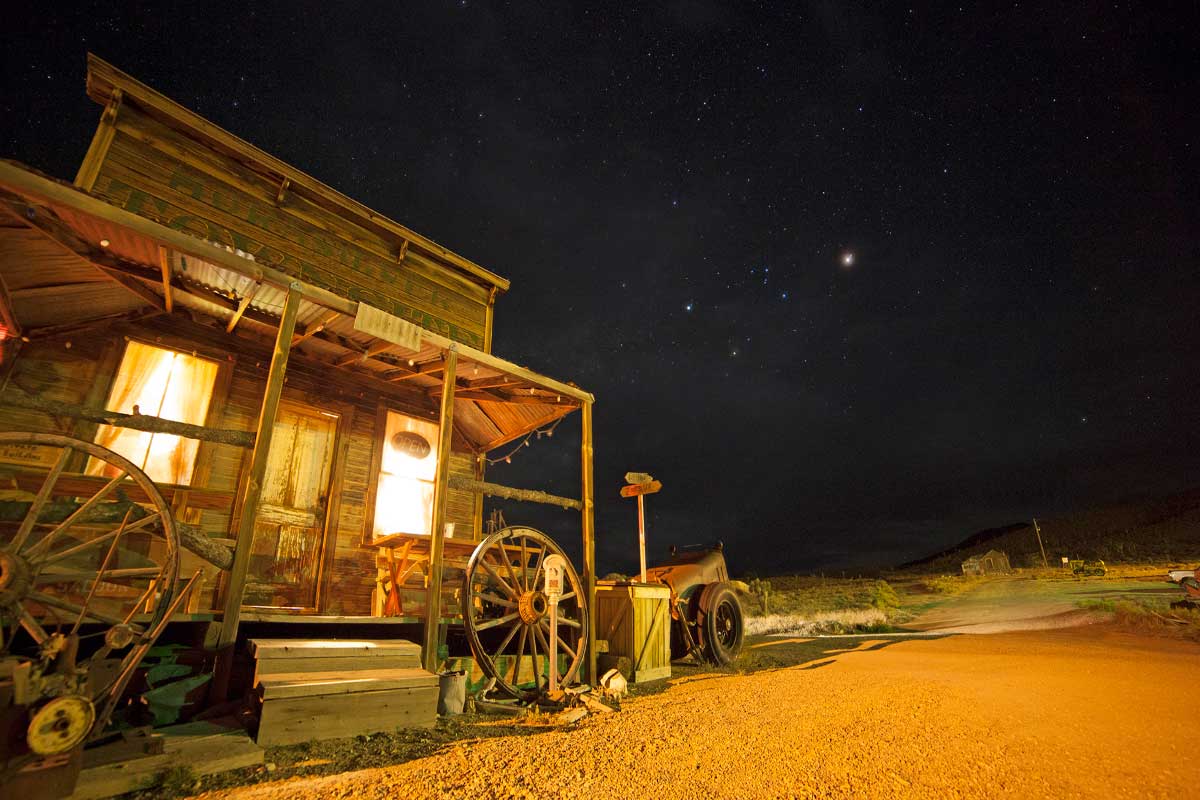 Believe it or not, our state is home to more ghost towns than actual populated ones. And a bunch of these time-tested beauties are yours to explore; all you need is your vehicle and a sense of adventure. Next time you're in need of a blast from (and with) the past, pack up and point your car in the direction of these six ghost towns outside of Las Vegas.
Rhyolite Ghost Town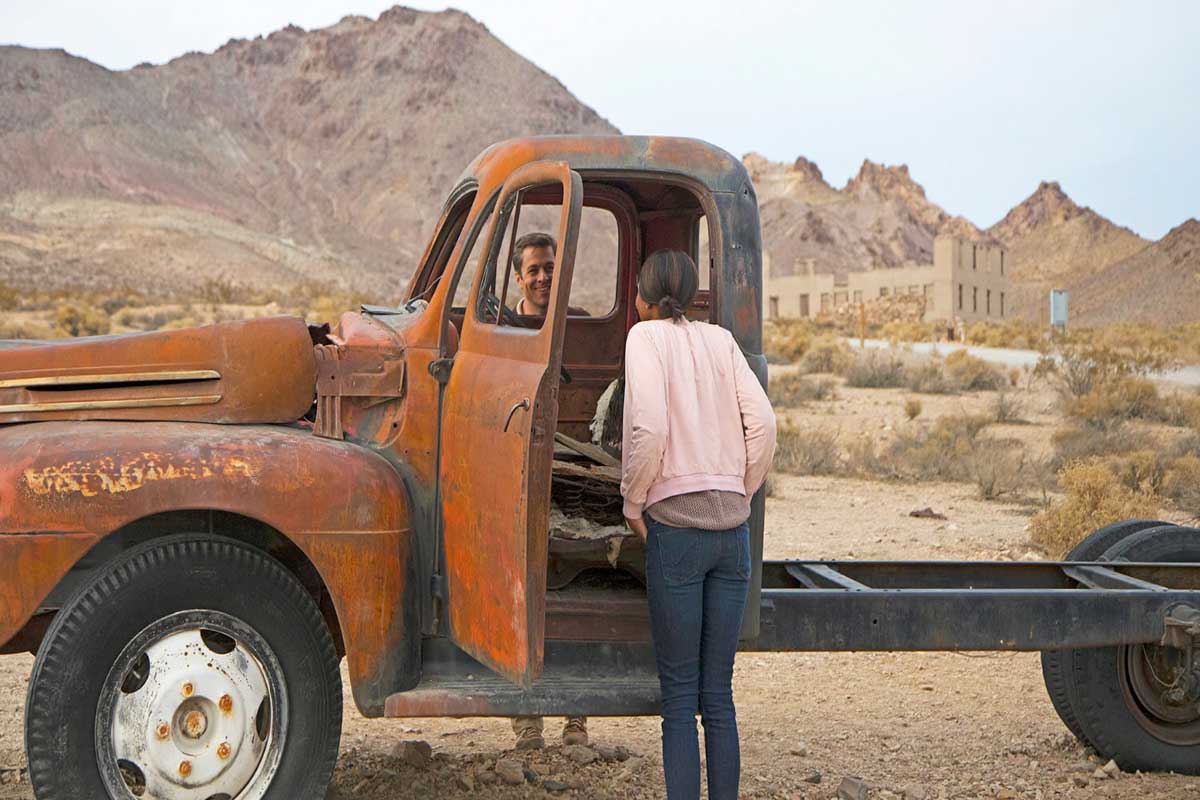 Get ready to be dazzled. Travel just under two hours to Rhyolite and you'll instantly see why this place is easily the most photographed ghost town in Nevada. The still-standing remnants at the epicenter of the once wildly profitable Bullfrog Mining District are as iconic as they are impressive (you may recognize them from countless movies and commercials), and golden hour is one of the best times of day to snap Insta-worthy shots. You'll also find the Tom Kelly Bottle House; built from nearly 50,000 glass bottles, it's both the oldest and largest of its kind in the nation.
Of course, a visit to Rhyolite isn't complete without a stop at the Goldwell Open Air Museum on your way in or out. An outdoor art park featuring some seriously colossal sculptures, you'll want selfies with a 24-foot steel prospector and his trusty penguin sidekick, a pink cinder block woman standing just as tall, and the always popular Ghosts of Goldwell. If you work up an appetite, swing through Beatty and reward yourself with a legendary bowl of chili and an ice-cold mug of beer at the aptly named Happy Burro Chili & Beer.
Distance from Las Vegas: 125 mi / 2 hr
Closest Living Town: Beatty
Travel Nevada Pro Tip
Save the good stuff for the rest of us! Don't forget that removing, disturbing, or damaging any ghost town goods is illegal—and just straight-up not cool. Discover Your Nevada—and protect it, too.
Gold Point Ghost Town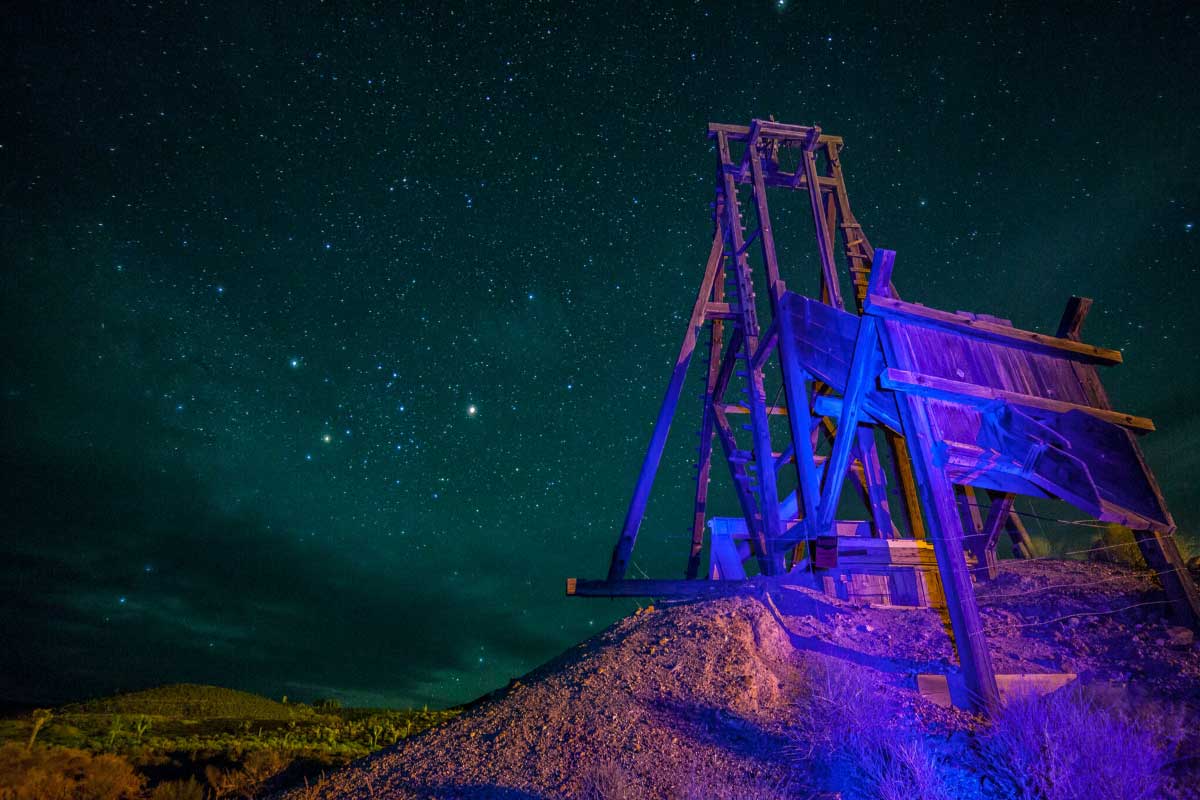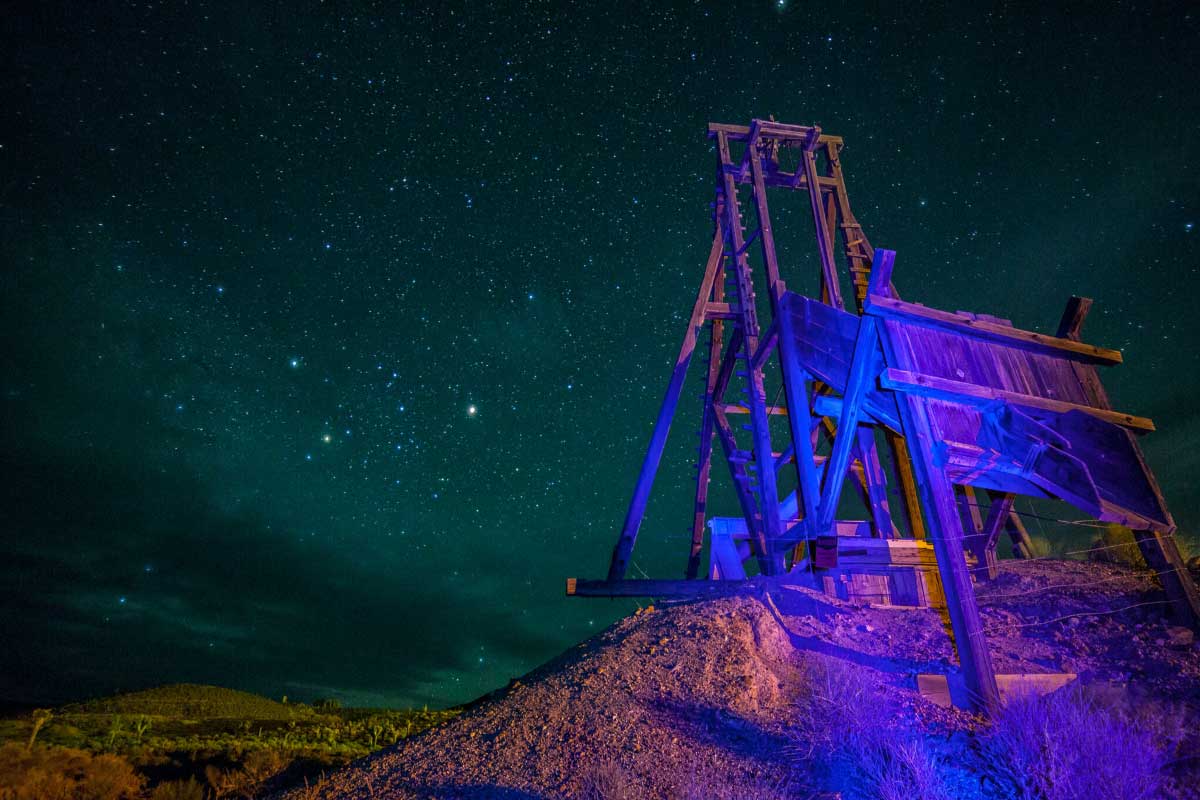 If you wanna turn your ghost town day trip into a spirited sleepover, go 70 miles northwest from Rhyolite to Gold Point. In its heyday, the silver mining camp boomed with hotels, saloons, a post office, bakery, and more than 100 dwellings. Nowadays, history buffs and ghost town aficionados enjoy its lovingly restored main street, all thanks to the trio of gentlemen who parlayed their winnings from a slot machine mega-jackpot to buy and preserve the weathered buildings. Plus, you've got some of the darkest skies in the Silver State overhead, so the stargazing is primo. If you time it right, you can stay the night in an old miner's cabin, courtesy of Gold Point Ghost Town B&B; or overnight 30 minutes away in Goldfield and sightsee some more funky desert art on your way back to Vegas the next morning, via the Free-Range Art Highway.
Distance from Las Vegas: 185 mi / 3 hr
Closest Living Towns: Goldfield, Beatty
Nelson Ghost Town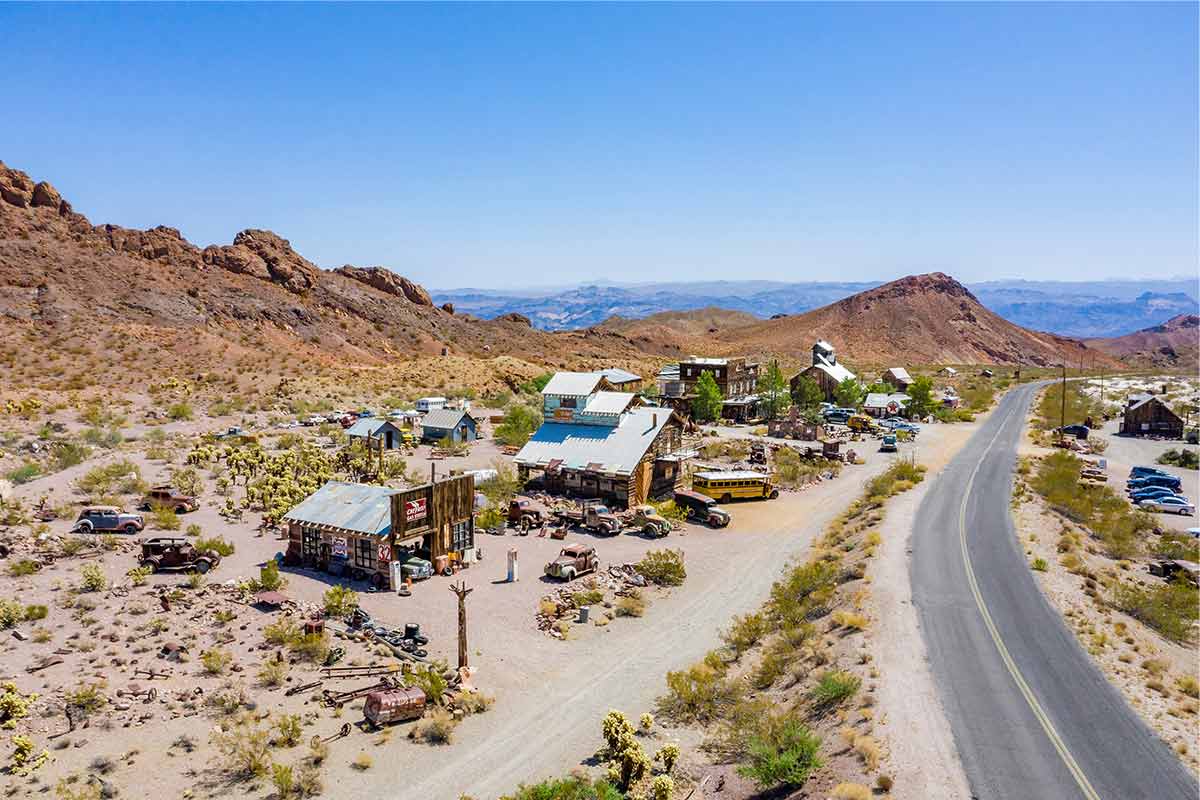 Nestled in Eldorado Canyon is Nelson Ghost Town, home of the Techatticup Mine, the oldest, richest, and most famous gold mine in Southern Nevada. You can take guided mine tours, rent canoes and kayaks for a dip into the nearby Colorado River, and even snag a permit for full-on photo shoots. And you won't be the only one eager to capture this Wild West landscape; this spot has been showcased in numerous movies, TV shows, and magazines, with plenty of left-behind evidence to show for it. One of our faves? A "crashed" plane from 3000 Miles to Graceland.
Distance from Las Vegas: 45 mi / 45 min
Closest Living Towns: Boulder City, Henderson
Goodsprings Ghost Town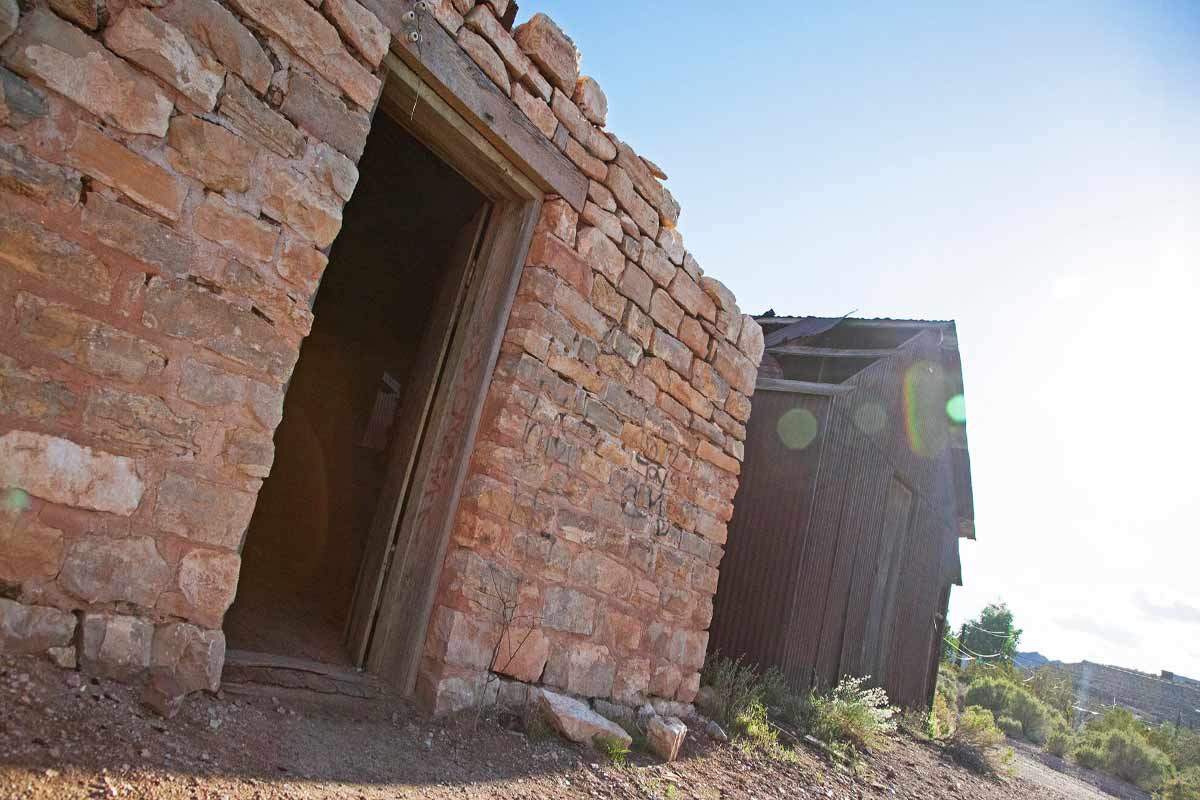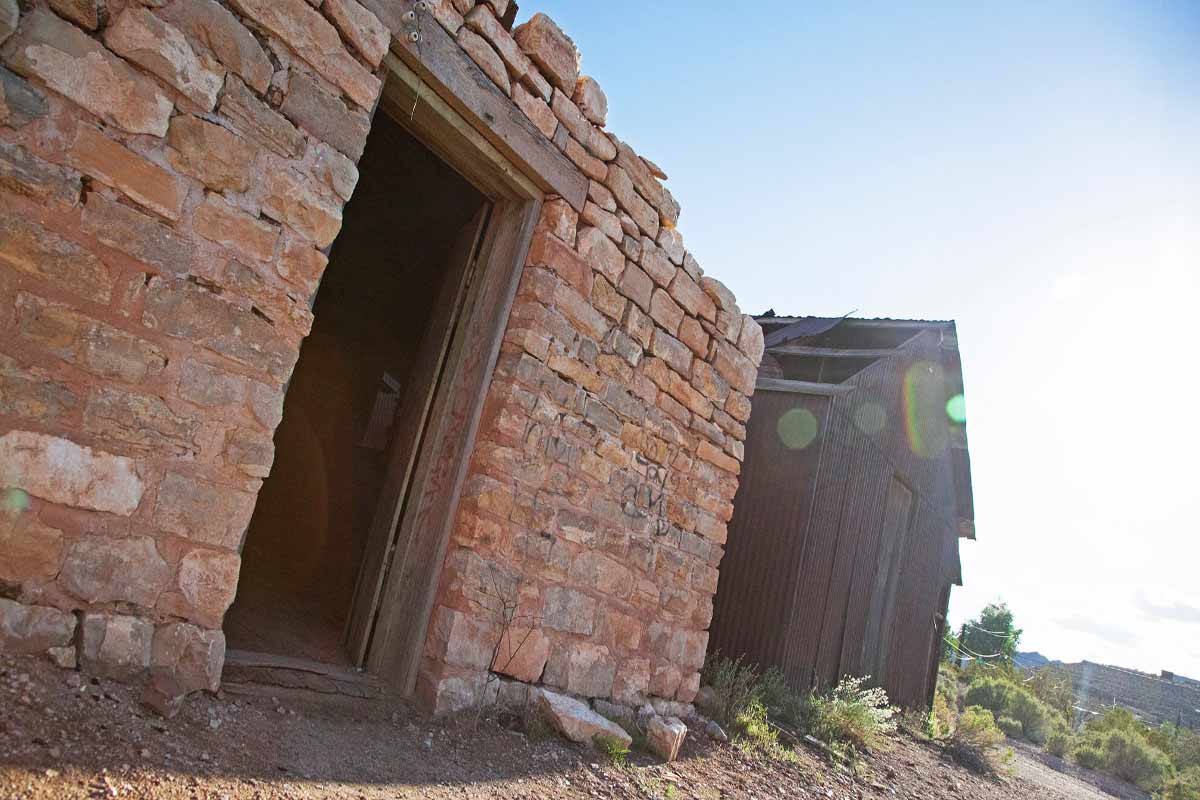 History's the name of the game in Goodpsrings, and a self-guided walking tour will get you up close and personal with miner cabins, a more-than-a-century-old schoolhouse (that the local kiddos still attend), and one of the best Sagebrush Saloons in the state. Built in 1913, the legendary Pioneer Saloon serves up Pioneer Steaks, a killer Ghost Burger, and equally memorable merchandise. Our advice? Take your tour before bellying up to the bar—we have a habit of not wanting to leave.
Distance from Las Vegas: 40 mi / 40 min
Closest Living Towns: Jean, Las Vegas
Travel Nevada Pro Tip
Boy, if these original stamped-tin walls could talk… Definitely ask for a historical tour of this storied watering hole. Between bullet holes and Clark Gable's cigarette burns, this place is the real deal.
Pioche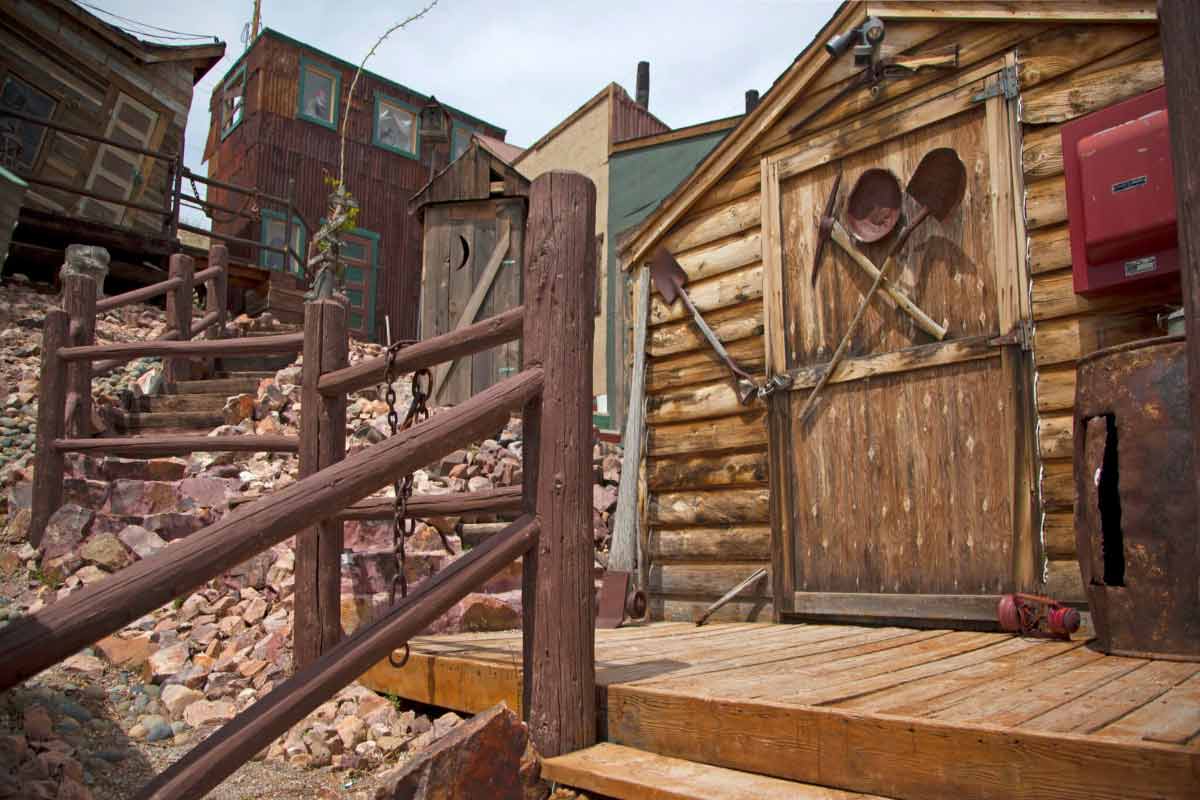 You'll get the best of both worlds in "Nevada's Liveliest Ghost Town." Pioche—technically a "living ghost town"—pairs its authentic Wild West roots and relics with more modern-day attractions, like stunning state parks, saloons, and museums, and all of it is a beautiful, under-three-hour jaunt from Las Vegas. If you thought Tombstone, Deadwood, and Dodge City set the bar for gunslinging, wait until you hear this. Back in the 1870s, literal shootouts in the street were a common occurrence here, and 72 people were laid to rest in Pioche's Boot Hill Cemetery before anyone actually died of natural causes. And some were buried so quickly that the tips of their boots allegedly stuck outta the ground. The intriguing gravestone inscriptions are well worth a gander (one of our faves: "John B. Lynch: Shot during dispute over a dog."), as are the original ore bin and aerial tramway—the only one left in the Silver State—still hanging overhead.
Distance from Las Vegas: 175 mi / 2.75 hr
Delamar Ghost Town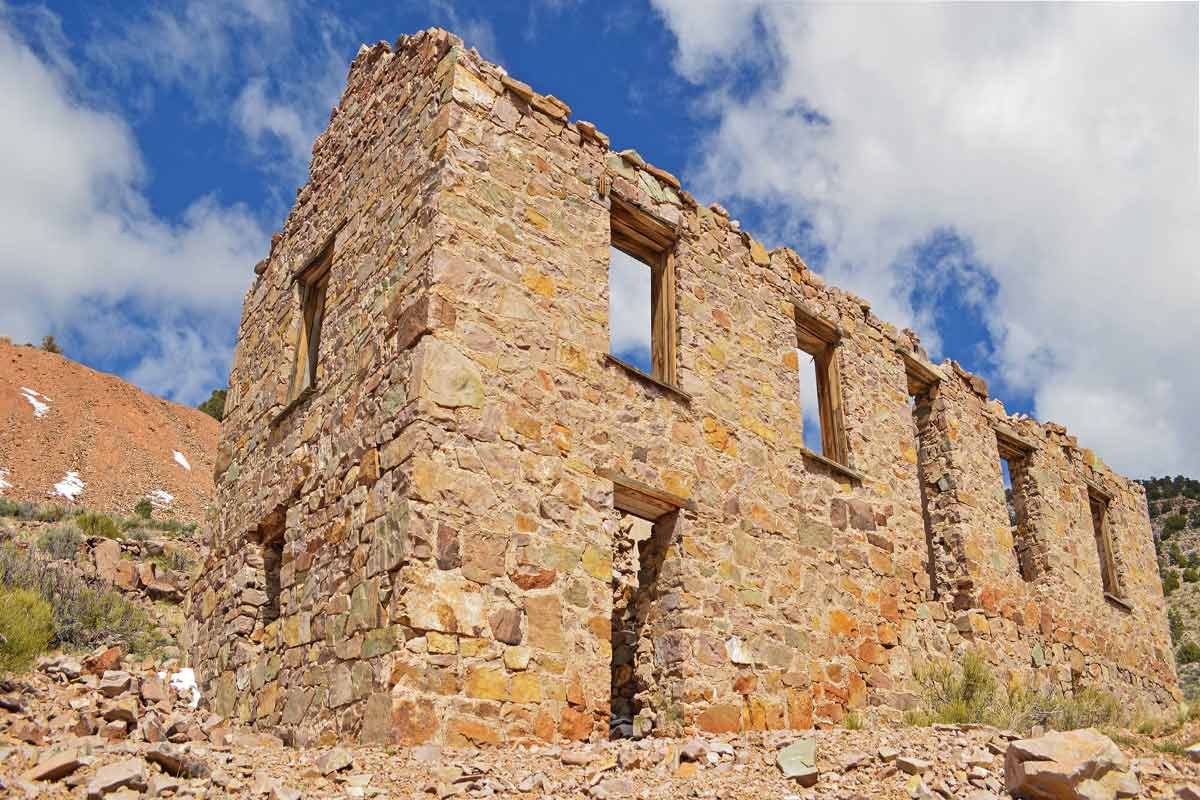 If you're taking the trip to Pioche, you've gotta stop and scope out Delamar, too. It's almost unbelievable how many structures are still standing in this place—we're talking dozens of buildings, two graveyards, milling remains, miner cabins, a brick archway, and even more. Plus, everything was built from a kaleidoscope of colored stones, making the ruins even more extraordinary—especially when the golden-hour sun makes it glow. Instead of hightailing it home to Vegas after your day at Delamar, save the drive for tomorrow and spend your night in Caliente or nearby Pioche. You'll thank us after you catch a gorgeous sunrise at one of the several state parks along your route.
Distance from Las Vegas: 140 mi / 2.5 hr
Closest Living Towns: Caliente
Get the specs on even more ghost towns waiting to be discovered around the Silver State at DiscoverYourNevada.com.
Members of the editorial and news staff of the Las Vegas Review-Journal were not involved in the creation of this content.