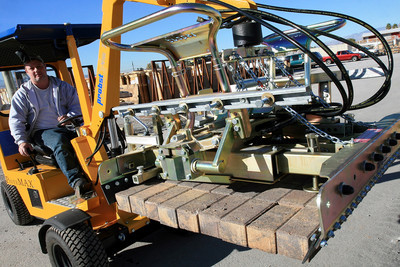 During the boom times a couple of years ago, Dave Pawl would entertain clients on the golf course. Now, a chat over a cup of coffee will have to do.
As the owner of Southwest Specialties, a decorative concrete paving and masonry contractor mainly for high-end homebuilders, he started feeling the sharp edge of the economic downturn more than a year ago. He enjoyed something of a cushion because most of his equipment is paid for. But he still radically overhauled operations when it became apparent the typical autumn slowdown that started in October 2007 would run much longer.
"We thought at first we were having just a little hangover" from an overheated housing market, he said. "It was in the late spring (of this year) we started to adjust everything."
He and many other business owners have radically altered their tactics and practices to ride out the economic maelstrom that they suspect will continue well into next year. Pawl has built into his planning the potential that he will have to tough it out through 2010 as well before a sustained recovery takes hold.
Long gone is the gold-rush mentality — that business will walk through the door. Buried next to it is the notion that the city is recession-proof, or, among many business owners, that the downturn will be relatively short and shallow as has happened in the past.
"I've been in the ad agency business since 1974," said Tom Letizia. "I've seen a few recessions, a few wars, 9/11. This is definitely tougher. It is not just hitting a specific area, but seems to be hitting a little bit of everybody."
As a result, business owners have pored over their expense-line items to come up with a wide variety of steps they hope will bridge them to better days.
See pages 4E and 5E for some of their stories.