13 food and pizza deals for Super Bowl 50
February 3, 2016 - 11:29 am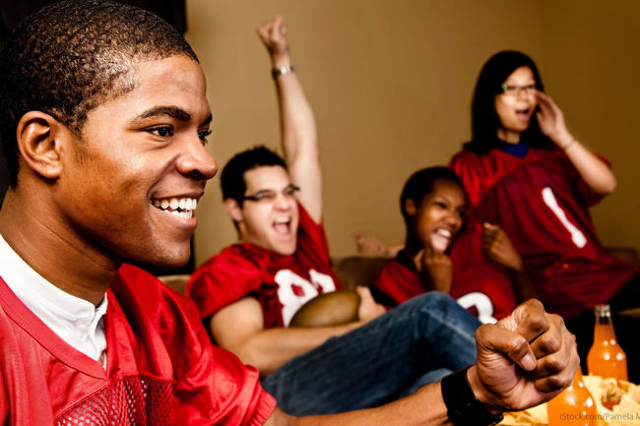 The Super Bowl is less than a week away, so there are some big decisions to make for the big day. Like: What will you eat? Will it be pizza or wings? And if you decide to go with wings, will they be spicy or mild? If you decide to go with both, no one will judge. It's an important Super Bowl this year, after all: Super Bowl 50, the celebratory half century mark of Super Bowls in American history.
The big game is Feb. 7 at Levi's Stadium in Santa Clara, Calif., which is the home stadium of the San Francisco 49ers. But the two teams going head-to-head at Super Bowl 50 are the Carolina Panthers and the Denver Broncos. This year's Super Bowl halftime show will feature British rock band Coldplay along with R&B superstar Beyoncé. Bruno Mars has also been rumored to make an appearance, but nothing has been verified.
Super Bowl 50: Food, Drink and Snack Deals
Whichever food you're thinking about eating during the game, this list will help save you a few bucks. Check out these discounts and deals on Super Bowl food, beverages, snacks and more. And don't worry — the focus is definitely on pizza and wings.
Super Bowl Pizza Deals
Papa Gino's Pizzeria: Take 30 percent off all online orders during Super Bowl 50 or take the $25 game day deal which includes two large cheese pizzas, one 2-liter of pop and a large order of boneless wings. Valid during Super Bowl 50 at all Papa Gino's Pizzeria locations for pick-up or delivery. Cannot be combined with other offers.
Cici's Pizza: Two large 1-topping take-out only pizzas for $5.99. Offer valid at participating locations. Offer expires Feb. 21. No coupon required.
Domino's: Choose any two or more of these items for $5.99 each: a medium 2-topping pizza, an oven baked sandwich, stuffed cheesy bread, 8-piece chicken or a pasta bowl. Valid at participating U.S. locations for pick-up only. If you're ordering online the coupon code is 9193.
Papa John's Pizza: Get a large one-topping pizza for $0.50 when you purchase another large pizza at regular price. Deal is good for pick-up or delivery. Valid at participating U.S. locations only. No coupon required.
Pizza Hut: Pizza hut introduced Stuffed Garlic Knot pizza in time for Super Bowl 50. The deal includes 16 garlic knots stuffed with cheese on the base of a large 1-topping pizza for $12.99. Valid for take-out or delivery. Expiration date has not been announced. No coupon required.
Super Bowl Wing Deals
Church's Chicken: Church's Chicken teamed up with Texas Pete hot sauce to offer "The Wings That Bite Back" bone-in wings for a limited time. From Jan. 18 to Feb. 7 you can choose a 5-piece wing meal that comes with fries and biscuits for only $3.99. Available while supplies last at all locations. No coupon required.
Buffalo Wild Wings: Super Bowl deals haven't been announced yet for Buffalo Wild Wings. However, their deals are usually among the best, So sign up for their Buffalo Circle promotional email, and be the first to get discounts for Super Bowl 50.
Other Super Bowl Deals and Ideas
Chipotle: Take $50 off Chipotle catering for game day. Must get your order of Burritos by the Box for 20 or more guests into your local Chipotle by Feb. 1, 2016. Offer valid for the first 1,500 catering orders and is one-time use only. Order must be for Super Bowl 50 and may not be combined with other coupons. Valid at participating locations.
Applebee's: Get one appetizer and two entrees for just $20. Available via Carside to go or dine-in. Valid at participating locations only. No coupon required. Offer expires March 31.
Olive Garden: Are you hosting a Super Bowl 50 party? Olive Garden's Breadstick Sandwich Bundle starts at just $6 per person and could be just what your party needs. Choose between Chicken Parmigiana or Italian Meatball breadstick sandwiches. Must order 10 sandwiches minimum, and you can add a jumbo house salad for $10. For take-out only. Valid at participating U.S. locations. No coupon required.
Burger King: Just in time for the Super Bowl, Burger King announced their new Jalapeño Chicken Fries. A 9-piece order is $2.89 and is available for a limited time. Expiration date not yet announced. No coupon required. Valid at participating locations.
Frank's Red Hot and Hidden Valley Ranch: Don't forget these key ingredients for a delicious Buffalo Chicken Dip on game day. This offer is for $0.50 off Frank's Red Hot sauce and $0.50 off Hidden Valley Ranch dip. Can be used together or separately. You can find the printable coupons here. Expiration varies by location. Must present coupons at store.
NFL Crock-Pots at Walmart: And if you're going to a party, or hosting one, and want to make that Buffalo Chicken Dip the easy way: Don't miss out on these NFL Crock-Pots. These 6-quart NFL Crock-Pot slow cookers are on sale at Walmart for between $32 to $40 depending on the team, regularly priced $49.88. Expiration date not known. Valid at participating locations.
Note: If expiration date isn't listed it's unknown, and for deals only valid at participating locations, always call your nearby establishment.
From GoBankingRates.com: 13 Super Bowl 50 food and pizza deals
Related Stories:
–How Dan Marino, Vince Young and other NFL players lost their fortunes
–10 best and worst deals at Walmart