3 renewable-energy agreements gain approval
January 25, 2016 - 3:38 pm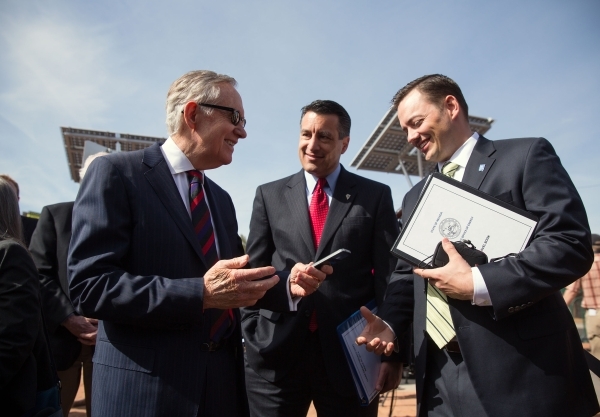 CARSON CITY — The Nevada Public Utilities Commission on Monday approved three renewable energy agreements that add 129 megawatts of solar generation capacity in Nevada and bolster the efforts of Apple Inc. and Switch Ltd. to operate their Nevada data centers with 100 percent green energy.
Regulators approved a stipulation signed by all parties in four consolidated applications for power purchase agreements to build two new solar plants — the 79-megawatt Playa Solar 1 project owned by First Solar and the 50-megawatt Boulder Solar II facility owned by SunPower.
Both projects will be located in Clark County near existing solar facilities.
To achieve Apple's and Switch's long-term goals of operating with 100-percent renewable energy at their facilities in both Northern and Southern Nevada, the companies will purchase the portfolio energy credits from each of the new solar plants.
"Consumers are demanding renewable power, and world-class developers, along with NV Energy, have created a new model for such projects to come on line," said PUC Chairman Paul Thomsen.
With its approval of these 20-year power purchase agreements, the PUC said that it has in the past five months added 329 megawatts of new solar generation to Nevada's portfolio of renewable energy resources. At prices averaging less than 4 cents per kilowatt-hour, the commitments to solar energy will decrease the state's reliance on fossil fuel generation in a cost-effective manner that benefits all ratepayers, the agency said in a statement.
Contact Sean Whaley at swhaley@reviewjournal.com or 775-687-3900. Find him on Twitter: @seanw801