$350 million soccer plan floated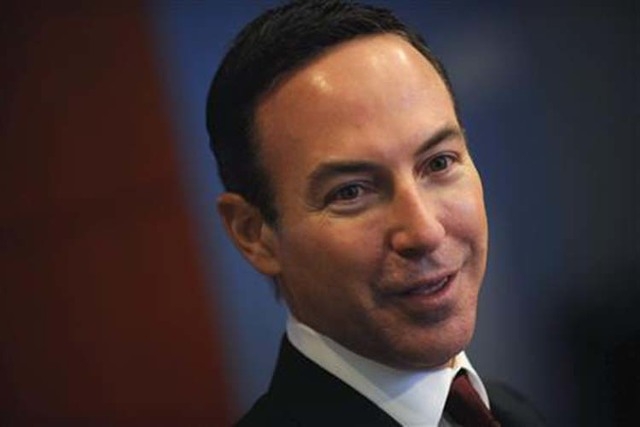 A gaming industry entrepreneur from New York City said he is going to launch a $350 million effort to bring a Major League Soccer team to Las Vegas, complete with a new covered stadium of 18,000-20,000 seats and players with international appeal.
Jason Ader, who owns a Manhattan fund management company and is a director and shareholder of the Las Vegas Sands Corp., said Tuesday he wants to work with the city of Las Vegas to bring big-time professional soccer to Las Vegas.
Ader said he has discussed the viability of the Las Vegas market hosting an MLS team with MLS President and Deputy Commissioner Mark Abbott.
MLS spokesman Dan Courtemanche said Abbott has met with multiple parties that are interested in bringing an MLS team to the Las Vegas market. Las Vegas is competing against Sacramento, Calif.; San Diego; San Antonio; Austin, Texas; and Minneapolis for the final expansion team slot. MLS wants to have 24 teams by 2020.
By announcing his interest in starting a team in Las Vegas, Ader is now competing against the Findlay Sports & Entertainment Group, which was formed specifically to partner with development company Cordish Cos. The City Council several months ago green-lighted the Findlay-Cordish partnership to come up with an MLS team and stadium proposal.
Ader said he is aware of the Findlay initiative and that his bid would be separate from the Findlay-Cordish connection.
"The second mouse gets the cheese," Ader told the Review-Journal from his New York office. "This is not something that will happen overnight."
Ader itemized the $350 million investment at $175 million-$200 million for a covered stadium; $100 million for an expansion fee and start-up costs; and $50 million for working capital to cover the first few years.
"Las Vegas is a city that can support a professional soccer team. The first professional (major-league) team is not going to be basketball, baseball or football," Ader said. "(Soccer) is an exciting prospect."
Ader said his funding would come from his own capital, money put up by limited partners and Asian investors in the federal "EB-5 visa" program, which allows foreign investors to get visas if they invest $500,000 in construction projects in the U.S.
Ader said he would also seek some level of public concessions from the city of Las Vegas to build the stadium, but he did not know the exact amount of the public subsidy.
"We would be looking for a tax concession. The question is how much? It would need a subsidy," Ader said.
Justin Findlay, managing partner of Findlay Sports & Entertainment, said his group will announce a soccer stadium financing plan and cost on Aug. 6. The topic is scheduled to be discussed at an Aug. 20 City Council meeting.
Findlay said he is unaware of Ader's interest, so he is not in a position to comment, except to say in an email, "it does not change our vision or continued effort to bring a Major League Soccer team to Las Vegas. We feel that local ownership is an important element to ensure this happens and that the team is a community asset."
Mayor Carolyn Goodman said the city has a deal with Cordish to allow the development company to partner with the Findlay group on exploring the MLS team and stadium prospect. So there's little for her to say about Ader's plan.
The one thing everyone who backs an MLS team in Las Vegas agrees on is that the Sin City 2-million-person market, with its Hispanic residents and European tourists, can support big-time pro soccer. MLS' 34-game schedule stretches through the summer from March to October, so there are 17 home games, plus a pre-season game or two and possible post-season games.
"We have known for years that the world sport is soccer," Goodman said.
Ader said Las Vegas is a viable market because there is also a strong youth soccer program, plus interest in the sport generated by the recent World Cup.
Ader recently became the largest shareholder with rights to appoint a director in the company that controls Bwin, a major sponsor of global soccer. Bwin has sponsored soccer powers such as Real Madrid.
Contact reporter Alan Snel at asnel@reviewjournal.com or 702-387-5273. Follow @BicycleManSnel on Twitter.