7 things you probably didn't know about the Tesla Gigafactory
August 19, 2016 - 3:09 pm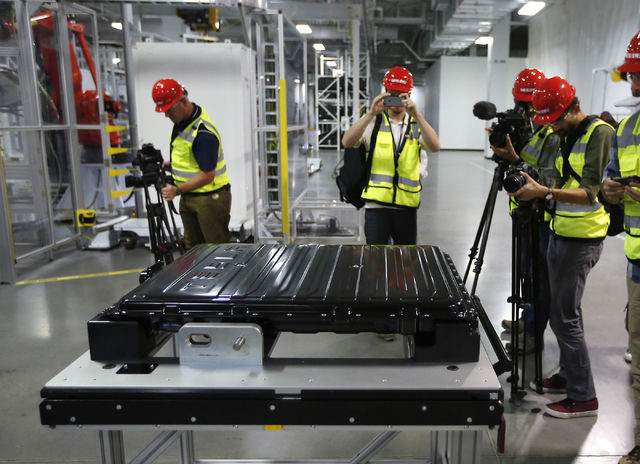 Tesla is forging ahead on construction of its battery "gigafactory" in Northern Nevada.
In a media tour this summer, Tesla CEO Elon Musk said he wants the factory, which will produce lithium ion batteries, to be completed early because Tesla expects to sell 500,000 cars by 2018 — two years ahead of schedule.
Many of those sales are expected to be of the moderately priced Model 3. That car is expected to sell for around $35,000.
With that in mind, here are seven things you probably didn't know about Tesla and the Tesla battery factory.
No. 1. It's modular. The factory will be expanded in units as demand grows for the lithium-ion batteries that will be produced at the plant for its vehicles.
No. 2. It's going to be huge. Upon completion it will be 10 million square feet.
No. 3. No seriously, it's really, really big. It will be one of the largest buildings in the world — roughly the size of 262 NFL football fields.
No. 4. It will be a major employer. About 6,500 workers will be working there by by 2020. And that's just the beginning. Tesla CEO Elon Musk said the factory could easily employ 10,000 people in the next three to four years.
No. 5. It's already employing construction workers. About 1,000 workers were laying the groundwork for the factory's expansion, digging trenches and erecting steel supports on a recent summer day.
No. 6. It's really "giga." The factory's name stems from "giga," a unit of measurement that represents billions. One gigawatt hour is the equivalent of generating one billion watts for one hour — one million times that of one kilowatt hour. Tesla says the factory will be producing 35 gigawatt hours of batteries by 2018. That's the equivalent to the entire world's production in 2014.
No. 7. Tesla has never made a full year profit. The upstart electric car company wants to transition from a maker of luxury vehicles to a full-line maker of affordable cars, pickups and even semi-trucks.