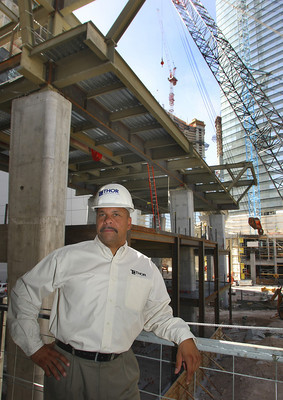 Damon Tooles operated a successful contracting business in Detroit when he learned about MGM Mirage's corporate supported diversity initiative that gave opportunities to minority-owned businesses.
Tooles set up a branch of his Tooles Contracting Group in Las Vegas in the fall of 2006, earned his Nevada contractors license within seven months and was ready to work. He landed several small jobs with MGM Mirage, remodeling areas of the New York-New York in 2007.
In a way, Thor Construction CEO Richard Copeland was Tooles' role model.
Copeland's company was the first minority contractor to partner with MGM Mirage in the early stages of the diversity program. Over the past six years, Thor's résumé has built a list of 15 construction projects handled on behalf of the casino operator.
Tooles' and Thor's experiences led to the companies winning opportunities to oversee construction of several projects inside MGM Mirage's $9.2 billion CityCenter development. The 76-acre Strip complex, which contains Aria, a 4,000-room hotel-casino; multiple high-rise residential, boutique, and nongaming hotels; and 500,000 square feet of entertainment, retail and dining, is considered the largest privately financed project in the United States.
Eight world-renowned architects designed the main focal points of CityCenter. Perini Building Co. is CityCenter's primary contractor while Tishman Construction Corp. is serving as executive construction manager. The development's scope presented opportunities for small construction companies that qualified as minority, women and disadvantaged business enterprises.
Tooles and Thor met the requirements and impressed both MGM Mirage officials and Perini executives.
"We never set a specific numerical goal. Our goal was to maximize the opportunities and have a diverse participation of minority, women-owned and disadvantaged businesses working on the CityCenter project," said Anderine Cowan, the construction diversity manager for CityCenter. "We're delighted that we have been able to bring new businesses to the marketplace."
Lorrinda Gray-Davis, Perini's diversity director, said the massive CityCenter development presented numerous opportunities for upstart contracting businesses. The smallest contract bid had a value of $750,000.
"Our goal was to make the processes as inclusive as possible," Gray-Davis said.
Tooles' company is now rebuilding the high-limit slot machine area at New York-New York, a $3.2 million contract. That job led his CityCenter subcontracting duties.
"This is a unique and significant opportunity for a company like us," said Tooles, who will oversee construction of CityCenter's $3.4 million fire station. After winning the fire station contract, Tooles picked up another CityCenter job, constructing the $2.2 million baggage handling system inside Aria.
"This was the reason we came to Las Vegas," Tooles said.
Copeland's joint-venture jobs with MGM Mirage have included remodeling the 29th-floor rooms and suites at the MGM Grand and tearing down the MGM Grand amusement park.
Thor got an early chance to claim a piece of CityCenter, serving as the majority contractor in the construction of the CityCenter residential preview and sales center, a $25 million showcase for the project's high-rise condominium models.
"Thor is a company that has a strong track record of working with MGM Mirage," Cowan said.
The much larger Clark Construction Group of Bethesda, Md., partnered with Thor and the companies jointly bid on a contract to build two of the development's people mover stations, one at Bellagio and another at the Monte Carlo. The package is a combined $51.9 million project.
Copeland said Thor had worked on the light rail system in his hometown of Minneapolis. Clark, which had experience building an elevated light rail station in Washington, D.C., does not qualify as a minority-owned business. However, Clark executive Jim Day said the partnership with Thor helped the high-profile CityCenter contract.
"We both brought a lot of value to the table," Day said. "Thor had a working relationship with MGM Mirage and we had a lot of experience and resources."
Officials from the companies met at a National Association of Minority Contractors event in Las Vegas and discussed potential projects prior to CityCenter.
"We realized we had a mutual and complementary approach," Day said.
Copeland said he hopes the people mover contract will lead to other CityCenter projects. Thor is already being contacted about bidding on building some of the spaces for tenants inside Crystals, CityCenter's retail, dining and entertainment pavilion.
"There's a lot of opportunity if you know where to look," Copeland said.
Tooles said his company built varied projects in Michigan, including paint shops for General Motors and testing labs for Bosch Home Appliances.
The fire station, near Vdara, is being built for MGM Mirage, which will turn the facility over to the Clark County Fire Department. Construction of the fire station is expected to begin this month and take seven months to complete.
"We are used to compressed schedules," Tooles said. "CityCenter is a challenging job site and being in this market has opened a lot of doors. MGM Mirage has given us a lot of experience."
Contact reporter Howard Stutz at hstutz@reviewjournal.com or 702-477-3871.
MGM MIRAGE HOSTS DIVERSITY EXPO
MGM Mirage will present its annual report on diversity Thursday at Bellagio. For the first time, the company will offer a business expo in an effort to identify and expand its database of qualified minority-, women- and disadvantaged-owned business enterprises for its construction and procurement needs.
MGM Mirage Chairman and CEO Terry Lanni will present the annual report at 10 a.m. The expo will run from 11:30 a.m. to 3 p.m. The expo will include booths staffed with representatives from 15 of the company's hotel-casinos in addition to corporate departments, such as information technology, retail, strategic sourcing, construction and advertising.
The company will repeat the event June 3 at the MGM Grand Detroit.
REVIEW-JOURNAL