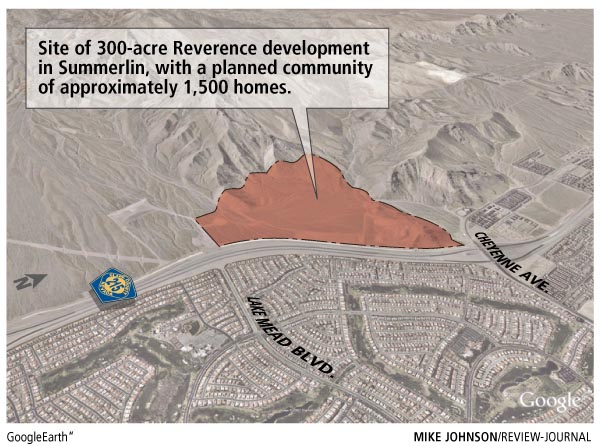 The green consumers see in Summerlin's planned Reverence village likely won't be in the front lawns of the community's houses.
Rather, it'll be in the environmentally friendly construction and landscaping techniques that builder Pulte Homes will use throughout the community, from common areas to homes.
When the 300-acre Reverence opens at Cheyenne Avenue and the Las Vegas Beltway in 2008, the community will bring ecologically sensitive development to Summerlin's northwest corner, said Don Boettcher, area vice president of land for Pulte.
"It's a beautiful piece of property that lends itself to sustainability," Boettcher said. "We see it as an opportunity to plan for, design and program an entire village so that it is sensitive to the environment."
Reverence's environmentally conscious design will include a variety of components.
First, Reverence will meet the Southern Nevada Water Authority's criteria to qualify as a water-smart community, with features such as drought-tolerant landscaping and water-sipping plumbing fixtures. Sprinklers in common areas will operate via a weather-sensitive programming system that will shut off watering when it's not necessary — during a rainy stretch, for example.
Pulte will also design Reverence's 13,500-square-foot recreation center to qualify for the U.S. Green Building Council's Leadership in Energy and Environmental Design program.
Home designs and materials are still under discussion, so Boettcher couldn't disclose specific eco-friendly elements in Reverence's houses. Boettcher did say Pulte officials also hope Reverence will expand on the company's existing Environment for Living program, with its insulation inspections and air-leak tests. Pulte will also use some recycled materials in Reverence's home construction, Boettcher added.
It's the first time Pulte has gone green with an entire community, from residential neighborhoods to recreation areas. Reverence will also be the first completely green Summerlin village, and the first Summerlin village ever developed by a lone builder. Pulte bought the first 150 acres of Reverence in December for $123 million, with plans to purchase the remaining 150 acres by the end of 2007.
It's unusual for The Howard Hughes Corp. to sell 300 acres to a single builder these days. The developer prefers to market individual home lots to builders, an approach that controls housing inventory and fosters aesthetic variety in neighborhoods.
But executives wanted to make an exception for Pulte as soon as they saw the builder's plans for the land, said Tom Warden, vice president of community and government relations for The Howard Hughes Corp.
"The concept for Reverence is so sweeping and so positive that we couldn't pass (the land sale) up," Warden said. "Having an entire village built with green-building practices is an exciting and evolutionary step in Summerlin's development."
It's evolutionary rather than revolutionary, Warden said, because environmental stewardship has been part of Summerlin's mission since a 1988 land swap reconfigured the master plan's borders to preserve a chunk of undeveloped property that became the gateway to Red Rock National Conservation Area in 1990.
Summerlin was the first local master plan to institute large-scale desert landscaping in common areas, and it banned grass in front of new homes in 2003, a year before the Southern Nevada Water Authority nixed front-yard turf. The community also encourages street lights that limit night-time light pollution. The final third of its 22,500 acres will house half of its 200,000 or so residents upon completion, an indication of the higher housing density that partly defines "smart growth," Warden said.
Executives of The Howard Hughes Corp. also plan to deploy sustainable-building practices at The Shops at Summerlin Centre, a 1.5 million-square-foot, open-air regional shopping center. The retail center's first phase is scheduled to open in 2009.
"We're seeing a raising of the bar as far as environmental consciousness," Warden said. "We think our regional retail center and Reverence will be nationally recognized green-building efforts, as well as reflections of the evolving concept of building green."
Steve Bottfeld, senior analyst for local research firm Marketing Solutions, said home buyers will likely embrace Reverence when its models open in July 2008.
Ninety percent of new home buyers Marketing Solutions surveyed recently cited energy efficiency as a key factor in their real estate purchasing decisions, Bottfeld said. Also, 88 percent of buyers recognize the Energy Star brand, a nameplate indicating a builder's participation in a federal program that emphasizes the use of environmentally friendly materials and appliances in new homes. More than 65 percent of new homes sold in Las Vegas in 2006 were Energy Star-rated; no other city in the United States surpasses 35 percent.
"You're looking at a product (Reverence) that is likely to have very strong acceptance in the marketplace," Bottfeld said.
The twin appeals of saving money on power bills and protecting Earth's resources will attract consumers, Bottfeld said.
"People always do what's in their best self-interest, and when people's self-interest and the environment's interests coincide, that's an even better thing," Bottfeld said.
Reverence will have five single-family product lines and one townhome community. Prices will range from the $200,000s to just over $1 million, with homes from 1,000 square feet to 5,000 square feet.
Boettcher said he's not sure how much Reverence will cost to build. It could cost "a little bit more" to build than a conventional community, but the benefits will far outweigh the expenses, he said.
"All things being equal, in today's world, I think people are sensitive to their environment, and I think this certainly will be a draw to the consumer," Boettcher said.