AEG, MGM Resorts International offer first look at arena on Las Vegas Strip
November 5, 2013 - 10:53 am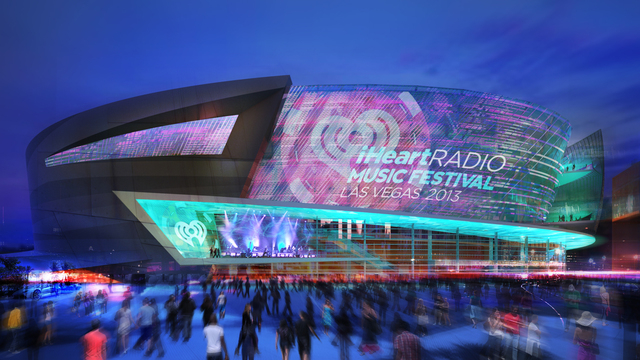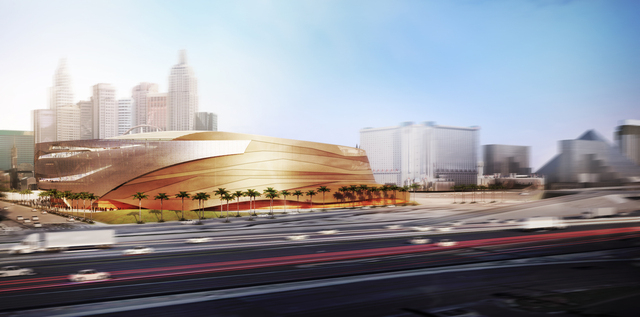 Arena partners AEG and MGM Resorts International unveiled renderings Monday of their $350 million, 20,000-seat venue on the Strip, showing exterior images evoking the Strip's high energy and bright lights as well as Southern Nevada's scenic mountains and desert.
AEG, the Los Angeles-based powerhouse entertainment and arena company, and MGM Resorts, which owns 10 Strip casino-hotels, have joined forces to build the sports and entertainment venue without public money on 12 acres between New York-New York and Frank Sinatra Drive. MGM will demolish two temporary office buildings on the site that are left over from the CityCenter project.
Groundbreaking is expected in April or May with a projected opening 22 months later, in spring 2016, said Tim Romani, president and chief executive of Denver-based ICON Venue Group, the project manager.
The arena will feature premium seating, suite and club offerings on different levels as well as in bunkers below the event floor. It will host at least 100 concerts, boxing, mixed martial arts, sports, awards shows and other events each year.
Dan Beckerman, AEG president and chief executive, told the Review-Journal Monday that the building's unique features include an exterior design that weds the Strip's high-voltage glamour with the region's high desert scenery and an interior layout that offers a wide spectrum of high-end seating options.
"In Las Vegas, the design has to be iconic," said Beckerman. "It's going to be one of the most recognizable and premier venues in the world."
Populous, a Kansas City, Mo., architectural firm hired by AEG and MGM, created the exterior renderings of the building, which will have a 5.4-acre footprint.
"With this entertainment building in a city of entertainment buildings, we feel a responsibility to design a building that offers an amazing fan experience," said architect Brad Clark, Populous senior principal.
"The arena is really the nexus for finding the balance of the natural surroundings around Las Vegas with the visual energy of the Strip. There's a very conscious effort to have the two languages merge on the building exterior," Clark said.
Beckerman was pleased with the result: "Populous did a great job marrying the light and energy of the Strip side and scenic desert. They brought both of the things that Las Vegas is known for into a single, unified design."
Fans will enter the main entrance from a vast plaza. The entrance will feature a glass facade and video overlay nearly 12 stories tall, Clark said.
"We're exploring technology for a LED media overlay in front of the glass wall," he said.
In contrast to the glittery pizazz of the arena's east side, the western side will feature an opaque design and undulating bands of metal evoking the color and layers of the mountains surrounding Las Vegas, he said.
Romani said the main entrance exterior will feature a series of outdoor socializing areas on balconies.
"People will enjoy an outdoor environment," he said. "The climate of Las Vegas allows us to have more outdoor balcony space. I can't think of any arena that has this much balcony space, and I think I know them all."
The arena will be built with high-end premium seating and hospitality areas, including multiple bunker clubs and bunker suites; in-bowl sponsor zones; VIP drop-off areas with private lobbies; a seven-story atrium and that array of balconies.
Beckerman said the Las Vegas market demands something other than a cookie-cutter approach, which is why premium seating areas will range from suites for two to four people to clubs for more than 100 guests. And they will be located in unique spots around the arena.
Beckerman said AEG has already talked with boxing promoters and officials with Las Vegas-based Ultimate Fighting Championship, the mixed martial arts company, about events at the arena. Beckerman said one of the first could be a high-level boxing match. He also envisions music and concert tours providing a healthy share of the arena's programming.
MGM officials were also impressed.
"Populous has delivered a design for this new arena that we believe will be a stunning addition to the Las Vegas skyline," MGM chief executive Jim Murren said in a statement.
While the arena is designed to accommodate NBA and NHL games, it will open without a major league basketball or hockey club as a tenant. In that regard, it's comparable to the $267 million, 6-year-old Sprint Center in Kansas City, Mo., an AEG-managed arena that is among the busiest in the world even without an NBA or NHL tenant.
"The great thing about the building is that we're designing it for the maximum flexibility. It gives us a lot of freedom," the architect said. He noted, for example, that he's also trying to design the building to create as much seating capacity as possible for concerts and to minimize seating behind the stage.
The new arena will fuel speculation of major league basketball or hockey finding a home in Sin City. UNLV's Thomas & Mack Center now hosts the annual NBA Summer League in July, and teams such as the NBA Los Angeles Clippers and NHL Los Angeles Kings have played preseason games in smaller MGM arenas in Las Vegas.
AEG and MGM are paying for the arena with equity contributions and a private third-party debt financing.
While AEG and MGM officials work on their arena, an 11-member UNLV stadium authority board is evaluating the need, scope and financing of a football stadium on the nearby University of Nevada, Las Vegas campus. UNLV and MGM officials say their venues would not compete because the arena and the stadium would attract different acts because of their different seating capacities.
But UNLV could see some competition for its 30-year-old, 18,500-seat Thomas & Mack, which is getting $59.2 million in renovations, including mechanical, plumbing and electrical improvements and code upgrades such as restroom and ADA improvements.
AEG operates more than 100 sports arenas worldwide, including the Staples Center in Los Angeles and sports venues in Minneapolis, Kansas City, Mo., and China.
Contact Alan Snel as asnel@reviewjournal.com or 702-387-5273. Follow @BicycleManSnel on Twitter.