After year of growth, Nevada's drone industry anticipating more opportunities
December 27, 2016 - 5:42 pm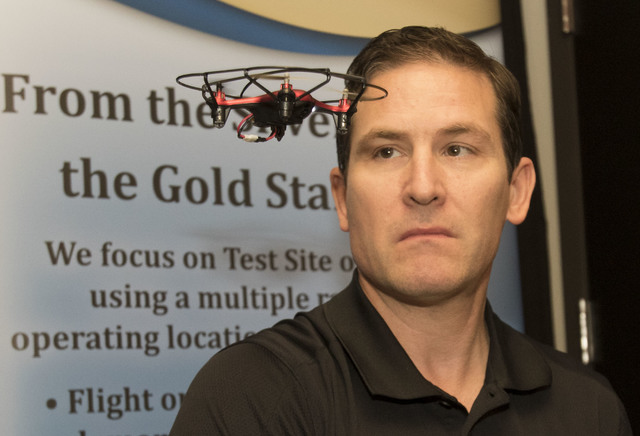 It was a big year for Nevada's drone industry.
Local drone officials say they spent 2016 putting Nevada on the map, and they now hope to build on that momentum in 2017 and create more areas for drone operators to fly.
"We've developed new (test) ranges all across Nevada and outside of Nevada," said Chris Walach, director of operations for unmanned aviation at the Nevada Institute of Autonomous Systems.
The institute works with the governor's economic development office and acts as a clearinghouse for drone-related business opportunities.
Nevada, one of the seven Federal Aviation Administration-designated unmanned aerial system test sites, completed many firsts in 2016, such as working with Henderson to develop the country's first urban UAS test range. The FAA and NASA tapped the institute to lead several high-profile operations in 2016, such as testing technologies that air traffic control could use to detect unmanned aircraft that pose a threat.
Walach began directing drone operations at the institute in August 2015. During the first eight months of 2015, its previous team conducted only five unmanned aircraft flights, Walach said.
"Going from five flights to almost 870 flights (since August 2015) with the new permanent staff, there's really not even a comparison," he said.
Walach said he hopes to raise Nevada's profile even more to attract other business opportunities, although Walach said it will take several years — perhaps up to a decade — before Nevada's drone industry can realize its full potential.
Drone operators are still limited to flying them within the operator's line of sight, which limits business opportunities. As an FAA-designated test site, the institute is working to mark its place in the race for which test site can come up with the best beyond-visual-line-of-sight infrastructure model for the FAA.
The institute will also work with the FAA and airport authorities to open up more airspace.
Ron Futrell, spokesman for Las Vegas-based aerospace and remote sensing services company AviSight, said limited air space is the biggest barrier for the commercial drone industry.
"That's the one thing right now that's slowing down the industry more than anything else," Futrell said, adding that rural space is not an issue, but he would like to be able to fly a drone over the Strip.
The FAA restricts drone and model aircraft within 5 miles of airports, although some operators have been able to get around that.
"But it's very rare and few and far between where you are able to do that. Those restrictions, for the most part, are still in place. That makes it difficult, especially here in the Vegas Valley, where we have three airports," Futrell said.
Walach said he believes over the next year, Nevada airport officials will play a role in loosening those restrictions.
"You will see that airport officials across Nevada that do open up their airspace have found viable means to be able to effectively integrate manned and unmanned into the same airspace," Walach said. "As you see more of these examples (of approved test flights) and case examples out there, I believe that the officials will realize it can be done and it can be done safely."
Futrell agrees that air space will open up as trust is developed between reputable operators and air traffic officials.
In the mean time, local commercial operators have opportunities to grow in emerging drone industries, such assisting with inspections and construction.
"We do think that that's a growth area because the use of drones is multifaceted. It can be used from everything from simple photography to monitoring construction sites to building information management," said Colin Snow, founder of a research and consulting firm for the commercial unmanned aerial system industry, Skylogic Research.
Snow said it's too early to say how much money lies in each of those industries, but he said 43 percent of drones purchased that are intended for commercial use are for aerial photography and videography, followed by survey and mapping (16 percent), then inspection and monitoring (13 percent).
Contact Nicole Raz at nraz@reviewjournal.com or 702-380-4512. Follow @JournalistNikki on Twitter.