'Agitator' Steve Forbes predicts GOP victory in November elections
October 1, 2010 - 11:32 am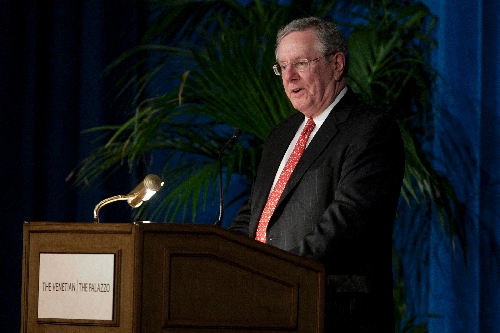 Business magazine CEO and former presidential candidate Steve Forbes is predicting that Republicans will gain control of the Senate and House of Representatives in the November elections.
After a dinner Thursday night at The Venetian, Forbes urged 400 members of the Nevada Policy Research Institute, a conservative political think tank, to join a political battle to reshape America. He favors relying on free enterprise, rather than government, to change health care and other programs.
Forbes is chief executive officer and editor-in-chief of Forbes, a financial and business magazine founded by his grandfather, the late B.C. Forbes.
The free market system "works because no one is in charge," Forbes said, calling for smaller government. "Since the '30s, government has grown, no matter who was president."
Forbes urged the conservative audience to challenge "leviathans in Washington" and refuse to compromise.
"If (former President) Ronald Reagan can do it against the Soviet Union, can't we do it against these characters in Washington, D.C.?" Forbes asked.
He predicted that politicians in financially strapped states such as California, New York and New Jersey will seek state government bailouts after the election, but he predicted Congress will reject the pleas for help.
"The American people are going to say: 'Enough. We've got to get our house in order.' "
He advocated ending government pensions, "no more pension fund socialism." Government workers should be offered 401(k) retirement programs that the workers can pay for, he said.
While baby boomers will rely on Social Security for retirement, young workers should be allowed to build their own retirement accounts, he said.
Forbes called for lower taxes, saying he still favors a flat 17 percent federal income tax rate to replace the complex system now in place.
Forbes said the free market system and austerity would solve the country's economic problems. The Federal Reserve Board, he said, "keeps trashing the dollar." He said the weak dollar is hindering the country's economic recovery but predicted that the country would go to a "gold standard," in which gold backs the value of currency, within five years.
Forbes said the government needs to keep some regulations: "Suffocating government regulation or anarchy. That's not the choice."
The federal government needs to enforce sensible "rules of the road" to stop scams such as the $50 billion fraud perpetrated by Bernard Madoff.
In place of the federal health care program, Forbes said the government should allow the free market to resolve problems. Individuals should be given opportunities to join groups to get better health care insurance, and individuals should be allowed to deduct health care insurance expenses, he said.
After the Republican Party regains control of Congress, big political battles will erupt, pitting conservatives against liberals, he said.
Asked whether he would run for president a third time, Forbes said, "My role is agitator."
Contact reporter John G. Edwards at jedwards@reviewjournal.com or 702-383-0420.