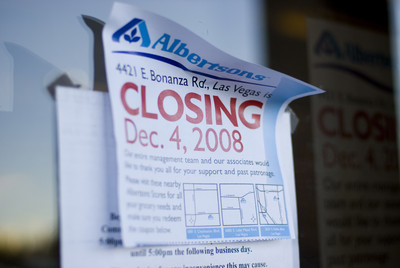 Albertsons is closing two grocery stores in the Las Vegas Valley and will place about 120 employees from the stores at other locations, a union executive said Friday.
The store at Tropicana Avenue and Mountain Vista Street closed last week and a larger store at Bonanza and Lamb roads is being closed in early December.
Those are the only Albertsons stores slated to close at this time, said Mike Giddings, secretary-treasurer for United Food and Commercial Workers Local 711.
Albertsons has 520 stores in Nevada, California and the Northwest. It has 38 stores and about 3,000 employees in Las Vegas.
"Store closings are part of the business," Giddings said. "Store openings are part of the business. There's definitely been more stores opening than closing."
The Bonanza store is going to be converted to a Hispanic grocery store, an Albertsons shopper told the Review-Journal.
"It's going to be hard on everyone that lives in this area," said another shopper who would not give her name. "I'll go back to Smith's (at Nellis Boulevard and Stewart Avenue). I'll do it all over there."
Giddings said these are older stores. The one on Tropicana is small and doesn't have the "look" or format desired by Albertsons.
"Things kind of go in cycles. Stores get older. They end up getting closed. They remodel sometimes, but that doesn't last forever," Giddings said.
Retail strip properties, as a whole, have been hurt by the current economic climate, and sellers of grocery strips have had to adjust their expectations, a quarterly report from LoopNet commercial real estate services said.
Over the 12 months ending in September, grocery strips volume totaled just $4.6 billion, a 72 percent deterioration from the year-ago period. On a quarterly basis, grocery strip volume declined more than 75 percent from third quarter 2007.
Food stores targeting every consumer demographic have come to Las Vegas in the last 10 years, including Whole Foods, Trader Joe's, Fresh & Easy and Wal-Mart Neighborhood Markets.
Save-A-Lot, a subsidiary of Minneapolis-based Supervalu, opened its first store in Las Vegas on Rancho Drive two years ago.
Supervalu, which has more than 2,500 stores under a variety of names, acquired Albertsons in 2006. The company's Web site lists a closed Albertsons store at 4730 E. Flamingo Road for sale.
Boise, Idaho-based Albertsons had acquired Lucky grocery stores for $12 billion in 1999 and changed the name of more than 400 stores in Southern Nevada and California. The FTC ordered that Albertsons sell off some of its stores. Raley's bought 18 of them in Las Vegas.
Contact reporter Hubble Smith at hsmith @reviewjournal.com or 702-383-0491.