All lit up, but no one to serve
November 28, 2008 - 10:00 pm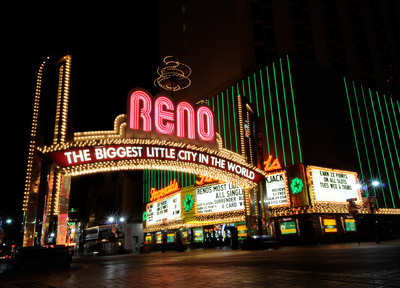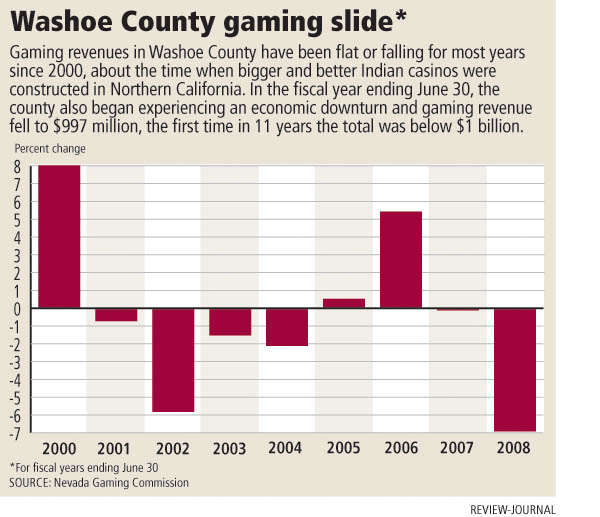 LINCOLN, Calif. — On a sunny Monday afternoon in late September, the parking lots outside of the Thunder Valley Casino are jammed with cars.
Inside the Indian casino, dealers are doing a bang-up business with players anchored to most seats around the blackjack tables and slot players keeping most of the 2,700 slot machines busy.
A dejected Margaret McDonald, 67, mutters mild profanities as she waits outside the casino for the free bus to carry her from Thunder Valley, 25 miles northeast of Sacramento, back to her Santa Rosa home. She has lost her gaming budget at the slot machines.
Jump ahead two weeks.
On an almost identical pleasant Monday afternoon in Reno, most parking spaces are unoccupied in the parking garages next to the Circus Circus, Silver Legacy and Eldorado hotel-casinos.
More than two-thirds of the blackjack and roulette tables in each casino are closed for a lack of players, and only a handful of gamblers sit in front of slot machines.
The Silver Legacy race and sports book has fewer players than the 17 TV sets tuned to the American League baseball playoff game between the Tampa Bay Rays and Chicago White Sox.
On the second floor of these casinos are dozens of shops where you can buy jewelry, ice cream and Harley-Davidson motorcycle souvenirs, or toss a coin on a plate and win a big stuffed animal.
The vast majority are devoid of customers.
Like the streets of Reno these days, the Silver Legacy, Eldorado and Circus Circus casinos are immaculately clean.
They offer far more amenities than Thunder Valley, Cache Creek, the Jackson Rancheria and other major Indian casinos in Northern California.
What they lack are players.
Indian gaming, coupled with the recession, has turned Reno into an afterthought for some gamblers.
A dozen players waiting for buses outside the Thunder Valley all said they dislike making the trek over the snowy Sierra Nevada in the winter.
Summer is fine for trips to Reno, they said, except this year because of higher gasoline prices.
If they have a weekday urge to gamble, it is just much more convenient to take a quick free bus trip to Thunder Valley than to waste three hours driving on Interstate 80 into Reno.
"I like Reno," McDonald said as her bus arrived to take her home. "But I won't drive there in the winter."
Back in Reno, 79-year-old North Dakota resident Brian Beckson stands along an almost pedestrian-free Virginia Street.
"Reno is nice," he said. "This is the first time I have been here since 1962. I wouldn't come here in the winter. It gets cold and snowy."
Silver Legacy officials declined comment.
Both Indian gaming and the severity of the recession have contributed to the downturn in gaming in Washoe County, said Ellen Oppenheim, president of the Reno-Sparks Convention and Visitors Authority.
"People are staying closer to home and trimming their budget a little bit," said Oppenheim, whose organization recently laid off 16 employees. "Those who game may come here three or four times a year and also go to Indian casinos a couple of times. Ten years ago they didn't have the Indian casino option."
But Oppenheim said the convention authority's studies show only 15 percent of visitors come to the Re no area strictly because of gaming, but 90 percent end up playing in casinos. Visitor totals have declined "a little bit," but still approach 5 million a year, she added.
Gaming no longer is the "first hook" the convention authority uses to promote the area to visitors, she said. Instead the agency emphasizes special events, the area's scenic beauty, and 18 nearby world-class ski resorts.
During the fiscal year ended June 30, Washoe County casinos won $997 million, the first time in 11 years that the area's gaming revenue dropped below $1 billion. Gaming revenue continues to fall in the county, dropping 205 percent in September. Revenues are down 9 percent overall since the fiscal year's start.
The casinos in Douglas County along Lake Tahoe's south shore won $320 million, $25 million less than in 1990.
Reno's last new casino, the Silver Legacy, opened in 1995, although there since has been major expansion at the Peppermill and Atlantis.
Fitzgeralds had planned to lay off 475 employees in closing its downtown Reno casino in November.
In contrast, gaming has made the Auburn United Indian Community tribe, owners of Thunder Valley, richer than anyone could have dreamed five years ago.
Tribal spokesman Doug Elmets and the Indians won't release information on the casino's profits or the per capita shares distributed to the tribe's 255 members, of which five work at Thunder Valley.
"Put it this way: the kids can go to a tribal school, a private school or any college in the country," said Elmets, a Sacramento public relations company owner who began working for the tribe when it was broke. "They can go to Choate or Exeter," he said, referring to pricey private schools.
Tribal members receive per capita distributions of $300,000 to $500,000 annually, according to estimates.
Thunder Valley even spent thousands of dollars in the spring devising a way to move swallows that had been nesting under the casino's eaves. The birds now nest in a $500,000 birdhouse built at the edge of a parking lot.
Elmets remembers the 1990s, when many tribal members were living in squalor 20 miles away in the Auburn Rancheria reservation.
"It was the most abject poverty you ever could see," he said.
"They were barely getting by in terms of food. They were living in homes that had planks for roofs and plastic sheeting for windows."
He infuriated the Reno media and gaming industry with the comment he made when the tribe opened Thunder Valley in June 2003.
"My quote was, 'The beauty of Thunder Valley is that it is between San Francisco and Reno below the snow line where no chains are required,'" he recalled.
But winter road closures aren't as common as some people believe, California Department of Transportation spokeswoman Shelly Chernick said, although fear of a closure may factor into gamblers' reluctance to travel.
Last winter I-80 was closed 174 times, totaling 133 hours, as 420 inches of snow fell in the mountains, Caltrans statistics show. But only 10 closures lasted more than two hours. In the 2004-05 winter, the freeway was closed 350 hours.
With its opening five years ago, Thunder Valley quickly began to siphon off Sacramento and San Francisco Bay Area gamblers who used to journey over the Sierra into the casinos of the Biggest Little City in the World.
The casino's interior, with 2,700 slots and 100 table games, was patterned after the Green Valley Ranch Resort in Henderson.
Las Vegas-based Station Casinos operates the casino for the tribe for a 24 percent cut of gaming revenues.
Falling below $1 billion in winnings is symbolic of the troubles Reno casinos have experienced since Indian gaming emerged in Northern California, said Bill Eadington, an economics professor and the director of the Institute for the Study of Gambling and Commercial Gaming at the University of Nevada, Reno.
In terms of real dollars, Eadington said Reno gaming winnings are off 35 percent since 2000.
The city no longer is a "signature market" for players, and the gaming will decline more as Indian tribes begin to construct nicer facilities that offer more than just gaming, he predicted.
That is coming soon.
The United Auburn Indian Community found sufficient financing to break ground ago on an estimated $600 million expansion project to Thunder Valley.
Thunder Valley planned to add a five-star 600-room hotel, a 3,000-seat performing arts theater and expanded gaming space to the existing casino. Completion was expected in 2010, but a tribal official announced Wednesday that the tribe will probably downsize the project when it is re-evaluated in three to six months.
Doug Elmets, a spokesman for Thunder Valley Casino, said the declining economy prompted the change.
Construction on the project had already been halted with just five of the 22 stories built.
However, the Red Hawk Casino is expected to open along U.S. Highway 50 near Placerville, Calif., late this year.
The casino, operated by the Shingle Springs Band of Miwok Indians, will open with 2,000 slot machines, but has state approval to expand to 5,000 gaming devices.
The Red Hawk will capture traffic that now continues through the mountains or to casinos on the south shore of Lake Tahoe.
Eadington said gaming has "diminished in importance" to Reno, adding the city has done a better job than Las Vegas in diversifying its economy.
In September, Reno's unemployment rate was 6.9 percent, lower than Las Vegas' 7.4 percent.
But Indian gaming isn't the only thing threatening Reno's gaming industry. Elmets said the city is being hurt just as much by the recession and high gasoline prices.
"The recession has affected everyone in the casino business," he said. "People don't have the same discretionary income and are cutting back on visits. Nonetheless, this property is doing very well by virtue of its location and by virtue of the fact there is limited competition."
Eadington agrees that high gasoline prices and the economic downturn hurt Reno tourism this summer.
"But what is happening is a continuation of a trend," he added.
"Thunder Valley and Cache Creek are becoming true destination resorts. It is going to be difficult for Reno to overcome the challenge. Some will not survive."
Contact Capital Bureau Chief Ed Vogel at evogel@reviewjournal.com or 775-687-3901.