All Net Arena CEO says project still planned as county deadline looms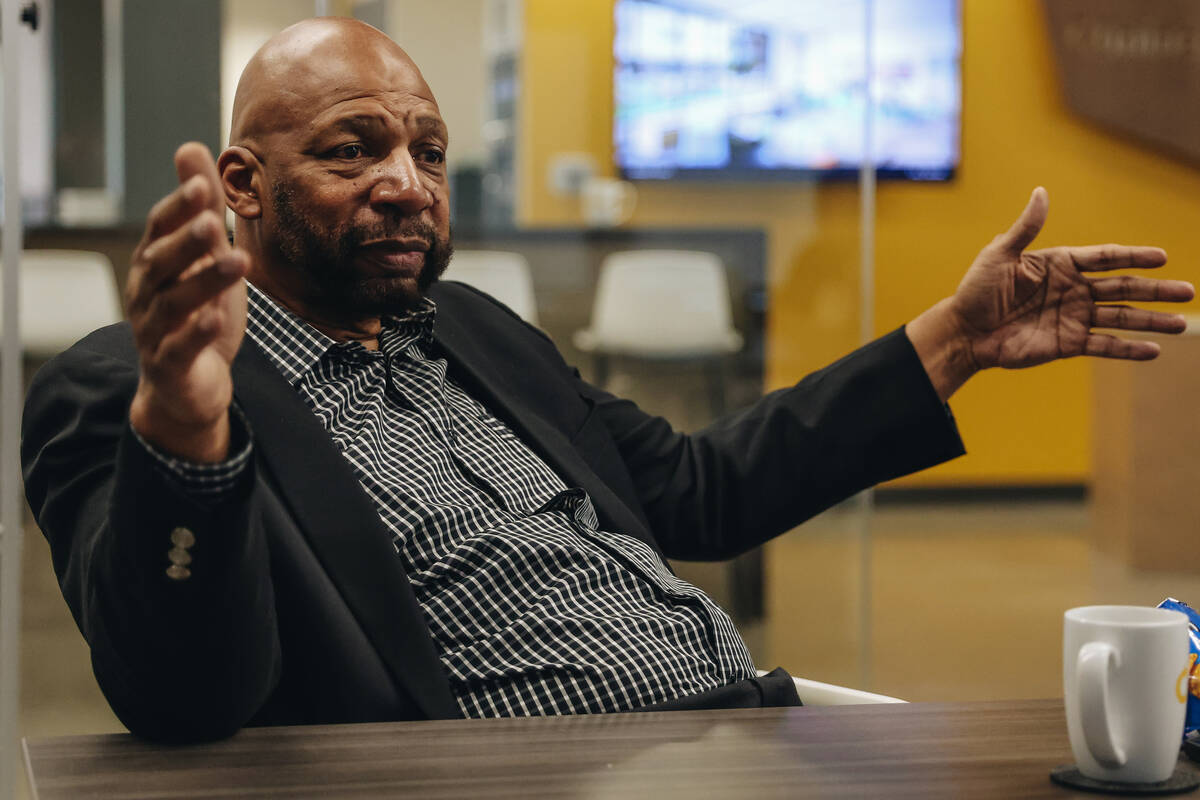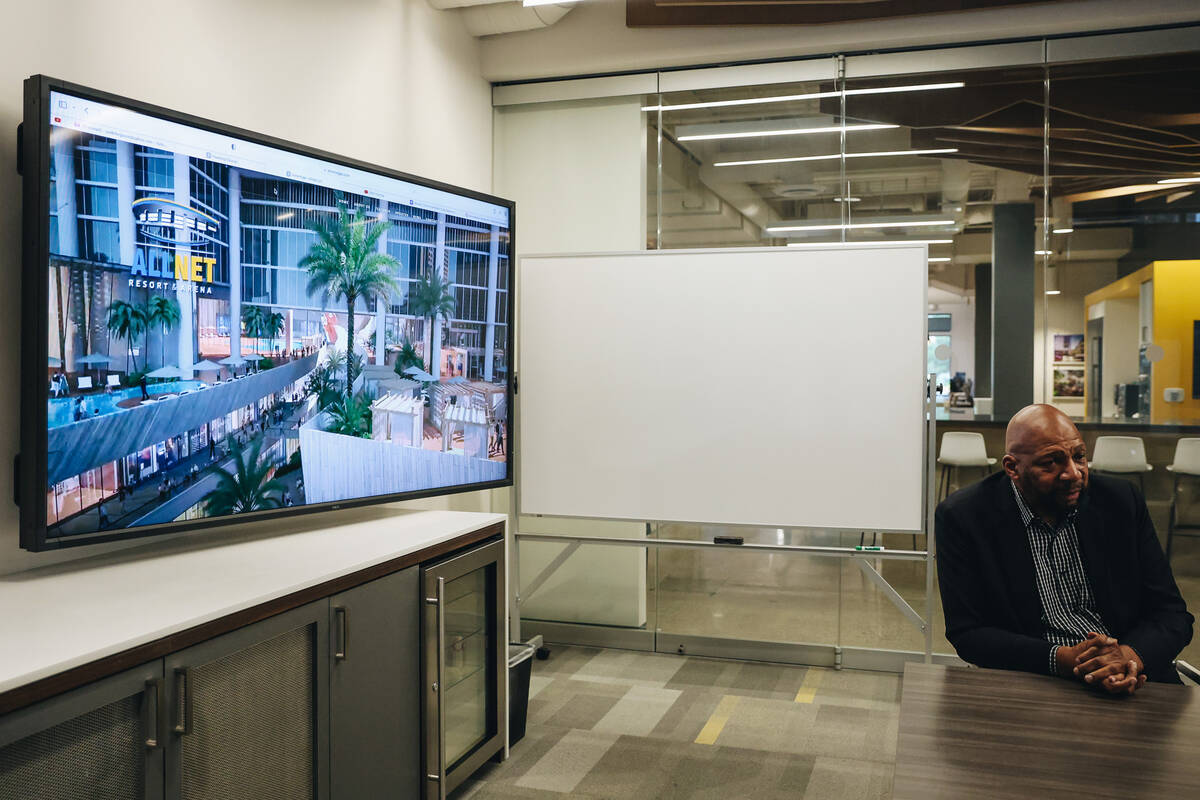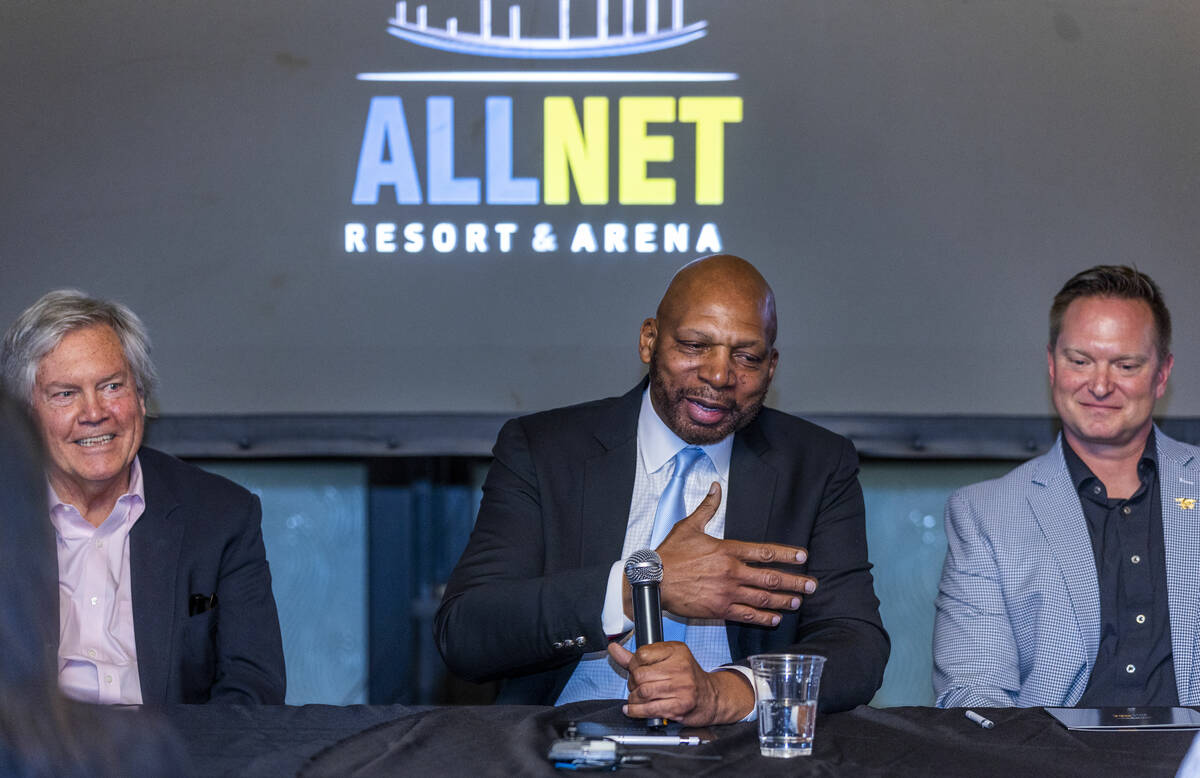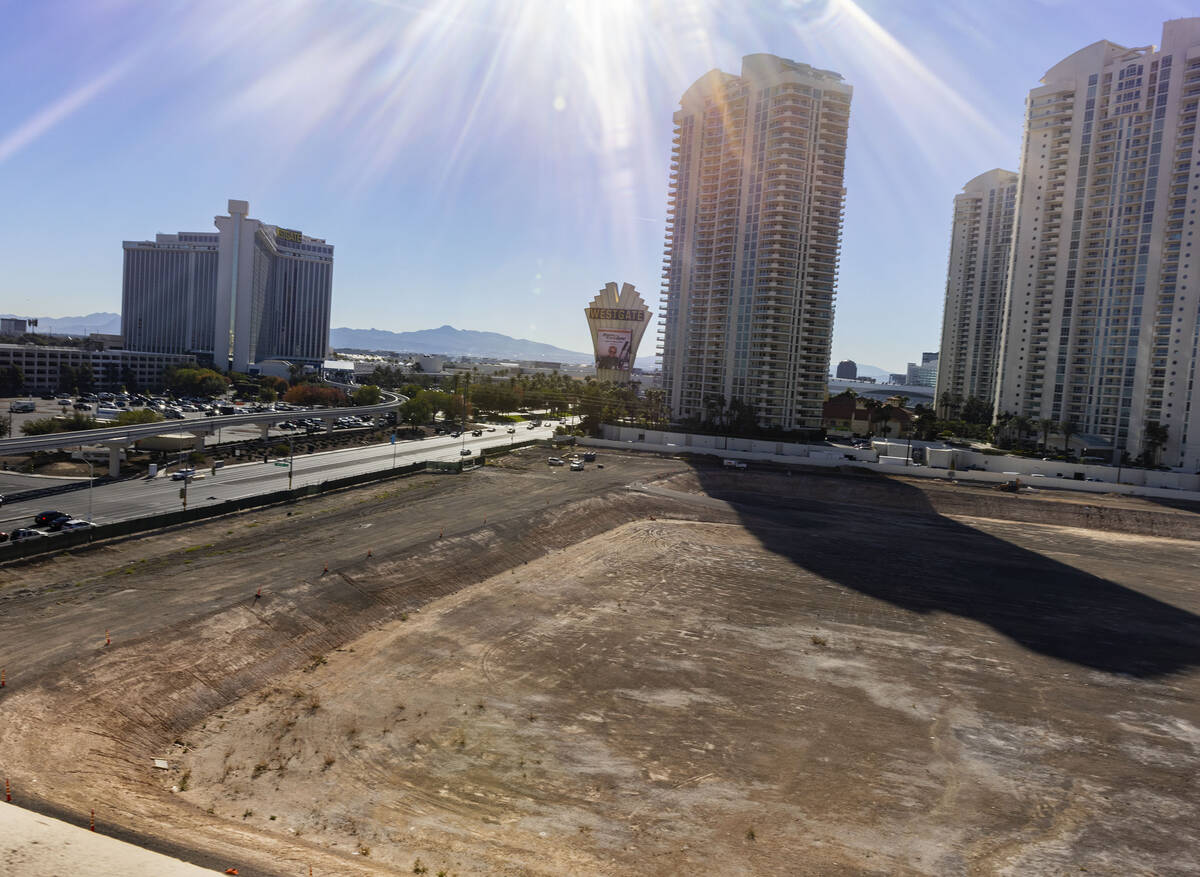 With a Clark County-imposed deadline scheduled to hit this week, the All Net Resort & Arena project is still a go, according to its CEO Jackie Robinson.
First announced in 2013, the project has been delayed several times and has seen its proposed financial backing change multiple times over the decade.
Last year the Clark County Commission gave Robinson a final extension on the project's land use permit that mandated that work on the arena-hotel project had to be underway. That deadline is up on Wednesday.
Robinson wants to have the project built and opened by the end of 2026, depending on the approval of the project's grading plan.
Despite no noticeable work being done on the 26-acre lot situated on the north Strip between the Sahara and the Fontainebleau, Robinson said a nearly 1,000-page document has been submitted to Clark County.
County records indicate All Net applied for an early grading permit in June, which is still being reviewed.
'Committed to construction'
Applying for that permit demonstrates the All Net group has "committed to construction," according to Robinson.
"We've turned that in and gotten comments back and gotten those things back in, so we're pretty far down the line," Robinson told the Las Vegas Review-Journal on Thursday.
Plans call for construction crews to dig 70 to 80 feet underground where Robinson envisions parking for the arena-hotel project and Boring Company Vegas Loop station will be located.
"When you're going down that far, they (Clark County) had a concern that you have two major properties there. So a lot of engineering went into it. I know a lot of people don't see on the site that we're working, but because we're going underneath, there's a lot of work. If you came by there at certain times, there were people working on the site."
"We were getting all of the geological information from the standpoint of water tables, soil samples, all those types of things. It's been a lot of work."
If the county sees the permit application as enough to prove the All Net group is committed to construction is a different story.
"We're just going to have to evaluate what they have filed and see if it meets the requirement," Clark County Commissioner Tick Segerblom said. "They have indicated to me that it does meet what we laid out a year ago. They haven't thrown in the towel."
All Net's plan includes a 22,000-seat retractable roof arena, two luxury hotel towers, a convention center, movie theater and grocery store.
With a retractable roof uncommon for an arena, a rendering released last year depicting the planned addition caught many by surprise.
"We're not changing that (retractable roof)," Robinson said. "We think that there's great use from an aesthetic situation if you do a fight or a concert under the stars. We want to give more to alternative sports, like big trucks, motorcycles and other stuff like this."
Having a retractable roof "allows us to do that for tennis and other things we want to do," he said. "Sure, you can't do that for basketball, but for the other sports that we want to bring in, that's a big market that we're not hitting."
'Finances 100 percent in place'
The same financing plan announced last year by Robinson for the planned $4.9 billion project remains in place. Wyoming-based family investment fund Clearwater Perpetual Master Trust is the investor in the project and it has a full construction loan in place, Robinson said.
"We have our finances 100 percent in place, so we're all ready to go," Robinson said.
Since the All Net Arena plans were first announced 10 years ago T-Mobile Arena has opened its doors, Allegiant Stadium was built and hosts the NFL's Raiders, and the Oakland Athletics are all but guaranteed to land on the site of the Tropicana. Additionally, the Oak View Group announced a plan for a $10 billion NBA-ready arena and hotel project planned to be built on the Las Vegas Boulevard just south of the Strip.
The boom in current and future projects has no effect on All Net's plans, due to the location of it being the north Strip. The megaproject Resorts World opened in 2020 and the long-delayed Fountainbleau is scheduled to open this year.
"We need a venue down on the north Strip. That's where all the new properties are opening up, you have multibillion-dollar projects," Robinson said. "We need these to be able to draw entertainment with these new rooms and everything else to fill those."
Nongaming resort a plus
The adding of a nongaming resort to the project was a focused decision by Robinson, as he sees an untapped market, especially for conventiongoers.
"Usually a convention is about four days and if you start looking at it you have 200,000 on the first day, by the time you get to the second day, everybody is gone," Robinson said. " It's because they have no place to work. I meet you at a convention where do I go? I go back to a noisy restaurant, or smoked-filled casino and bad technology. So what do I do? I leave."
Robinson also hopes the nongaming aspect of the hotel would be attractive to college athletics, with the ability to house athletes for games and tournaments without having gaming surrounding them.
Oak View Group has indicated its plan is to build its project to be NBA ready, in hopes of attracting an expansion team. NBA Commissioner Adam Silver has said multiple times that expansion talks are a few years out and that Las Vegas is an attractive market for a potential team.
Robinson said that having an NBA team is not a make or break scenario for the All Net project.
"Las Vegas has existed long before professional sports and with other events," Robinson said. "We did our feasibility without any type of basketball, because you can't build a $5 billion project on something that you're hoping for; you have to see if it works if you don't get it. So if we don't get it (NBA team) we're going to go ahead."
If All Net's plans don't meet the county's requirement for the imposed deadline, Segerblom said it would be a big missed opportunity for the north Strip.
"Jackie had an NBA dream even before we had an NFL dream," Segerblom said. "Nobody thought it would be possible and now it turns out he was right all along. It would be tragic if he couldn't complete his goal."
Contact Mick Akers at makers@reviewjournal.com or 702-387-2920. Follow @mickakers on X.