Allegiant Air files to trademark 'Allegiant Stadium' name
Updated May 7, 2019 - 8:17 pm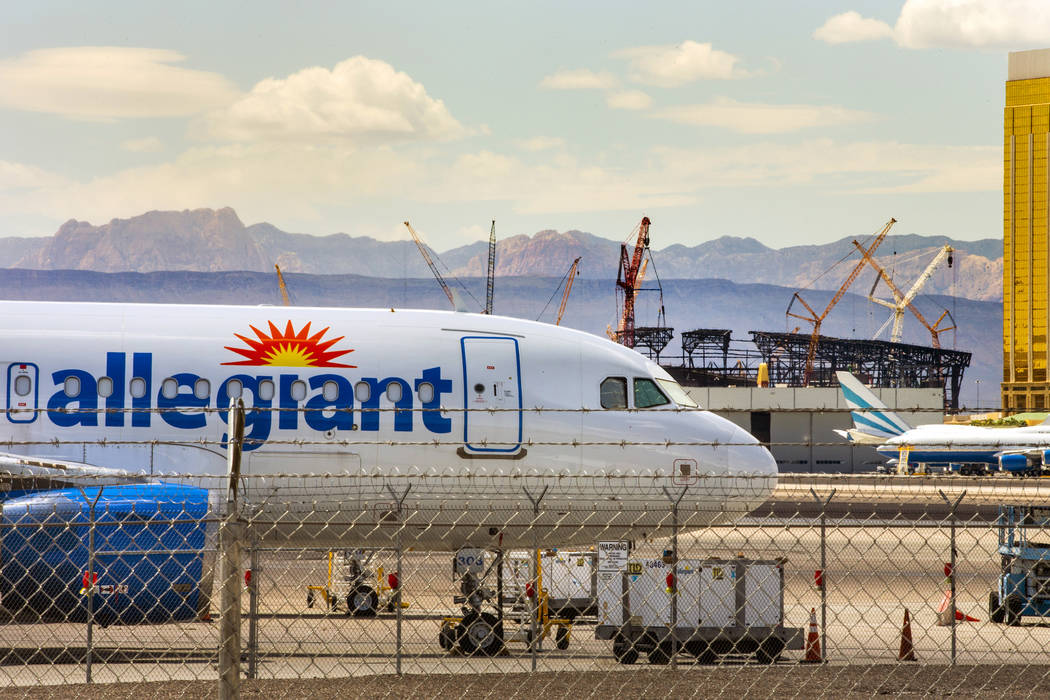 With the multimillion-dollar question of whose name will be featured atop the Raiders' Las Vegas stadium still in the air, Allegiant Air has filed for an interesting trademark.
The Las Vegas-based airline submitted a trademark filing for "Allegiant Stadium" on March 29, according to U.S. Patent and Trademark Office records.
Despite the coincidental timing, Allegiant said it's not tied to the under-construction $1.8 billion, 65,000-capacity domed Las Vegas stadium slated to be complete on July 31, 2020.
"Allegiant filed an application with the U.S. Patent Office earlier this year," the company said in a statement. "The purpose was to protect the trademark of Allegiant Stadium for any future uses, should we need it."
Although Allegiant said the stadium trademark is not tied to the Las Vegas stadium, it did confirm it has had talks with the Raiders about sponsorship opportunities.
"While we had conversations with the Raiders about a variety of sponsorship opportunities, the trademark application is unrelated to those discussions," the statement said. "It's an extra layer of protection for our brand, as we are constantly exploring sponsorship opportunities in the communities where we do business."
Raiders president Marc Badain confirmed that Allegiant and the NFL organization had conversations regarding sponsorship opportunities tied to the stadium, but said the naming rights process is ongoing.
Allegiant is no stranger to professional sports sponsorship deals as the low-cost carrier has ties to two local sports entities.
Allegiant's logo is featured on the ice at T-Mobile Arena, the home of the NHL's Golden Knights, as the airline has a multiyear partnership with the team designating Allegiant as the "Official Domestic Airline Partner of the Vegas Golden Knights."
In July, Allegiant was announced as the "official airline of Minor League Baseball," which includes the Las Vegas Aviators, the Triple-A affiliate of the Oakland A's.
Allegiant not likely candidate
Despite the trademark filing, one naming rights expert said he believes Allegiant when it says it is not going to pursue the Las Vegas stadium naming rights deal.
Rob Yowell, president of Gemini Sports Group in Arizona, said Allegiant could possibly rearrange some financials to make the deal happen, but he doubted it would pony up the approximately $25 million per year for 20 years that he heard was the asking price for the Las Vegas stadium.
"I think the numbers I'm hearing for what the Raiders want to be on that stadium is going to be something beyond what I think an Allegiant would be willing to pay," Yowell said. "You never know, though. I've seen companies stretch their budgets for unique deals."
Yowell has been part of naming rights deals in his over 20-year career in the business, including with the Honda Center in Anaheim where NHL's Anaheim Ducks play, in Oakland with Oracle Arena where the NBA's Golden State Warriors play and with the Arizona Cardinals and their naming rights deal for the now State Farm Stadium in Phoenix.
With the sports betting stigma that once surrounded Las Vegas now all but gone, Yowell said the door is wide open to who might affix their name to the Raiders new home in the desert.
Although it could be any number of companies, Yowell doesn't believe it will be from the resort industry, but rather an international company, with one in particular on his radar.
"I think Virgin is a prime candidate to jump on that," he said. "Given the global recognition of Las Vegas, I think Richard Branson makes too much sense."
Virgin already has strong ties to Southern Nevada, as the company recently acquired the Hard Rock Hotel, with plans to rebrand it a Virgin Hotel next year. It also has invested in the proposed Brightline high speed rail project planned to run between Las Vegas and Southern California and the Hyperloop project just outside of North Las Vegas.
"I've always thought that (Virgin) would make a lot of sense there (Las Vegas)," Yowell said. "Richard is Richard, he would definitely plant that flag."
Virgin officials could not be reached for comment.
Naming rights is big business
Sports venue naming rights deals can be very lucrative for a sports organization, as they are generally for tens of millions of dollars per year for multiple years.
According to a list compiled last year by the Sports Business Journal, the most lucrative naming rights deal is tied to Scotiabank Arena in Toronto, Canada, home of the NBA's Toronto Raptors, for $639 million over 20 years, or $30.4 million annually.
The list tags the home of the New York Jets and Giants, Metlife Stadium's deal at up to $625 million over 25 years, and Chase Center in San Francisco, the soon-to-be-home of the Golden State Warriors, at up to $400 million over 20 years as the most lucrative naming rights deals in the U.S.
If Allegiant happened to be the naming rights partner of the Raiders, it wouldn't be the first time an airline attached its name to a stadium or arena.
Currently there's an American Airlines Arena in Florida, where the NBA's Miami Heat play, American Airlines Center in Dallas (Dallas Mavericks, Dallas Stars), and the United Center in Chicago (Chicago Bulls, Chicago Blackhawks).
Formerly, there was the Air Canada Centre (Raptors), American West Arena (Phoenix Suns, Arizona Coyotes, Phoenix Mercury), Continental Airlines Arena (New Jersey Nets, New Jersey Devils) and Delta Center (Utah Jazz).
Although Allegiant all but ruled out the possibility of it being the next airline with a sports facility deal, Clark County Department of Aviation director Rosemary Vassiliadis said the pairing would make sense.
"To have a hometown airline sponsor something as big as an NFL stadium that will generate air travelers, I think would be great synergy," Vassiliadis said. "If they do get it, I look forward to working with them on that."
Contact Mick Akers at makers@reviewjournal.com or 702-387-2920. Follow @mickakers on Twitter.