Allegiant Air vows more diligence on aircraft reliability issues
February 1, 2016 - 8:24 pm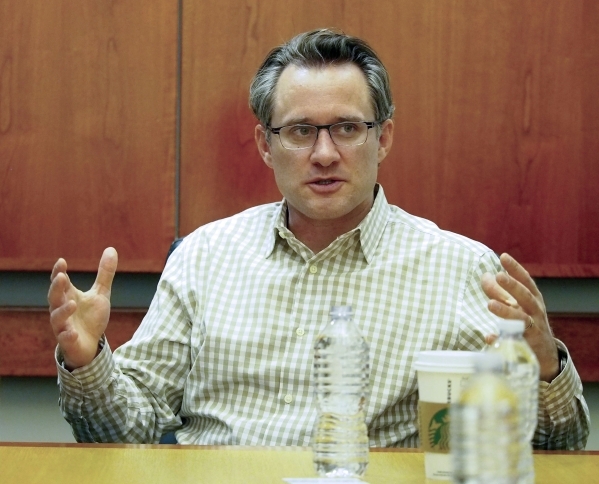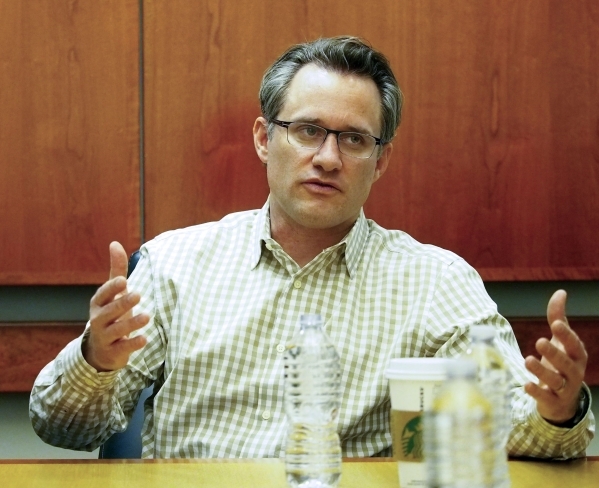 Las Vegas-based Allegiant Air, bruised by allegations that it's ignoring maintenance problems at its Orlando, Florida, facility, vowed to be more aggressive in addressing aircraft reliability issues as it works to upgrade its fleet with newer planes.
Chief operating officer Jude Bricker, in his first interview since being named to the position last month, made the comments in addressing an editorial board meeting of the Las Vegas Review-Journal on Monday.
Bricker affirmed that Allegiant will continue its efforts to become an all-Airbus fleet sometime after 2020. The airline flew more than half of its passengers on its 24 Airbus A319 and A320 twin-engine jets in 2015 and will phase out its five Boeing 757 jets by 2018 as the company ends service to and from Hawaii in August.
The airline, which currently has the third-largest fleet of MD-80 jets in the world with 51, is looking replace them, not only because they are old and not as reliable as newer aircraft but because the Airbus planes are more fuel-efficient and less expensive to fly.
Allegiant has become one of the world's most profitable air carriers using the strategy of flying older aircraft, which the company can acquire at considerably less cost than new planes, and flying them less frequently than most airlines use their planes. Allegiant can get a used MD-80 for $3.5 million to $5 million while a new Airbus A320 costs about $60 million.
Allegiant flies to most of its small-city destinations twice or three times a week, which means each plane turns fewer daily cycles. Every flight from Las Vegas goes out and back, which means Las Vegas-based crew members have the added benefit of being able to be at home after their work each day. Most airlines have their crews at hotels three or four nights in a row on their trips.
Allegiant's use of older planes and greater media awareness of aborted takeoffs and mechanical breakdowns in 2015 have led to more scrutiny of the airline. Still, the problems have not affected the bottom line of the company, which reported its 52nd straight profitable quarter last week.
Bricker said he suspects the additional media and regulatory scrutiny may be directly related to the company's rocky relationship with the International Brotherhood of Teamsters Local 1224, which has represented the company's pilots since August 2012.
"It's not uncommon for things like this to come up," Bricker said in reference to the union's tactic of calling attention to operational problems the airline has experienced to leverage the union's position at the bargaining table.
Bricker suspects the union was behind the highly publicized allegations of a mechanic who worked at Allegiant's Orlando facility.
Greg Marino of Ocala, Florida, worked for two weeks at Allegiant's operation at Sanford International Airport, quitting because he said he was shocked with lax performance standards and policies in maintaining the airline's fleet.
Bricker said he received an internal report on Marino's allegations on Friday and concluded that the complaints were unfounded. He said Allegiant has mandatory and voluntary compliance programs in place that enable any employee within the operation to air concerns anonymously if necessary.
Marino alleged that Allegiant is "operating a dangerous safety culture" in Orlando, ignored obvious maintenance problems and encouraged him to falsify a repair report so that a plane could be put back on line.
Bricker said he is convinced that the airline is safe and that the Orlando operation is functioning properly.
Bricker is now Allegiant management's lead negotiator, returning to the bargaining table next week with the Teamsters. He said he is up to speed with the status of negotiations after former chief operating officer abruptly resigned in early January. Bricker would not say why Harfst left the company.
The Teamsters and management of have completed 14 of 24 sections of the terms of what would be Allegiant's first union contract. Bricker acknowledged that the two sides are far apart on the remaining 10 sections.
Bricker also acknowledged that the company's pilots are paid below industry averages, but he added that he wants to reach an agreement to change that.
"And, I think the best thing we can do for the pilots right now is to grow the company and that's what we're planning to do in 2016," he said.
Bricker said management and union proposals on the remaining contract issues have been nonstarters.
Union representatives who could not be reached late Monday have said in the past that Allegiant's top executive, Chairman and CEO Maurice Gallagher, isn't offering any serious proposals because he doesn't want union representation at the airline.
Contact reporter Richard N. Velotta at rvelotta@reviewjournal.com or 702-477-3893. Find @RickVelotta on Twitter.