Allegiant Travel posts first loss after 17 profitable years
Updated May 12, 2020 - 5:43 pm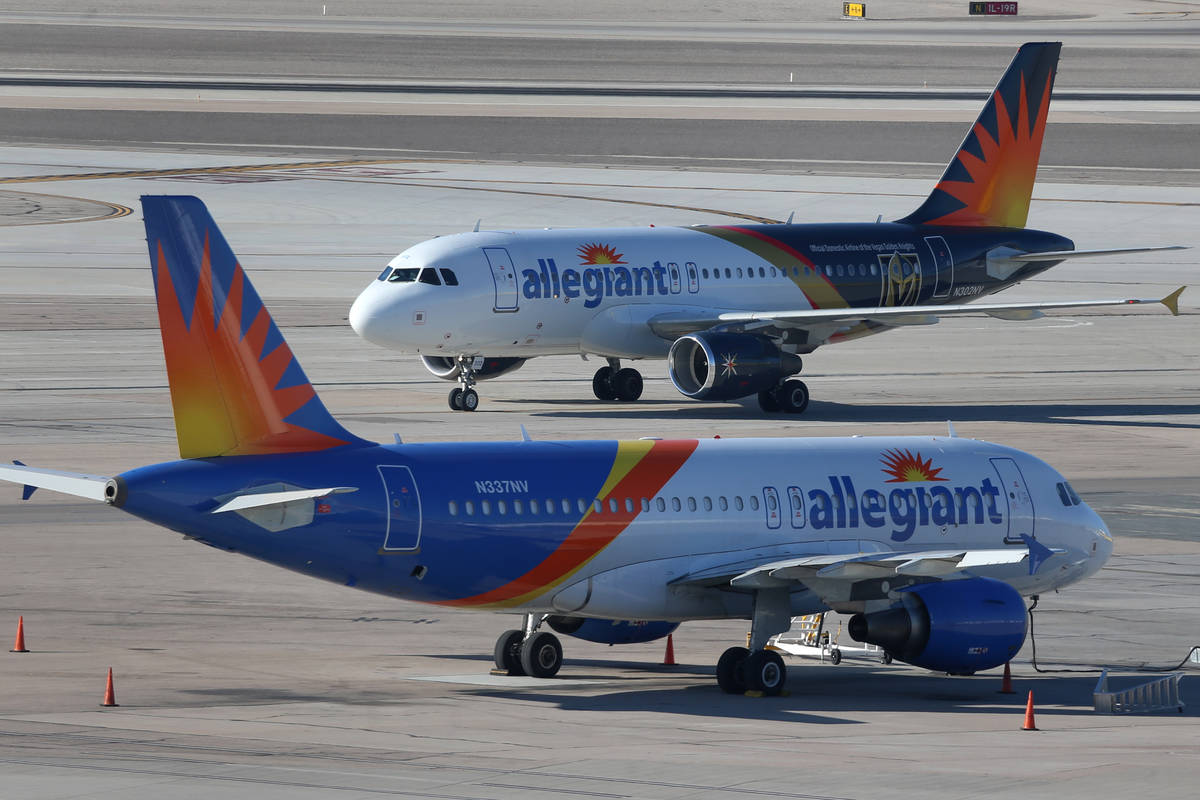 After 17 straight profitable years, Allegiant Air's parent company posted a loss last quarter as the coronavirus pandemic devastated the travel industry.
Las Vegas-based Allegiant Travel Co. on Tuesday reported a $33 million loss in the three months ended March 31, compared to a $57.1 million profit the same period last year.
Revenue dropped 9.4 percent to $409.2 million as passenger totals fell 8 percent to almost 3.2 million. But its balance sheet was clobbered by a $163 million write-off of its nonairline businesses.
Allegiant said it has indefinitely suspended nearly all spending on those ventures, including its Florida resort project, Sunseeker Resort Charlotte Harbor.
It halted construction of the $470 million riverfront project in March as the pandemic shut down much of the economy, one of many steps the airline has taken to save cash amid the crisis.
Overall, the near term "is painful and will continue to be painful," Chairman and CEO Maurice "Maury" Gallagher said in a prepared statement, but he believes Allegiant's business model "is best-suited to withstand the brutal impact from this pandemic."
He also said the airline would likely shrink its fleet by up to 25 aircraft.
Allegiant inked a deal last year to have the Raiders' new 65,000-seat home in Las Vegas named Allegiant Stadium. Despite the turmoil, the carrier does not "anticipate any change" to the naming-rights deal, according to spokeswoman Hilarie Grey.
Terms of the sponsorship have not been disclosed.
"Our partnership with the Raiders remains strong and strategic, and we expect that Allegiant Stadium will be a real catalyst – and even an accelerator – for future interest in travel to Las Vegas as things move forward," Grey said Tuesday.
Allegiant, a deep-discount carrier known for flying from small, underserved cities to warm-weather vacation spots, usually without competition on its routes, earned $232 million in profit last year, up more than 43 percent from 2018.
But amid a steep drop in travel demand sparked by the coronavirus outbreak, the airline has seen "unprecedented cancellations," and it expected flying capacity for April and May to drop 80 percent to 90 percent from the same period last year, Allegiant has said.
To save money, it suspended stock buybacks and dividends, announced a 50 percent salary cut for executives, and enacted a hiring freeze.
On top of that, more than 1,100 employees, or roughly a quarter of its workforce, have taken some type of pay cut.
Allegiant expects to receive $172 million in payroll support funds from the federal government, under the $2 trillion-plus CARES Act relief measure.
The carrier also expects to receive nearly $100 million in federal income tax refunds this quarter under a provision of the CARES Act, and another $100 million or more in early 2021, stemming from expected losses and capital expenses this year, Gallagher said Tuesday.
Contact Eli Segall at esegall@reviewjournal.com or 702-383-0342. Follow @eli_segall on Twitter.