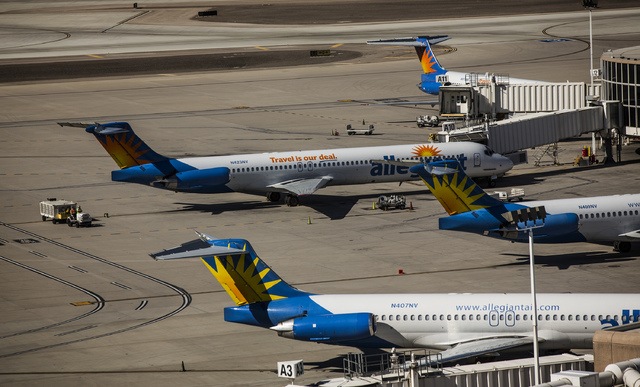 For a company typically placed in the fast-growth category, third-quarter results released Wednesday proved relatively plodding for Allegiant Travel Co.
The Las Vegas-based airline reported that revenues rose 5.5 percent from one year ago to $228.9 million as the gains in scheduled service were diminished by a shrinking charter business and fewer hotel bookings. With certain cost categories creeping up, the net income grew only 1 percent to $17.1 million, or 91 cents a share.
By comparison, the nine-month-to-date revenues increased 10.5 percent to $757.7 million, with net income up 17.2 percent to $74.8 million, or $3.90 a share.
Still, the third quarter results beat the consensus estimate of 90 cents a share among nine analysts polled by Yahoo Finance.
The stock in after-hours trading remained even with the close of $106.49; despite some stumbles in the past four months, investors have retained confidence in Allegiant and pushed the stock nearly back to its all-time high of $109.72 on July 1.
During a conference call with analysts, Allegiant President and Chief Operating Officer Andrew Levy said the near-term outlook was dampened by an undefined amount because the federal government shutdown delayed putting seven Airbus A320 aircraft into service. The planes operate more cheaply than the MD-80 aircraft that form the backbone of Allegiant's fleet and hold a few more seats.
"The shutdown couldn't have come at a worse time," said Chairman and CEO Maurice Gallagher Jr. "We were all prepped and ready to just work with (the Federal Aviation Administration), and they stopped."
For example, one A320 was left stranded in Ireland because it did not have the airworthiness certificate necessary to operate in the U.S.
"As you know, that's a pretty simple thing," Levy said. "But it's not so simple when the FAA is not working."
Originally, Allegiant expected to have the planes start carrying passengers next month, with all of them flying by the end of the year. That schedule will likely slip by an undefined time, but the new routes will be flown with other planes.
In addition, the company said the operational disarray created when an FAA inspection found that emergency slides were not inspected as often as the manufacturer recommended cost $2 million. This included overtime pay, cost of accommodating passengers knocked off their original itineraries and emergency leases of replacement planes while the slides were brought into compliance.
The schedule to start flights next year between McCarran International Airport and Los Cabos and Hermosillo in Mexico is up in the air. Previously, Levy acknowledged, the company talked about a second-quarter launch but is now looking at a launch before the heavy travel period for the year-end holidays.
"Issues with Mexico service are related 100 percent to automation and commercial issues as well," Levy said, in particular the computer programs needed to properly display items such as taxes and handle the accounting. While not complicated, the task takes up time for an information technology staff that also faces other tasks, he said.
Although Allegiant bills itself as a vacation company and not just an airline, the number of hotel rooms booked through its website dropped 11.6 percent during the third quarter compared with 2012. When Allegiant dropped the discounted airfare that came with the purchase of a package, some passengers looked elsewhere for lodging. However, Levy said, the current strategy produces stronger overall profits.
Levy was promoted to the company's board of directors Wednesday. Until now, he was the unusual case of a president who did not hold a board seat.
In addition, he was named chief operating officer, replacing senior vice president of operations Kris Bauer, who opted for an early retirement.
Contact reporter Tim O'Reiley at toreiley@reviewjournal.com or at 702-387-5290.