Although consignors smell scam, shop manager says he's just late on payments
September 17, 2010 - 11:00 pm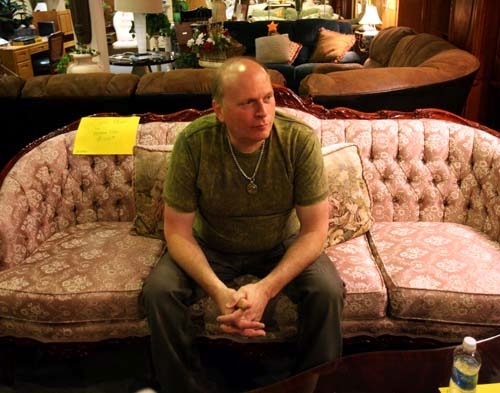 A Las Vegas consignment shop owner accused of scamming his clients over nonpayment for items he sold on their behalf said he only lied about their checks being in the mail in hopes of buying time to earn money to pay back his debts.
Some of the clients — who gave used merchandise to the shop — said they believe they are victims of an elaborate scam set up to bilk thousands of dollars in furniture and other items, and they're filing complaints with the state attorney general's office.
Neil Luxenberg, who runs Bargain Hunters at 1200 S. Rainbow Blvd., said he can't afford to pay his clients who desperately need the money to pay off debts incurred from job loss and foreclosure because business is slow.
"We pay all of our consignors, and we're running a little bit behind," Luxenberg told the Review-Journal. "We owe people this money, and we'll pay them as soon as we can.
"There's no underhandedness, no scam, no nothing."
Luxenberg, who also goes by Neil Law, said he is about $10,000 to $20,000 behind in payments, and that clients can expect their money in 30 to 45 days.
"We're slow in our payments, and we're sorry about that," he said.
Morgan Brooks, a former Las Vegas real estate agent who lost her job and her home in the recession, said she never received payment for an $11,000 pool table, $400 bar stools and other items that were sold.
"He said his wife mailed me a check, and that I should get it on the first of the month," Brooks said. "But it never came. So I called him to tell him I never got it, and he said I should get it in a couple of days."
The check was never mailed.
"I was trying to buy time," Luxenberg said. "My intention wasn't to lie to them. My intention was to make these sales to make the money to honor that commitment. I unintentionally lied to them. I have told people I promised them a check and didn't send it to them."
Luxenberg said the money he made went to pay for $13,000 in monthly rent, $2,000 in electric bills and other expenses. He said he never alerted his clients he was behind because he "was optimistic sales would pick up."
"They will be paid, just not in the terms of their agreement," he added. "Any person that wants their stuff back can get it as soon as we can accumulate it."
There are about a dozen people, out of about 400 clients, who have yet to be paid. Luxenberg said the business is not in any bankruptcy danger.
Suzan Hudson, who put thousands of dollars of furniture into Luxenberg's store after her house had been foreclosed upon, said she was fortunate enough to get "a little money here and there, but not without prompting."
"The bookkeeping was a nightmare, they'd give me a check for $300, but I never knew what sold," Hudson said. "They were not giving an accounting of what inventory was sold. We can't get calls back, and they give you every story under the sun as to why they can't pay."
According to contracts the sellers sign with Bargain Hunters LLC, clients are entitled to 50 percent of the profits once their items are sold, and the company will submit a written report about how much money was made and what items were sold.
"I guess if they want their money sooner they can take me to small claims court and get paid in the same period of time if they'd just be patient," Luxenberg said. "I can't blame anybody for being upset."
Contact Kristi Jourdan at
kjourdan@reviewjournal.com or 702-383-0279.