Amazon plans 800K-square-foot warehouse in North Las Vegas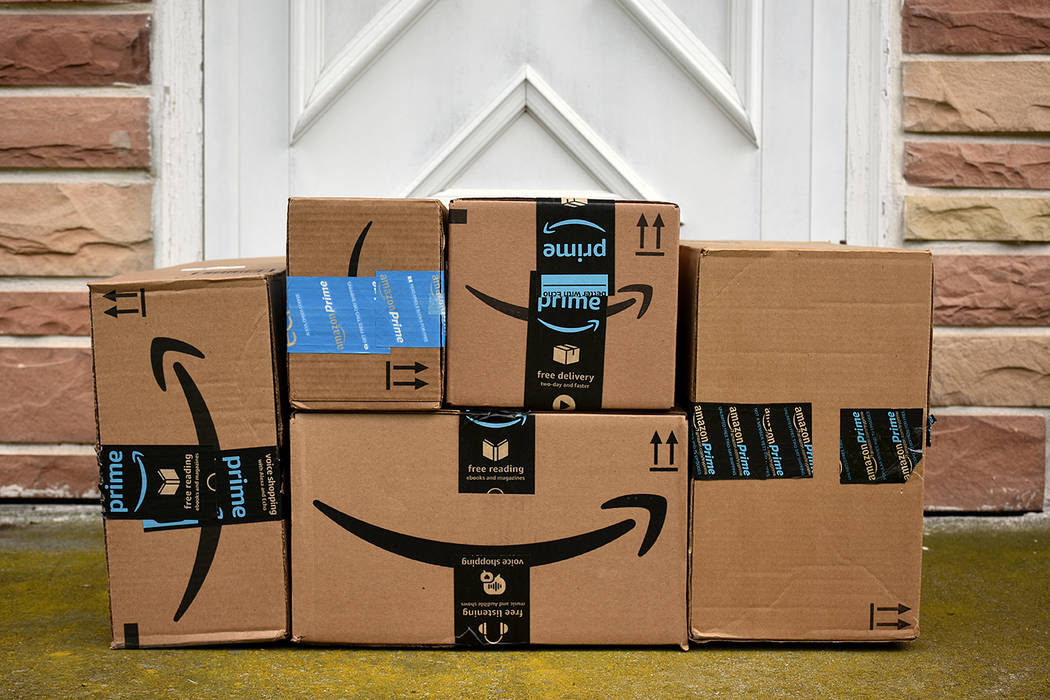 Amazon passed on building its second headquarters in Southern Nevada, but the e-commerce giant wants to expand its distribution operations here.
Executives from the Seattle-based company are expected to announce plans Wednesday for an 800,000-square-foot fulfillment center at a new industrial complex under construction a few miles from the Las Vegas Motor Speedway.
The new warehouse is expected to pack and ship small items such as books, toys and household items. Company officials would not say how much will be spent on building the warehouse, but they said its third facility in North Las Vegas will provide more than 1,000 full-time jobs by the time it opens late next year.
"We're excited to open a new, state-of-the-art fulfillment center in North Las Vegas and to continue innovating in a state committed to providing great opportunities for jobs and customer experience," Sanjay Shah, an Amazon vice president, said in a statement.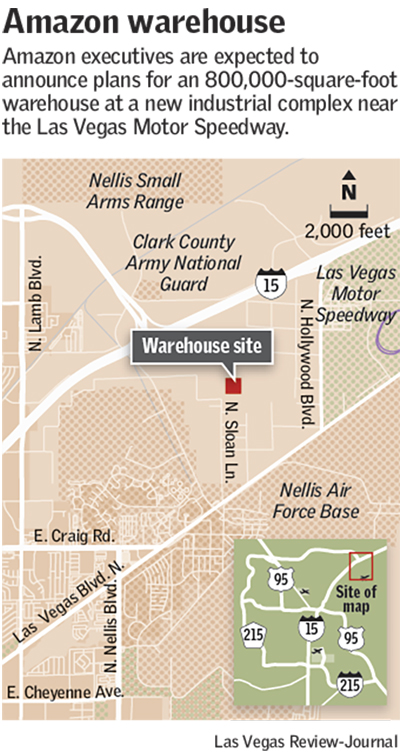 Last month, documents obtained by the Las Vegas Review-Journal found that state and local government officials had offered Amazon 84 acres of land in downtown Las Vegas to build a corporate campus.
Las Vegas didn't make the list of 20 finalists Amazon released in January for its second headquarters, but executives said the new warehouse shouldn't be viewed as a consolation prize.
"Amazon's search for a second headquarters is a separate effort from Amazon's fulfillment work," company spokeswoman Lauren Lynch said.
"There are a lot of contributing factors that go into our thought process on where to place a new fulfillment center," Lynch said. "Most importantly, we aim to make sure fulfillment centers are placed close to customers so we can offer a great Prime service and fast shipping speed. We also look at the workforce, and we've found great talent in abundance in Southern Nevada."
Lynch said wages are not yet set for logistics jobs at the new facility, but the company will offer "competitive" pay and "comprehensive benefits starting on day one." To apply, visit amazondelivers.jobs.
The warehouse is rising just west of the speedway and east of Interstate 15 as part an industrial park spanning more than 1 million square feet under development by Van Trust. Property records show the developer purchased the 73-acre site in November for $16.5 million.
"It really helps to define what North Las Vegas, the mayor and the City Council have been doing by going after intellectual capital and technology as a way to diversify the city's economy, building a new tax base and creating new jobs," said Gina Gavan, economic and business development director for the city of North Las Vegas.
The warehouse will not receive any state incentives, unlike a 813,120-square-foot large-item warehouse that opened with roughly 1,000 full-time workers in August just off Lamb Road and I-15 in North Las Vegas. That facility received about $1.8 million in tax abatements from the Governor's Office of Economic Development.
Amazon also operates a sorting center in North Las Vegas and a large-item warehouse in Reno, each with about 1,000 full-time workers.
"This is Amazon's third facility in North Las Vegas," Mayor John Lee said. "A repeat customer is the best kind of customer, because it's a testament to the quality we're putting out and the results they've had in North Las Vegas."
Contact Art Marroquin at amarroquin@reviewjournal.com or 702-383-0336. Follow @AMarroquin_LV on Twitter.
Amazon solar array
Amazon recently filed for a permit to install a solar array on the roof of the company's sorting center in North Las Vegas.
The plan is part of Amazon's wider effort to host solar energy system at 50 fulfillment centers nationwide by 2020, including the facility in North Las Vegas, company spokeswoman Lauren Lynch said.
The permit stated that the project would cost about $2 million. Lynch said that number was an error but declined to provide a specific cost while noting that it would be "much lower."
— Art Marroquin