Analysts: Build high-speed rail, not more lanes for I-15
February 9, 2016 - 1:17 pm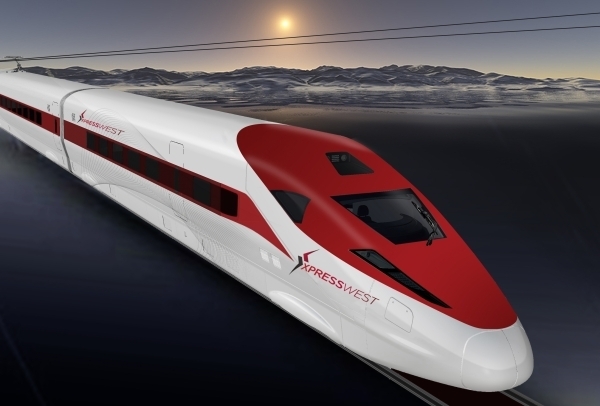 Don't expect local transportation officials to get on the bandwagon to build additional lanes on Interstate 15 between Primm and Barstow, Calif., to improve traffic flow between Las Vegas and Southern California.
They'll more likely get behind efforts to expand modes of transportation, such as high-speed rail and even hyperloop technology.
Tom Skancke, a ground transportation consultant to the Las Vegas Convention and Visitors Authority, told authority board members Tuesday that the cost of adding new lanes in each direction for the 113 miles between the Nevada-California border and the first major freeway interchange in California would cost about $879 million in today's dollars.
But Skancke said the project would require an extensive environmental impact study that could take as long as 10 years to complete. By the time a project could be started, the estimated cost would balloon to about $1.5 billion, Skancke said.
"We have to ask ourselves if we need more highways or more modes," Skancke said.
He said he would recommend providing the funding needed to repair but not expand highway infrastructure along the route, but also to support efforts to develop high-speed rail.
Skancke noted that environmental approvals for a proposed highway known as the High Desert Corridor between Victorville and Palmdale, Calif., would be completed by summer. The significance of that 50-mile highway, advocated by Skancke a decade ago, is that includes a high-speed rail corridor.
Las Vegas-based XpressWest, planning a high-speed rail system connecting Las Vegas with Southern California, would use the High Desert Corridor to link its system from Victorville to the California High-Speed system that will pass through Palmdale on its way south to Los Angeles' Union Station.
XpressWest is not seeking public funding for the project, but has considered applying for loans through a Federal Railroad Administration program.
Skancke also updated the board on the Interstate 11, a new four-lane highway project linking Mexico and Nevada. Crews already have begun a key portion of the project, a 15-mile bypass around Boulder City. Skancke said the project leaped forward when federal officials encouraged state leaders to begin developing I-11 routes between Las Vegas and Northern Nevada.
He also alerted board members of an upcoming highway closure that could affect weekend traffic beginning Friday. California crews will close the interchange of California highways 71 and 91 for 55 hours for construction Feb. 19-22.
The closure could affect Orange County traffic heading to and from Las Vegas for the three-day holiday weekend. Skancke said the alternative was to close the interchange over 10 weekends.
In other business, the board received a report from Rick Arpin, senior vice president of entertainment for MGM Resorts International, about April's opening of the T-Mobile Arena just west of New York-New York.
The arena, which will hold between 16,000 and 20,000 people, depending on how seats are configured, has been designed to draw major special events that previously couldn't be accommodated in existing Las Vegas venues.
Arpin said no gaming company sponsorships have been sold at the arena, but several casino companies have embraced the arena by purchasing their own luxury boxes for high-roller guests.
Arpin said the arena itself is expected to result in at least 500,000 visitors who would plan a trip to Las Vegas just to see an event there. He said the arena has produced 1,500 construction jobs, 640 jobs for arena workers and 1,055 support jobs from vendors. It is expected to produce $850 million in recurring economic impact each year and $50 million annually in new tax revenue.
The arena will be opened by The Killers, a Las Vegas-based band, and Wayne Newton on April 6. Future dates include performances by George Strait, Garth Brooks, and Guns 'n Roses. The UNLV Rebels basketball team will also square off against Duke there in December and Arpin said he believes the NCAA is ready to amend its policies to enable collegiate sports events to be staged in Las Vegas. That means the potential of hosting early rounds of the March Madness tournament as well as the NCAA wrestling championships, usually held in the Midwest, collegiate hockey's Frozen Four, usually scheduled on the East Coast, and a variety of collegiate gymnastics and volleyball events as well.
Contact reporter Richard N. Velotta at rvelotta@reviewjournal.com or 702-477-3893. Find @RickVelotta on Twitter