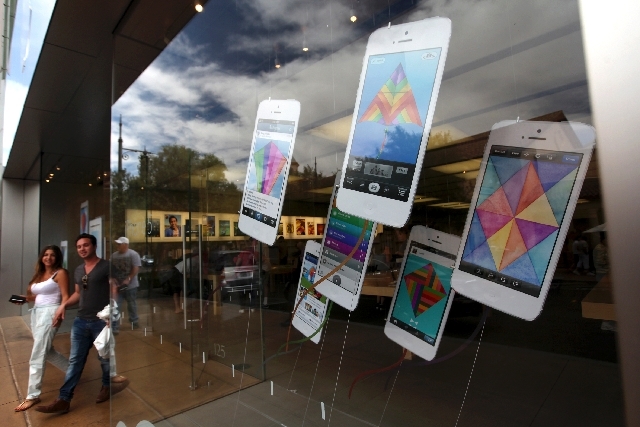 Nevada consumers continued their post-recession spending spree in March, snapping up cars, clothes and meals out.
And with forecasts calling for more spending in the next few months, the state's taxable sales could keep closing in on pre-recession records, experts said.
Businesses statewide sold $4.11 billion in goods in March, up 5 percent from $3.91 billion in March 2012. Clark County's improvement was even bigger, with sales of $2.98 billion coming in 6.8 percent above $2.79 billion a year earlier.
The results added to a string of annual gains that's lasted more than two years, an important upward trend in a state that gets much of its revenue for prisons, public schools and other services from sales taxes.
"When we see sales growth rates exceeding the rate of population growth plus inflation, that signals that consumers are feeling much more confident in the overall economy and their personal financial situation, and that's helping move the economy forward," said Brian Gordon, a principal in local research firm Applied Analysis.
Some of the most important local categories posted major sales jumps. Spending inside bars and restaurants — the single-biggest sector, at 26.7 percent of spending — saw a 5.7 percent sales increase, to $797.6 million. Dealers of cars and car parts, which made up 11 percent of county sales, enjoyed an 8.2 percent bump. General merchandise stores, including department stores, comprised 10.1 percent of the total, and had a 16.4 percent sales spike. And clothing retailers, who accounted for 10 percent of sales, experienced a 9.5 percent increase.
Clark County's construction sales soared to $50.2 million, up 41.7 percent from $35.4 million a year earlier, but 74.2 percent below March 2008, when building categories totaled nearly $195 million.
Gordon traced construction's renewal partly to surging housing. A Tuesday report from Home Builders Research said new-home closings were up 86 percent year over year from January through April. The Strip is contributing as well, with under-construction projects such as The Linq and the Sahara makeover.
"From an economic standpoint, construction is probably not having a substantial impact when we look at today's dollar volume," Gordon said. "A bigger impact is probably sourced to construction-related employees increasing the number of hours they're working, or bringing on more personnel to meet the demands of the housing market and some of the major projects located on the resort corridor."
Sales still lagged their peaks for the month. The most recent numbers were 8.3 percent below the statewide high of $4.48 billion, and 10.7 percent short of a county record of $3.34 billion, both set in March 2007. But they've also bounced back strongly from March 2010 lows of $3.33 billion statewide and $2.49 billion in the county.
Gordon forecasted additional annual gains in the low to mid-single digit percentages, at least for the next few months.
"The population base is larger, the employer base is growing and businesses appear to be doing more sales volumes," he said. "We'd expect to continue to see positive growth across the board."
Gross revenue collections totaled $320.2 million, up 6.8 percent.
But taxable sales were 0.48 percent, or $3.2 million, below forecasts of the Economic Forum, a nonpartisan group that projects revenue for the state's budget.
Contact reporter Jennifer Robison at jrobison@reviewjournal.com or 702-380-4512. Follow @J_Robison1 on Twitter.