Angry tenants voice complaints about Downtown Container Park
November 12, 2015 - 6:35 pm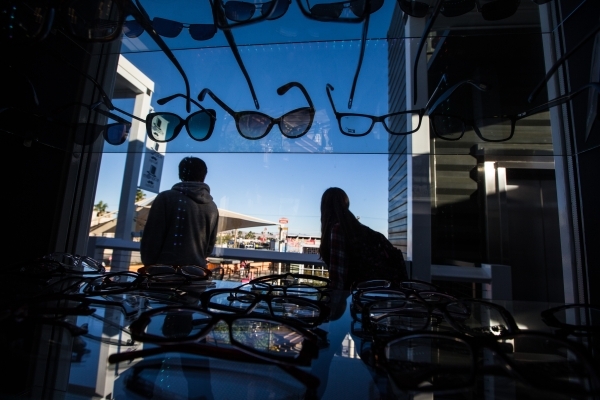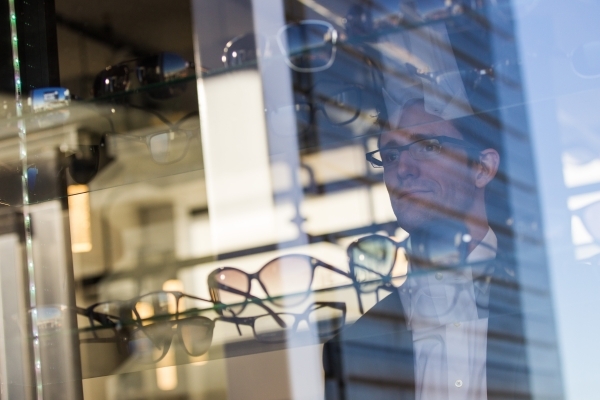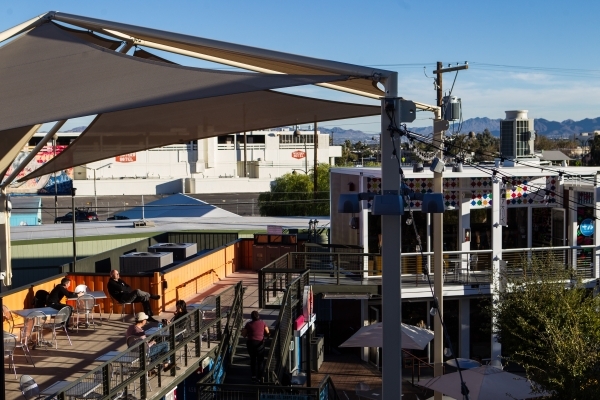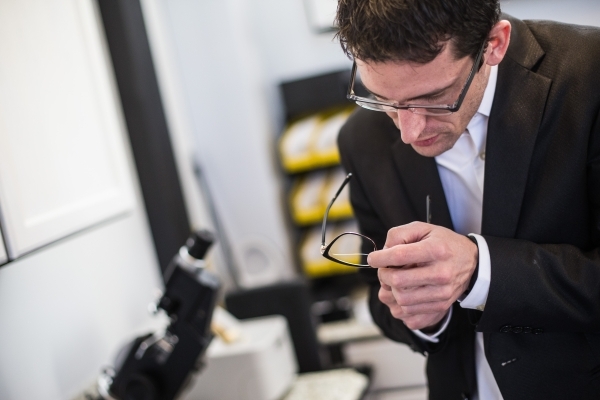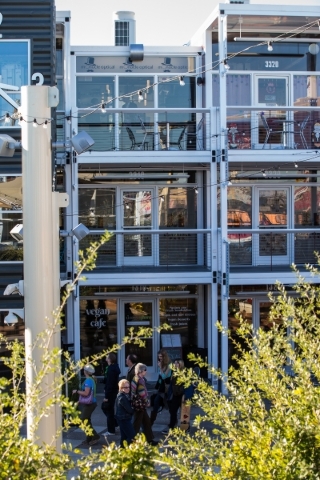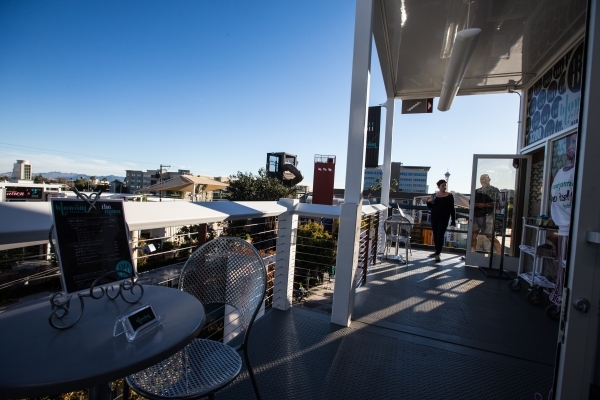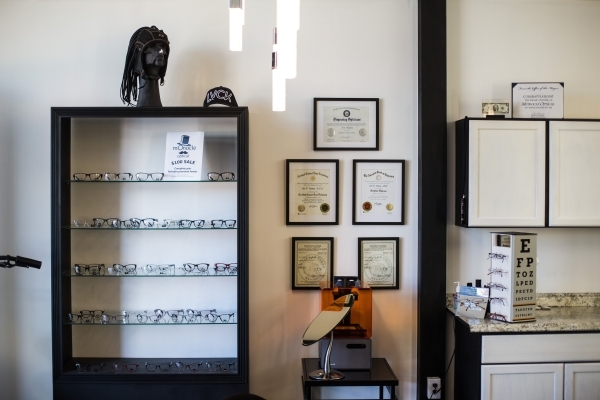 Tony Hsieh's beloved Downtown Container Park may publicly sport a happy face, but behind the scenes Downtown Project's flagship commercial center has some unhappy tenants.
Several current and past tenants said this week that Container Park's management is not adequately marketing and promoting tenants who have businesses on the third (top) level, is hitting them with $75 fines for not being in their stores all the time, and not fixing in a timely manner an elevator that breaks down after it rains.
"It's two different worlds. The tenants' world and what the outside PR perspective is," said former tenant Jenna Adkins, who vacated her third-level Blue Raven boutique novelty gift and clothing store a week ago.
Adkins said she was hit with a $75 fine for not submitting a monthly sales report and knows other tenants who drew $75 fines from Container Park management for not being in their stores all day every day of the week.
One tenant is Eric Healey, owner of Monocle Optical, an eyeglass store that is also on the third level. He said he has received five $75 fines for not being in his store all day, even if he's out on business promoting his store. He runs the business by himself and has no employees.
Healey said foot traffic is so slow on the third level that monthly sales are not even half of his monthly expenses of $5,600, including monthly rent of $2,400. As a result, he said he will have to declare bankruptcy after sinking $200,000 into launching his business at Container Park.
"You have everybody at Downtown Project saying they love my business, that you're an amazing business and they said the business stands for what Downtown Project stands for and they tell me time and time again they want to work with me and yet they keep hitting me with $75 fines," said Healey, who works with the homeless to give them eyeglasses.
Downtown Container Park is Downtown Project's flagship development at 707 Fremont St.
Hsieh, Zappos CEO, launched Downtown Project as a $350 million downtown Las Vegas initiative to redevelop a section of downtown from Fremont Street Experience to Maryland Parkway along the Fremont Street corridor. Downtown Project also owns The Market, Bunkhouse Saloon, Gold Spike and John E. Carson hotel building.
The $75 fines keep coming
Container Park held a grand opening for Healey's store and two other shops on April 2. One of the two other shops, Max Luxx, has already moved out. There are at least three vacant store spots at Container Park, but management said they are being leased.
Healey said because he's a one-man operation, it's difficult to be in the store seven days a week during all store hours.
"They used to be a little more lax about it because they understood I was running everything solo, but then last month they decided to send me four ($75 fines) at once and another last week," Healey said.
What especially irked Healey, Adkins and some other tenants is that Downtown Project presents a feel-good image of wanting to help people while its management cracks down on tenants as if they are in cold Corporate America.
The Review-Journal contacted Doug McPhail, director of retail operations for Downtown Project, to respond to the issues about the $75 fines to tenants and the lack of foot traffic on the third level at Container Park.
Regarding the $75 fines, McPhail said, via an email from Downtown Project Public Relations Director Maria Phelan: "Like all commercial operations, Downtown Container Park's leases include rules of operation, and when those rules are violated, actions taken can range from courtesy notices to fines.
"All tenants are aware of the rules and agree to them when they sign their leases. However, while this is consistent with normal commercial operations, Container Park's approach to violations is far more relaxed than I've seen anywhere else during my retail career."
And on the third level foot traffic, McPhail's statement said, "We hope our visitors will explore all levels of Container Park, and encourage that exploration through signage near the stairs and through the selection of diverse and interesting shops throughout the Park.
"Our visitors make their own decisions about which shops to visit, so like all retail centers, some areas of Container Park see more traffic than others."
Geared for small businesses
Container Park turns 2 years old on Dec. 5 and features more than 40 repurposed shipping containers that house retail shops and restaurants. It's designed to allow small boutique retailers, bars and restaurants to find a home in downtown while serving as an incubator for small businesses to grow. Businesses come and go there.
"Rent is structured to reflect the size and location of each shop. Because Container Park serves as an incubator for small businesses and first-time business owners who otherwise would not have the opportunity to open a store, rental agreements are inherently structured to be flexible and allow for comfortable transition," McPhail said in his statement.
The commercial center also hosts kids, music and beer events in a stage area, and a big children's The Treehouse playground, which is why families visit the development.
Retail shopping is available 11 a.m.- 9 p.m. Monday to Thursday; 11 a.m.-10 p.m. Friday and Saturday; and 11 a.m.-8 p.m. Sunday.
Those are a lot of hours for one person to be in a store, Healey said.
In Healey's case, he said he spoke with McPhail about going to Zappos headquarters in downtown to talk with people there. But Healey said he still got hit with a $75 fine.
In an email to Healey, Caroline Moriarty, a Container Park management staffer who works for McPhail, wrote, "I understand that you may have been out marketing but the park hours are expected to be followed. Marketing should be done prior to opening. Even if you were open and then closed, the store was closed during our inspection and we cannot make exceptions."
The tenants have also complained that management has spurned their ideas to have events and promotions to stir up more customers to visit the top level.
"Why I left was lack of foot traffic and marketability of my floor," Adkins said.
'Setting up … for failure'
Another tenant who asked not to be named for this story out of fear of management retaliation and eviction said, "The only people who benefit are the people on the first floor. There is little or no marketing for the businesses on the third floor. They are setting up the businesses for failure. They do great events that will drive traffic to Container Park, but they're not counting the third floor."
McPhail, in his statement, responded to Adkins' assertions that tenants' promotional ideas were ignored for the top level.
"Downtown Container Park is open to all tenant ideas for marketing and events. Ultimately, we make decisions that are right for the entire Downtown Container Park ecosystem, that are fiscally responsible, and follow our licensing guidelines. Our responsibility to our total tenant community is to market Downtown Container Park as an overall destination," the statement said.
The tenants on the third level are also upset that an elevator breaks down when it rains.
"Every time it rains, it breaks down. The longest it was out was a week and it really inhibits traffic. A lot of customers are not willing to walk to get to the third level," Adkins said. "We constantly asked for rent adjustments to compensate for loss of foot traffic, but every time we were denied."
Regarding the sometimes-broken elevator, the McPhail statement said, "Occasionally the elevator's parts have failed, and as is the case with normal maintenance and repair, it can take a few days for parts to arrive and be installed."
The state of Nevada Department of Business and Industry regulates elevators, while the federal government oversees any Americans with Disabilities Act issues related to a nonworking elevator. Attempts to reach Teri Williams, public information officer for the state Department of Business and Industry, on Thursday were unsuccessful.
Contact reporter Alan Snel at asnel@reviewjournal.com. Find him on Twitter: @BicycleManSnel