Another 50 Zappos workers take 'holocracy' buyout
January 13, 2016 - 2:06 pm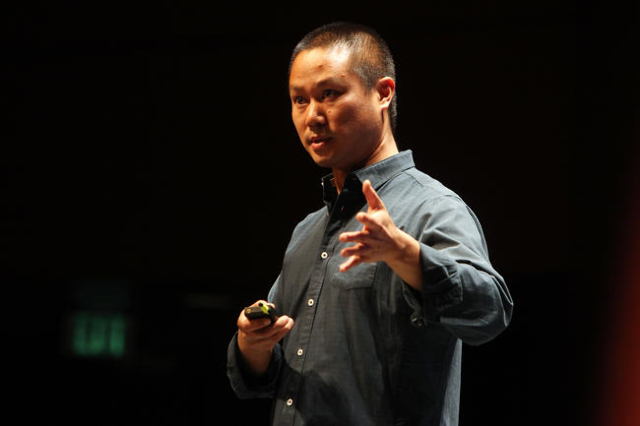 More Zappos workers are leaving as part of the online retailer's transition to a manager-free company.
This time, 50 employees — mostly tech workers — took the most recent "holacracy" buyout known in Zappos parlance as the "Super Cloud Teal offer," according to Arun Rajan, a Zappos executive.
"This was basically an extended offer acceptance date (of the original teal offer/buyout program) that was granted to a subset of individuals who were working on the multi-year super cloud technology project – the reason for the extension for this group was to help de-risk the launch of this project. Most of these individuals were tech folks," Rajan wrote Wednesday in an email to the Review-Journal.
The recent round of buyouts this month brings the total number of people who have left Zappos since March 2015 to 260 — or 18 percent of the company, Rajan said in a post to workers.
Rajan said the "teal" reference refers to the term used in the book, Reinventing Organizations, which uses teal to describe a workplace with an ideal self-management set-up.
"While we have lost a number of folks, it is important to note that we have a significant group of highly talented individuals who will be staying to help move Zappos forward. Additionally, we've had the opportunity between April and now to knowledge transfer from those leaving to help mitigate Super Cloud risk," Rajan said in the Zappos post.
Zappos CEO Tony Hsieh told his 1,200 workers in a March 2015 memo that the downtown Las Vegas company is moving to a workplace without supervisors. Hsieh does not like the traditional corporate hierarchy, so he wants a workplace where workers can make more decisions and be part of the decision-making.
For more information on the most recent round of buyouts and Hsieh's holacracy plan, see http://www.zappos.com/wow/zappos-holacracy-offer
The annual turnover rate at Zappos is about 20 percent, said Angie Smith, a Zappos HR business partner.
Amazon owns Zappos, which runs a call center at its headquarters from the old Las Vegas City Hall building in downtown. Zappos sells shoes and clothing online.
Contact reporter Alan Snel at asnel@reviewjournal.com.