Apex Industrial Complex gives new life to North Las Vegas
September 10, 2016 - 9:11 pm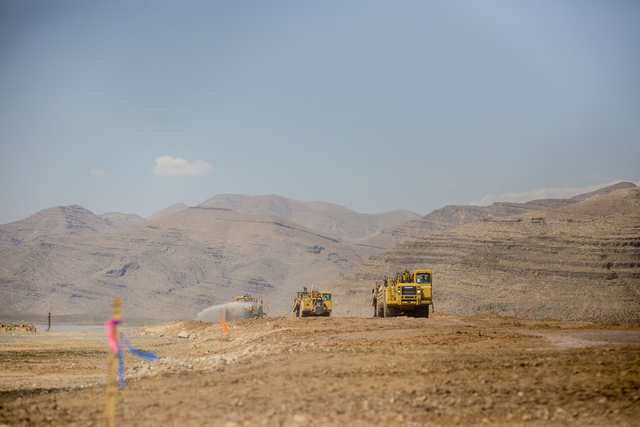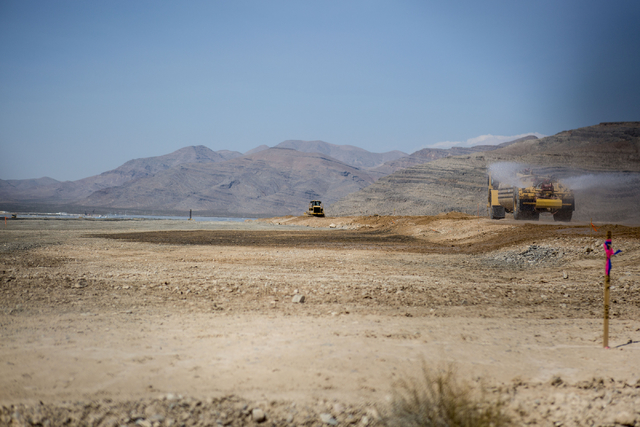 North Las Vegas was on the brink of financial collapse two years ago, nearly taken over by the state to pay its debts.
That was when Mayor John Lee breathed new life into the Apex Industrial Complex, a long-shelved plan that called for building a vast commercial park on the northernmost edge of town.
The biggest challenge was finding a company willing to blaze its own trail on a vacant chunk of land with no access to utilities. Once an anchor is secured, Lee thought, perhaps other businesses would follow.
"The county has the Strip, Las Vegas has Fremont Street, but I want North Las Vegas to be the breadbasket of this region," Lee said during an interview inside his office on the ninth floor of City Hall.
"That means I have to diversify the economy for families working in North Las Vegas with jobs other than tourism and gaming," the mayor said. "I want to build up revenues for the city so that it isn't barely squeaking along."
North Las Vegas needed an economic jolt. Lee recalled hearing about an up-and-coming Chinese electric car company that could give the city some juice.
Enter Faraday Future, which was already looking at spots in Detroit, Georgia, Alabama and elsewhere in the United States to build a $1 billion factory to manufacture electric vehicles.
Lee cold-called the company, asking for a 15-minute meeting at Faraday's Los Angeles-area headquarters in February 2015. He ended up staying for more than two hours, making the case for North Las Vegas by rolling out a map and pointing to Apex.
"We were looking for sites of a significant size that could meet our plans to build a factory an experience center and a test track," said Stacy Morris, a spokeswoman for Faraday Future.
"It was the right location for us on many levels, because the site has access to major highways and rail," Morris said. "An advantage of Southern Nevada is the warm climate so there's less likelihood of having interference from snow to slow down the logistics supply process."
MAKING THE CUT
As Faraday's list of prospective cities shortened, North Las Vegas kept making the cut with its promise for a wide-open space, a speedy permitting process and a relative proximity to the company's headquarters in Southern California.
But the city needed to sweeten the pot with some financial incentives — something the mayor couldn't do alone.
Lee, who served 14 years as a Nevada lawmaker, said he called Gov. Brian Sandoval to help seal the deal by offering a massive tax break — similar to one that was approved by the state Legislature in 2014 as a way to lure Tesla into building a $5 billion factory east of Reno.
The Governor's Office of Economic Development stepped in during the latter half of 2015 to craft the financial package, along with helping to clear some hurdles that would allow utility lines to eventually connect at Faraday's factory just west of U.S. Highway 93 and Grand Valley Parkway.
"Generally, the state and North Las Vegas have shown that we are anxious for businesses to come here, and that we are looking for ways to be able to say yes to what they need," said Steve Hill, executive director of the Governor's Office of Economic Development.
The deal was completed by December, when state lawmakers held a special session to approve a $215 million incentive package for Faraday. Along with tax breaks, the company will receive $9,500 for every employee hired, for up to 4,000 workers, Hill said.
In turn, Hill said that Faraday must invest at least $1 billion into building the 3 million-square-foot manufacturing plant before the incentives kick in. The facility is expected to house 4,500 full-time employees, at least half of whom must be Nevada residents, as part of an agreement reached with the city. City officials have said that they hope additional jobs could come in the form of suppliers moving into town to manufacture parts for Faraday's vehicles.
Grading started on the Faraday site last month, and five of the company's employees are working inside a 2,885-square-foot office at North Las Vegas City Hall, under a $64,047 yearlong lease.
Still, Faraday executives largely remain silent about the factory's construction timeline, and when the first car will roll off the assembly line.
"As you can imagine, this is a complicated project," Morris, the Faraday spokeswoman, said. "We're trying to take a program that would normally take four years, and reduce it by half the time. Our car is futuristic, and our plant will be as well."
HYPERLOOP'S SPEEDY MOVE
Just as negotiations were wrapping up with Faraday last December, another emerging high-tech company inquired about doing business in Nevada.
Hyperloop Technologies, now known as Hyperloop One, was looking for a site to build an open-air track for testing a system that promises to transport passengers and cargo through metal tubes at speeds of more than 700 mph. Along with Nevada, Hyperloop executives were also considering sites in California, Colorado and Texas.
To prove their concept, time was of the essence to have a prototype built by the start of 2017, said Rob Lloyd, CEO of Hyperloop One.
"The only way to prove this mode of transportation is viable and the only way to show people that it works is to get it built," Lloyd said. "It allows us to raise more money from investors and move ahead."
It would have taken about two years to get the necessary permits in California, threatening to derail Hyperloop's deadline to prove its concept. Other sites that were considered in Colorado and Texas were too far from the company's home base in Los Angeles.
Like Faraday, Hyperloop liked the open land and rapid permit process that was promised in North Las Vegas.
But unlike Faraday, Hyperloop went straight to the Governor's Office of Economic Assistance to ask for assistance. In less than three weeks, Hyperloop was awarded $10 million in tax incentives to move into the Apex Industrial Complex, about two miles away from Faraday.
"Simply making sure that Hyperloop had the ability to build what they needed in a quick fashion was the most important part of that deal," said Hill, the head of the Governor's Office of Economic Assistance.
In less than five months, Hyperloop conducted a successful open-air test. More recently, construction started Aug. 29 on the prototype that company executives are still hoping to complete shortly after the new year, when the company is expected to grow to 100 employees.
"That kind of speed is unheard of for any company," Lloyd said.
'TURNING THE CORNER'
Lee said he's also looking outside of Apex to diversify North Las Vegas' economy with manufacturing and distribution centers. The mayor said he has a lofty goal of securing 100 million square feet for new commercial and industrial projects across the city within 15 months.
Without securing a tenant, developer VanTrust Real Estate heeded that call by building a pair of warehouses totaling 800,000 square feet just southwest of the Interstate 15 and 215 Beltway.
During construction, a broker was hired to find a company willing to move into the space, said Keith Earnest, executive vice-president of VanTrust.
"We had no idea who would move in, or when we would find someone, but we kept building," Earnest said.
Fanatics Inc., a Fortune 500 company known for manufacturing licensed sports merchandise, announced in June that it would open a distribution center that would take up half of VanTrust's warehouse space.
Fanatics will move in next summer, spending about $8 million in capital equipment investments at the site and creating 189 jobs during the first year. In turn, Fanatics will receive $813,790 in tax incentives.
Negotiations are being finalized to bring two other Fortune 500 companies to North Las Vegas, city officials said.
"States are competing with each other to attract firms they believe will be good for the local economy," said Stephen Miller, director of UNLV's Lee Business School's Center for Business and Economic Research.
"The game is to try to lure them by offering attractive packages and incentives," Miller said. "It's certainly good for employment."
Despite the progress, Lee acknowledged that North Las Vegas still has a long way to go.
Apex has generated few jobs outside of construction. And even though he plans to seek a second term next year, Lee said his successor will likely reap the benefits from the groundwork he's laying for the city.
"We're slowly turning the corner, but we're not out of the woods yet," Lee said. "Eventually, we'll see the progress."
Contact Art Marroquin at amarroquin@reviewjournal.com or 702-383-0336. Find @AMarroquin_LV on Twitter.
RELATED
Faraday breaks ground for electric car plant in North Las Vegas
Lee no longer 'skeptomistic' about North Las Vegas
Lee's optimistic outlook yet to be spoiled by major setback