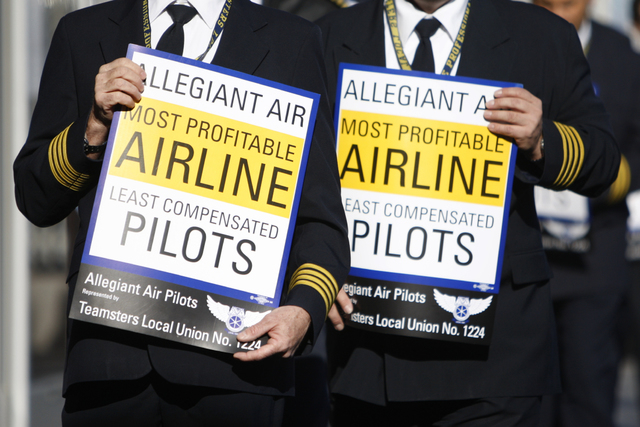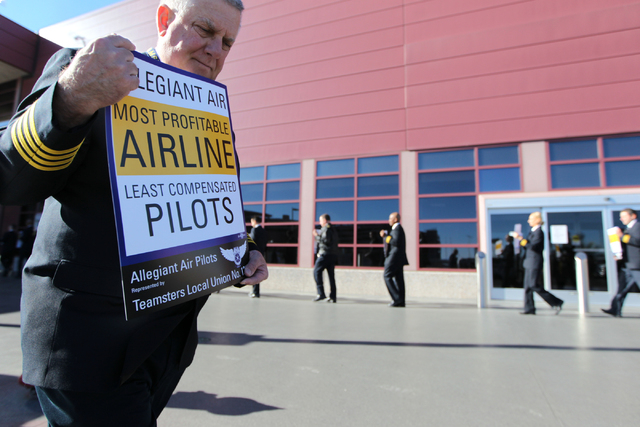 CARSON CITY — The 9th Circuit Court of Appeals on Monday reversed a lower court ruling that had prevented Allegiant Air from changing its pilot work rules.
The reversal is a blow to the International Brotherhood of Teamsters Local 1224, which had sought to stop Allegiant from making any work rule changes until a new contract is negotiated.
The Teamsters had argued that its predecessor organization, the Allegiant Air Pilots Advocacy Group, was a labor representative under the Railway Labor Act. The Teamsters argued that the pilot work rules negotiated by the predecessor organization were a collective bargaining agreement and that a federal judge in Las Vegas properly prevented Allegiant from altering the agreement until a mandated mediation process is completed.
Allegiant argued the group was merely an informational employee advocacy group.
In a decision written by Judge Stephen Murphy, a three-judge panel found the pilot advocacy group was not a labor representative under the Railway Labor Act because it never sought to be recognized by Allegiant as the pilots' bargaining agent.
The appeals court returned the case to federal court in Las Vegas to permit the Teamsters and Allegiant to continue negotiating a collective bargaining agreement.
First Officer Cameron Graff, an Allegiant Air pilot and executive council member, issued this statement following the court's ruling: "Allegiant management negotiated and signed agreements with its pilots so we could effectively serve our customers, and the airline should be held accountable to keep those commitments.
"The fact that a court has effectively allowed Allegiant to violate these agreements doesn't change this fact," he said. "We expect Allegiant to adhere to its agreement with the pilots and now more than ever understand the need for a detailed and robust new contract.
"We look forward to an end to all of these hours in court and sitting down to negotiate a fair contract that ensures a strong, prosperous future for our airline and the pilots who keep it running," Graff said.