Arena opening heightens competition among existing facilities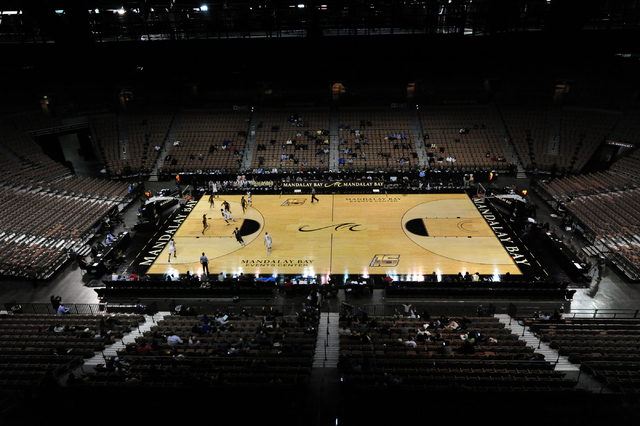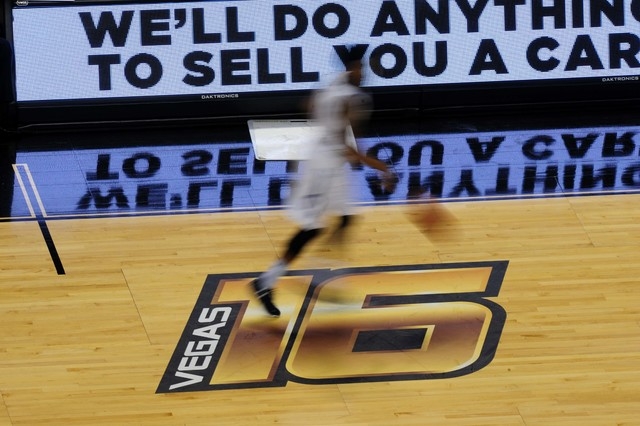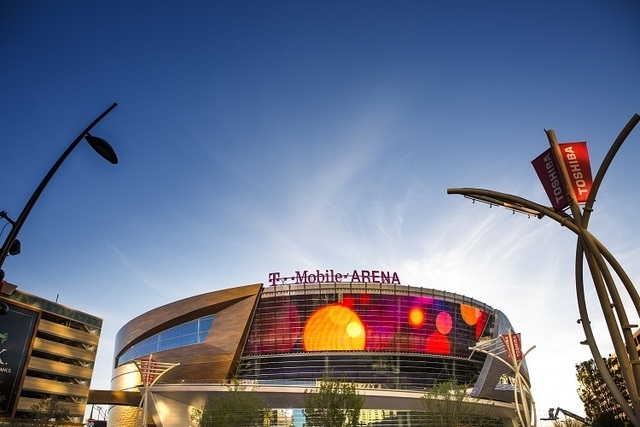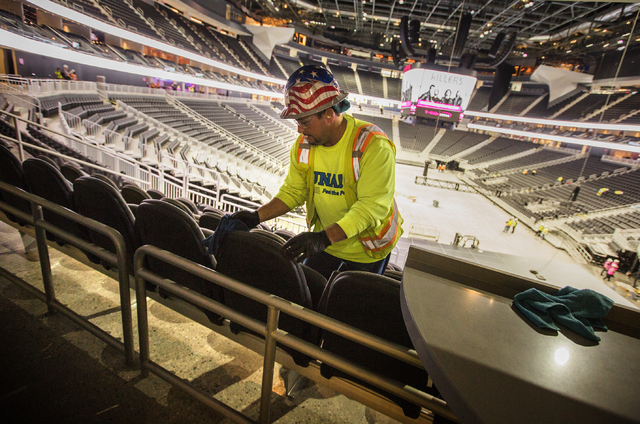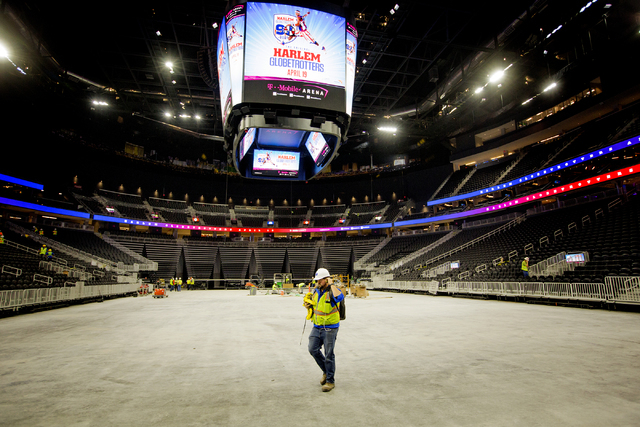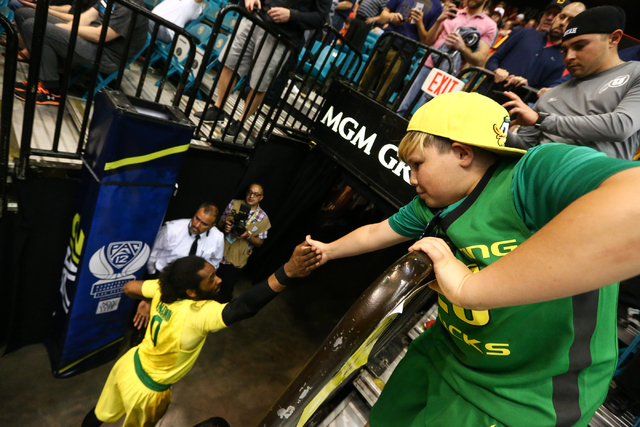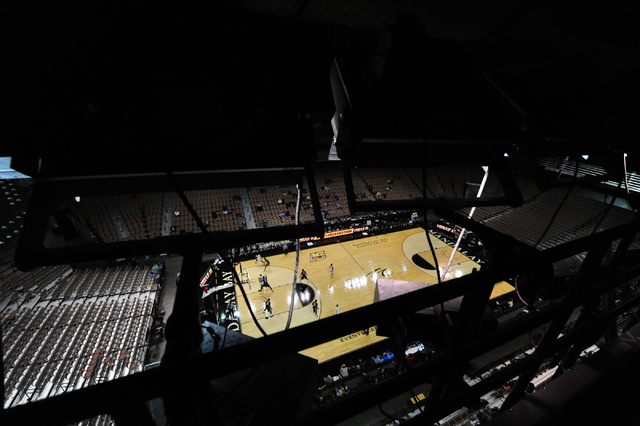 The Pac-12 men's college basketball tournament was a bloodbath for most of its participants.
Stanford and Washington State got crushed in the first round on March 9.
In the March 12 title game, Utah was slaughtered in a 31-point loss to conference champion Oregon.
But perhaps the biggest loser that second weekend in March was the tournament's host site, the MGM Grand Garden.
Before the title game even tipped off, the Pac-12 announced it was taking its basketball and going across the street to T-Mobile Arena in 2017. The move to the Strip's newest, shiniest venue — which officially opens tonight with a concert headlined by The Killers, Wayne Newton and Shamir — could boost attendance at the sold-out tournament by 42 percent, from
around 13,000 to 18,500 per game.
That's the rub of new sports and entertainment centers: Like basketball tournaments, they crown winners and leave losers in their wake.
Sports economists say that's sure to be the case with T-Mobile Arena, the privately financed, 20,000-seat, $375 million partnership between MGM Resorts International and Anschutz Entertainment Group. Even officials with MGM Resorts International agree the new property will, at least initially, hurt business among competitors, including other event centers the company owns.
"It's very hard for existing arenas not to feel the pinch of a new arena, especially because the new arena is invariably more modern and comfortable," said Andrew Zimbalist, the Robert A. Woods Professor of Economics at Smith College. "New arenas tend to be able to attract higher-revenue events, thereby cannibalizing revenue sources for existing arenas."
MGM Resorts officials counter that Las Vegas is Las Vegas and, like so many Strip attractions before it, T-Mobile Arena will drive new visitation that eventually will spur business for everyone.
To understand how T-Mobile Arena will affect the market, consider the competition.
Will events rise too?
The Strip area has three existing large sports and entertainment centers: the 16,800-seat MGM Grand Garden and the 12,000-seat Mandalay Bay Events Center, both owned by MGM Resorts, and UNLV's 19,522-seat Thomas &Mack Center, less than two miles east of the MGM Grand Garden.
Throwing T-Mobile Arena into the mix boosts the arena count by a third. If the number of events coming into the market doesn't also rise by a third, existing centers will lose business, Zimbalist said.
T-Mobile Arena is set to suck a lot of air out of the existing arena market, added Mark Rosentraub, the Bruce and Joan Bickner Endowed Professor of Sport Management at the University of Michigan.
If local businessman Bill Foley brings a National Hockey League team to the arena, the schedule would consume 50 or so dates a year. That would leave as many as 260 dates open for additional events, Rosentraub said.
MGM Resorts officials said they have more modest objectives.
"Our goal is to get to 100 events at T-Mobile and have no impact on our other buildings," said Rick Arpin, the company's senior vice president of entertainment.
That won't happen right away.
Bookings could drop as much as 20 percent at MGM Grand Garden and Mandalay Bay Events Center in T-Mobile Arena's first year, Arpin said. The market will "right-size" in the next 12 months, though, as T-Mobile creates events that wouldn't have existed or come to the market without it, he said.
That includes the long-awaited reunion of rock band Guns N' Roses, which is christening the arena on its debut weekend with opening act Alice in Chains.
It also includes the residency of country superstar George Strait, who'll headline the arena with dates in April, September, December and February.
"His engagement wasn't going to happen without this building. He didn't have to tour. He was compelled by this proposition," Arpin said. "You're going to see more of that."
But if the arena relies just on touring concerts, "there's not enough to go around," Arpin acknowledged.
So MGM Resorts has boosted its booking staff and is working with consultants to find events not currently in the market. Mandalay Bay Events Center is set in April and July to host video game competitions, or e-sports events. The first competitions will bring in around 10,000 people each, but similar challenges in Europe and Asia have reeled in 40,000 attendees — mostly the millennials the local tourism industry is hungry to attract, Arpin said. MGM Resorts officials expect to move the events into successively bigger company arenas as they expand.
College sports are also a "huge opportunity" for this market, Arpin said. Executives are eyeing college hockey, as well as wrestling, which sent 20,000 "rabid fans" to Madison Square Garden for a championship weekend March 17-19.
The National Collegiate Athletic Association has a long-standing ban on allowing championship events in Nevada because of the state's legalized sports betting. But Arpin said he believes those bylaws will change, perhaps as early as June, when the NCAA revisits the issue at its national convention in San Antonio.
With its new events, T-Mobile should boost visitation into the local market by 500,000 people a year, Arpin said. The idea is to eventually create enough business for all three of the company's arenas, plus spillover traffic for all of the Strip's hotels and casinos.
"We own 30 percent of the hotel rooms on the Strip, but hopefully this benefits everyone, including the other 70 percent," Arpin said.
Zimbalist said it's possible that T-Mobile Arena will expand the pie. But it could take five or 10 years to know if that will happen.
Rosentraub agreed the jury's out.
"There's a lot of debate about how much more live content wants to be in the Las Vegas market," he said. "But (T-Mobile Arena partner Anschutz Entertainment Group) is a producer as well as a promoter. AEG produces a certain amount of entertainment itself. They may well have a whole new line of products they are going to bring in that would be incremental to the market, and everyone will be status quo."
If that doesn't happen, one venue in particular will feel the pain, Rosentraub said.
An aging facility in the mix
UNLV's Thomas &Mack Center won't benefit from the corporate synergies of MGM Resorts' three Strip arenas. And at 33 years, it's by far the oldest of the four big event centers on or around the Strip.
T-Mobile Arena already has wrangled one big event away from the Thomas &Mack: The Professional Bull Riders' Built Ford Tough World Finals Rodeo will leave its home of 16 years in November for the new venue.
If the Thomas &Mack's event roster slips more, that could leave less money for UNLV's athletics department, which needs the center's revenue because it doesn't have a powerhouse football team to fund its other programs.
Thomas &Mack officials were unable to comment by press time due to scheduling conflicts.
They clearly want to compete, though. The Thomas &Mack has added nearly $73 million in upgrades since fall, including a 10,000-square-foot hospitality room with Strip views, 30 additional concession sites for a total of more than 125 points of sale, and an expanded meeting room with private access to food and drinks.
"My fear is, even with the renovations, the cash won't always be there to cover what they need to cover," Rosentraub said.
UNLV should be protected because T-Mobile won't compete with the Thomas &Mack for events, Arpin said.
In the boxing, college championship and concert events that will be T-Mobile Arena's bread and butter, the Thomas &Mack has little to no presence. What's more, MGM Resorts joined with the Las Vegas Convention and Visitors Authority and Las Vegas Events, a nonprofit that works closely with the authority to attract special events, to keep December's National Finals Rodeo at UNLV.
In fact, T-Mobile Arena will offer complementary programming — starting with George Strait's dates on Dec. 2 and 3, just as the 10-day rodeo kicks off.
Said Arpin: "Our goal is to raise incremental visitation into the market. If we don't do our job and bring new events to the city, we hurt ourselves as much as we hurt anyone else. We have a lot of skin in the game to make sure that doesn't happen."
Contact Jennifer Robison at jrobison@reviewjournal.com. Find @_JRobison on Twitter.
RELATED
The Park at T-Mobile Arena debuts Strip community area
For T-Mobile Arena, there's no one-size-fits-all parking solution
New arena looks good from inside and the outside