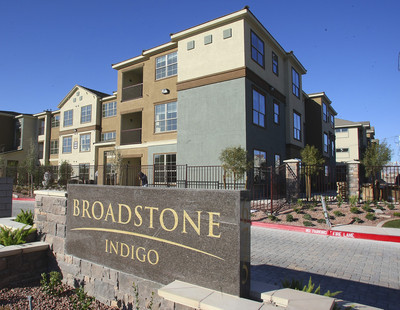 Alliance Residential is investing about $230 million developing more than 1,500 apartment units in Las Vegas this year, an executive for the Phoenix-based company said.
Alliance spent another $80 million over the last 15 months acquiring existing assets in Las Vegas, said Dan McCadden, managing director of Alliance's West Coast operations.
"Watch for my next $200 million," McCadden said.
The developer recently started building the 312-unit Broadstone Sonata apartment complex at Craig Road and Lamb Boulevard in North Las Vegas. The first units are expected to be ready for occupancy in January.
Broadstone Sonata is Alliance's fifth new apartment development. Others are Broadstone Montecito in northwest Las Vegas and Broadstone Azure, Broadstone Eldorado and Broadstone Indigo in North Las Vegas.
Despite setbacks in the national economy, the Las Vegas apartment market remains particularly strong, McCadden said. The next few years will be "fantastic" for owners and developers, he predicted.
Population growth is expected to exceed 12 percent by 2012, he noted. Labor, land and material costs are declining and an unprecedented 40,000 hotel rooms are poised to come on line.
The capital crunch, "overshadow" of single-family homes for rent and a high number of apartment lease-ups are hurting the market now, McCadden said. Vacancy is up to 9 percent.
"Vegas is not a demand problem," he said. "It's a supply problem. I mean, our business is fine, at least temporarily. Everybody is worried the pipeline (of apartments) is going up, but deals have fallen out and people are walking away from millions of dollars rather than build it."
He said Las Vegas had been averaging 5,500 apartment units a year over the last 10 years, a relatively small pipeline compared with other markets such as Houston, which was adding 8,000 to 10,000 units with less population growth.
Alliance had been building heavily in North Las Vegas, but is getting out now that there are seven apartment complexes leasing up new units, McCadden said. He said land values are dropping around the Las Vegas Valley, though he wouldn't disclose the latest price Alliance paid for 15 acres.
WAGON TRAIL: LM Construction is providing all design-build services for Wagon Trail Village, a 29,000-square-foot retail center at Decatur Boulevard and the Beltway. It's the second project LM has done for San Francisco-based J3 Properties and will use the solid-wall building system by Koreteck, a BlueScope Steel company. Total cost of the project is estimated at $3.2 million.
LABOR PACT: The Southern Nevada Water Authority unanimously approved an expansion of the Project Labor Agreement to cover construction projects related to the development of groundwater resources in Clark, Lincoln and White Pine counties. The new pact extends an agreement already in place with the Southern Nevada Building and Construction Trades Council to a statewide agreement that includes the Northern Nevada council.
CONTRACTOR CASES: The Nevada State Contractors Board summarily suspended the license of Desert Breeze by Integrity, a residential and small commercial contractor in Pahrump. The following contractors were fined for violations: GLD Construction; Garth Merrill, doing business as Starmark Construction; Water Creations and Custom Pool Plastering; Patio Designs by Charles; GKF Flooring; Extreme Air; and Mojave Homes.
CONSTRUCTION SAFETY: The Las Vegas chapter of Associated Builders and Contractors received a $57,000 grant from the Nevada State Commission on Construction Education to offer safety and craft-training classes for construction workers.
The Nevada Legislature created the commission in 2001 to improve quality and integrity in the construction industry and to attract and retain an educated and skilled work force. Programs are funded through voluntary contributions and disciplinary fines levied by the State Contractors Board.
Contact reporter Hubble Smith at hsmith@reviewjournal.com or (702) 383-0491.
MILLION-DOLLAR HOME SALES
Luxury Homes of Las Vegas reported the following million-dollar home sales last week:
$1.4 million, 3 bedroom, 2.5 bath, 2,805 square feet, 33rd floor, appliances, valet services, Turnberry Place.
$1.06 million, 3 bedroom, 2.5 bath, 2,805 square feet, Strip and mountain views, closet space, Turnberry Place.
$1.6 million, 2 bedroom, 2.5 bath, 874 square feet, 35th-floor penthouse, Strip views, plasma televisions, designer furniture, Signature at MGM.
$1.02 million, 4 bedroom, 3.5 bath, 3,798 square feet, golf view, travertine floors, pool and spa, theater system, custom cabinets, Queensridge.
$1.18 million, 3 bedroom, 3.5 bath, 3,085 square feet, Strip, golf and mountain views, courtyard entry, custom flooring, built-in barbecue, Red Rock Country Club.