Arriving and expanding businesses give North Las Vegas hope
October 16, 2010 - 11:00 pm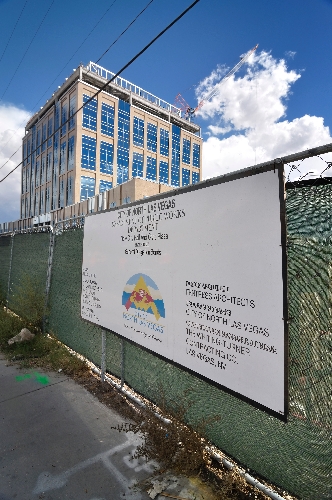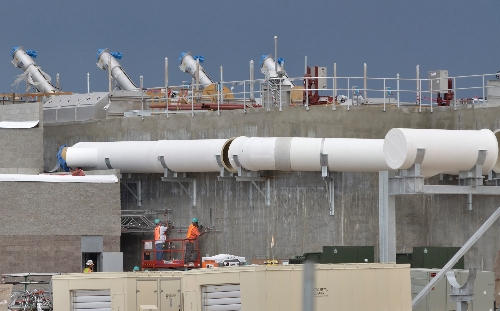 North Las Vegas is known for its gritty resilience. Sure, the recession has hurt business and job growth. But the city continues to thrive with developments under way that signal a future economic comeback. The city issued more than 1,500 business licenses and welcomed 35 new companies during the last year. Twelve other businesses underwent significant expansion, including Southwest Gas Corp., Home Depot, Staples and Target.
"North Las Vegas has been intelligent and proactive in how it attracts businesses and development to the community," said John Restrepo, principal of Las Vegas-based economic advisory firm Restrepo Consulting Group and a Directions 2010 presenter. "It's going to take that level of initiative and creativity to stimulate economic recovery. Passive municipalities, by contrast, will face longer, more difficult recovery period."
The city attracted solar-panel manufacturer Amonix, for example, with a $6 million federal tax credit. The Seal Beach, Calif.-based company signed a $3.9 million lease for 214,030 square feet inside the Golden Triangle Industrial Park in July. Amonix will create 278 local jobs. The plant will manufacture enough solar equipment to generate about 150 megawatts of electricity annually. An average home uses around 10 megawatts annually.
Xtreme Green Products, another ecoconscious company, opened a 30,000-square-foot manufacturing plant this year at 2191 Mendenhall Drive in North Las Vegas. The local company produces electric all-terrain and personal vehicles. The North Las Vegas plant creates 30 jobs.
ITT Educational Services, meanwhile, in April signed a five-year, $1.6 million lease for 17,637 square feet of office space inside Northport Business Center at 3825 W. Cheyenne Ave. The space gives the school a North Las Vegas address and lets it expand technical-educational offerings. ITT has more than 100 technical institutes in over 30 states. The Northport Business Center is the company's second campus in Southern Nevada.
Downtown, meanwhile, is undergoing a makeover with façade improvements to the 46-year-old, 95,000-square-foot Jerry's Nugget, on nine acres, at 1821 Las Vegas Blvd. North. The work coincides with the upcoming completion of the first phase of the $121 million North Fifth Street superarterial roadway project, which is the city's largest transportation undertaking. The roadway will eventually span Owens Avenue to the Las Vegas Beltway.
El Super, a grocery store, opened in July at 2021 E. Lake Mead Blvd. inside a former Lucky supermarket. The 37,000-square-foot store created about 100 permanent jobs and 150 ancillary jobs during construction.
Downtown's economic showpiece comes from the city itself with the construction of a $142 million City Hall. The nine-story, 210,400-square-foot building at 2250 Las Vegas Blvd. North broke ground in June 2009. It's the city's largest project thus far.
The project, on 12 acres, creates 160 construction jobs. The new building will house 350 city employees upon completion in October 2011, while saving an estimated $700,000 a year in energy costs.
North of downtown lies the 20,000-acre Apex master-planned industrial park. The city has annexed about 11,500 acres or 57 percent of the park since 2008. North Las Vegas has scaled back development requirements to attract new companies and has created City View Business Park, a part of Apex, which has become a foreign-trade zone. The designation creates favorable tariffs and a favorable customs climate for international businesses.
"We are working with several companies looking to expand or relocate from the East Coast, Midwest and nearby California, which is extremely encouraging," North Las Vegas acting business development manager Terri Sheridan said. "The decision to move or relocate doesn't happen quickly, it takes time."
The North Las Vegas Chamber of Commerce has partnered with the city to help attract, retain and expand businesses through the creation of three newly formed committees focused on economic development; military support and private-sector contracting opportunities with Nellis Air Force Base; and small-business aid for those companies with 25 or fewer full-time employees.
The chamber plans to support and boost city economic efforts through mentoring, public planning participation and a possible incubator program, among other initiatives. The chamber is also working to ally with the Nevada Development Authority and other like-minded private, public and nonprofit groups.
"If we don't support the city and their mission, nobody else will," chamber President and CEO Michael Varney said. "This is the epicenter of unemployment in the country right now. Negative things happen when people don't have paychecks."
North Las Vegas eliminated 200 individual paychecks in June to help balance the budget. The city also moved 250 inmates from the North Las Vegas Detention Center to a new facility in Pahrump, thereby saving $9.7 million. The money will go into the city's general fund for operational services.
North Las Vegas must still balance its upcoming $149 million budget. The city faces a $25 million deficit.
The city is getting help from the American Recovery and Reinvestment Act in $34.2 million in energy efficiency grants to help improve operational efficiency and lower overhead operating costs. The city is reclaiming some jobs through a $5.3 million federal grant to hire or rehire full-time police officers and $3.56 million for North Las Vegas Airport upgrades, both announced in September.
A $257 million North Las Vegas water reclamation plant, scheduled to open in mid-2011, is creating 500 construction jobs. The U.S. Department of Veterans Affairs is generating building 900 jobs with construction of a new hospital at 6900 N. Pecos Road.
More projects wait in the wings, such as the proposed $110 million, 352,200-square-foot Las Flores shopping center at the northwest corner of Las Vegas Boulevard and Hamilton Street. Montecito Commercial is the project's at-fee developer on behalf of Dallas-based Sarofim Realty Advisors. Plans call for a 14-building lifestyle complex, on 33 acres, with a 70,000-square-foot marketplace, three restaurant pads, and a 100,000-square-foot La Curacao department store. The center was scheduled to break ground a year ago, but construction was delayed by the economic downturn.
"If somebody is looking for an opportunity to expand or relocate, there is no community in Southern Nevada that has more developable land than North Las Vegas," Varney said. "There is attractively priced land, a pro-business City Council and affordable housing."
Contact reporter Tony Illia at 702-303-5699 or tonyillia@aol.com