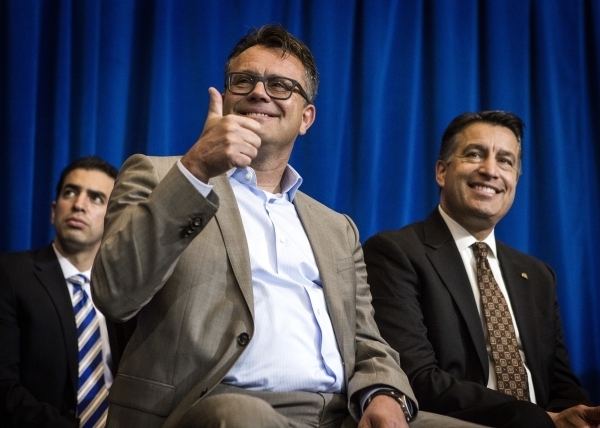 Faraday Future isn't the first company to enter the electric car fray, but it's definitely the most enigmatic.
Executives have kept everything from financial backing to car designs under wraps. They promise a revolutionary combination of electric power and Web-enabled functions, but haven't detailed how their vehicles will differ from what more-established carmakers offer.
Here's what we do know:
The owner: Speculation earlier this year swirled around whether Faraday Future was a front for Apple, long rumored to be eyeing the electric car business. But the company actually belongs to Chinese billionaire Jia Yueting, 42.
Jia chairs LeTV, which observers call a Chinese Netflix. He has a net worth of $7.9 billion, according to Forbes, which ranks him as the 557th richest man in the world and the 41st richest man in China.
Contrary to working with Apple, Jia once compared the tech titan to Adolf Hitler, according to TechCrunch. The tech-industry news website also noted in November that one working name for Jia's car business is Zapple New Energy Vehicle Co.
Jia told business news provider Bloomberg in 2014 that low-pollution electric cars are his "dream and passion."
"Look at China's skies. All responsible corporate citizens want to do something about it. This is the truth."
Other Chinese companies looking to enter the U.S. electric car market include Beijing Electric Vehicle Co., which has a technology research center in Silicon Valley, in Northern California, and SAIC Motor Corp., which is also setting up a Silicon Valley research center to develop electric and self-driving cars, according to Reuters.
The headquarters: Faraday Future's 124,000-square-foot tech headquarters is in Silicon Valley, though it researches and develops its cars in Los Angeles. Jia has said the company also has offices in Dusseldorf, Germany, and Beijing.
The employees: Faraday executive Nick Sampson's LinkedIn page says the company already has nearly 500 workers. Executives claim employees from more than 40 countries. Among them are several tech and car-industry heavyweights.
The company has no CEO, but its most public face is Sampson, its senior vice president of research and development. Sampson directed vehicle and chassis engineering for Tesla from 2010 to 2012. He worked on the company's Model S, now on the road but the subject of a Thursday study by Green Car Reports that found two-thirds of drivetrain components on 2012 and 2013 editions will fail by 60,000 miles.
Faraday's head of design is Richard Kim, previously exterior design manager for the VW Audi Design Center in Santa Monica, Calif.
Vice President of Human Resources Alan Cherry was an HR director at Tesla.
Umran Ashraf, senior engineering manager, worked on body architecture for the Model S as a product design engineer at Tesla.
Faraday Future also hired Porter Harris, a former life support systems engineer for Tesla founder Elon Musk's SpaceX, as its senior manager of battery hardware.
The plant: Faraday pegs the cost to build its plant at $1 billion. That's comparable to the $1.2 billion being invested in Union Village, a 151-acre, mixed-use medical and residential community in Henderson, or the $1 billion Switch is spending on its 200-acre, 1 million-square-foot data center near Jones and the 215 Beltway.
The dollar value falls well below resort construction, though: It's about a quarter of the $4 billion Genting Berhad of Malaysia will spend to build Resorts World Las Vegas.
The Faraday plant's 3 million square feet would dwarf the current largest industrial space in Southern Nevada, TJX Cos.' 1.1 million-square-foot plant in North Las Vegas. It's also 30 times bigger than a typical Strip casino floor, and 50 times bigger than your average neighborhood grocery store.
The jobs: The plant's 4,500-job base is on a par with an average-sized Strip megaresort, such as Wynn Las Vegas or Encore. It's just 7.3 percent of the workforce of the Las Vegas Valley's largest employer, the 62,000-worker MGM Resorts International, but it's 25 percent more than the city of Las Vegas' entire staff base of 3,600.
It's also 6.8 percent of the 66,439 locals who are out of work and looking for a job.
The wages. At a mandated average of $22 an hour, Faraday's pay is almost exactly in line with the private-sector, statewide average of $22.20, according to statistics from local research consultant MyResearcher.com and the federal Bureau of Labor Statistics.
It's 18.5 percent lower than Tesla's $27 average but it bests by about 25 percent the $16.39 average for the leisure and hospitality industry.
The incentives. Faraday's $215 million incentive package, which includes property-tax deferrals, a job-training program and a flyover from U.S. Highway 93 onto the company's campus, is plenty big. But it's not the biggest: Tesla in 2014 nabbed $1.3 billion in tax credits, property and sales tax deferrals and abatements on its modified business tax, which is a type of state payroll levy.
Faraday did beat out Apple's 2012 deal worth $89 million. The agreement included county, city and state tax abatements for $1 billion in investments over a decade in the Reno-Sparks area. The abatements cut the company's state tax burden by 79 percent.
The car. Media reports suggest a Tesla's Model S rival would retail for more than $100,000 and be on the road by 2017. Faraday has issued no specific renderings, and has said only that it will build electric cars "with smart and seamless connectivity to the outside world."
Still scratching your head? Join the club.
Said Matthew DeBord of Business Insider: "If you parse that, Faraday Future could be building … anything. An electric car. An infotainment system. A self-driving electric car. A self-driving electric car with an infotainment system. Or … not even a car! Maybe a self-driving-electric-car-sharing service!"
The backing: Faraday's money is as much a mystery as its cars. Jia has not named any investors, but he said in his letter to state officials that he is "personally backing FF" and has a "diverse funding strategy to help us fully realize our mission and vision."
Wherever it gets its money, Faraday will need lots of it. Tesla's 10 million-square-foot gigafactory costs $5 billion. And economics blog Centive estimates the company spent $1.5 billion developing its Model S. Nissan spent roughly $5 billion to develop electric cars including the Leaf, according to the Wall Street Journal. GM spent about $1.2 billion on the Volt. A 2012 Reuters report said the company lost about $50,000 on each Volt it sold.
The economic impact: If Faraday's promised jobs materialize, the company will become a major business player in the region.
"Investments of this magnitude are meaningful and important to an economy that has been healing for the past several years," said Brian Gordon, a principal in Applied Analysis. "Importantly, the proposed investment is expected to further diversify the economic and jobs base within the region."
As an anchor of the nascent Apex Industrial Park, Faraday could "trigger additional investments" in the area by other out-of-state companies, Gordon said.
When combined with Tesla's investments taking place in the northern end of the state, Nevada should be viewed by outsiders as a strategic place to do business, he said.
Tesla is having a noticeable impact on the small community of Fernley, where its factory is under construction. The plant's planned 6,500 employees equals more than a third of the town's population of 19,000, and the coming population boom has yielded concerns about where the town will house the newcomers and educate their children.
In Las Vegas, a market of 2.1 million people, expect a considerably more muted effect. The Clark County School District already has plans for 35 new elementary schools and two new high schools in the next decade, for example.
But Faraday's employee count is roughly two-thirds of the 7,000 new homes a year coming on the local market, so it's possible the factory will noticeably boost residential construction.
Dennis Smith, president of local analysis firm Home Builders Research, said jobs are "always No. 1 when you're looking for a reason to see housing expand."
The new jobs could boost housing rents in North Las Vegas. They could also encourage more housing permits, which Smith said he already expects to grow by 10 percent in North Las Vegas in 2016 because of the city's relatively lower prices.
There are intangible benefits, too, such as the potential for a long-awaited turnaround in a beleaguered town that suffered some of the worst numbers of Southern Nevada's foreclosure crisis.
"Anybody who is involved with housing overall has to be pleased to hear there's finally some good news to come out of North Las Vegas," he said.
Contact Jennifer Robison at jrobison@reviewjournal.com or 702-380-4512. Find her on Twitter: @J_Robison1.