At huge North Las Vegas paper plant, robots have nicknames
September 9, 2017 - 9:29 am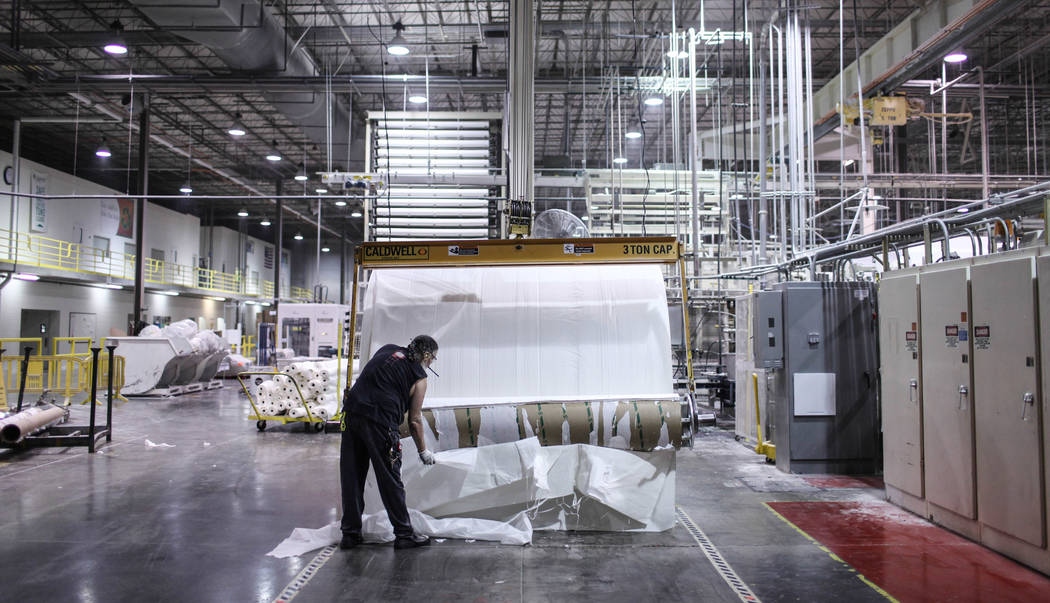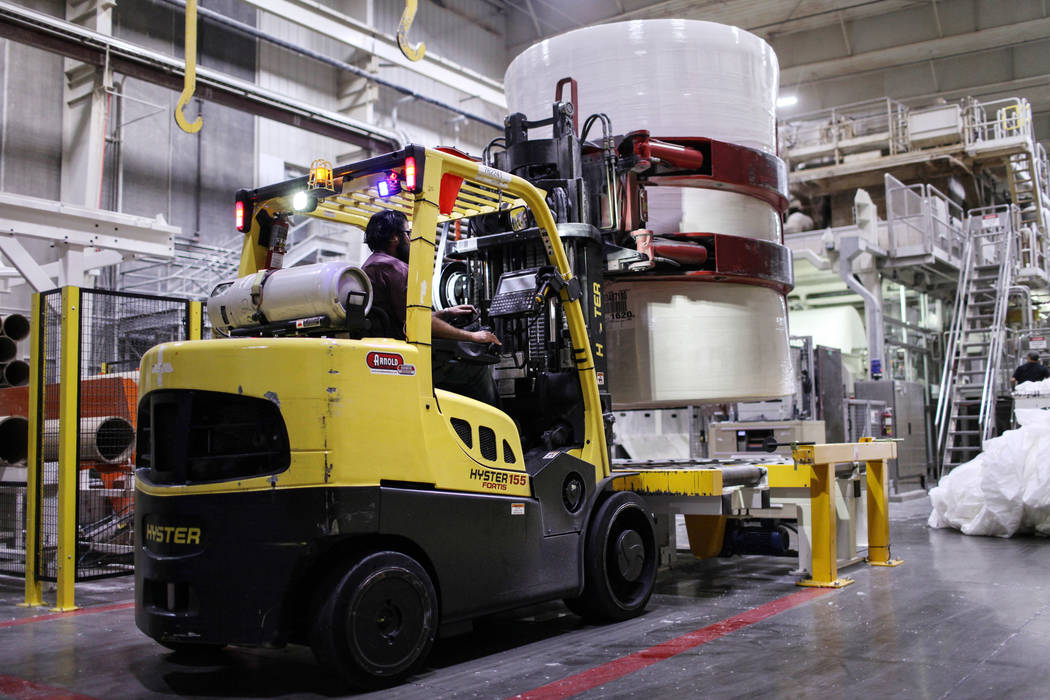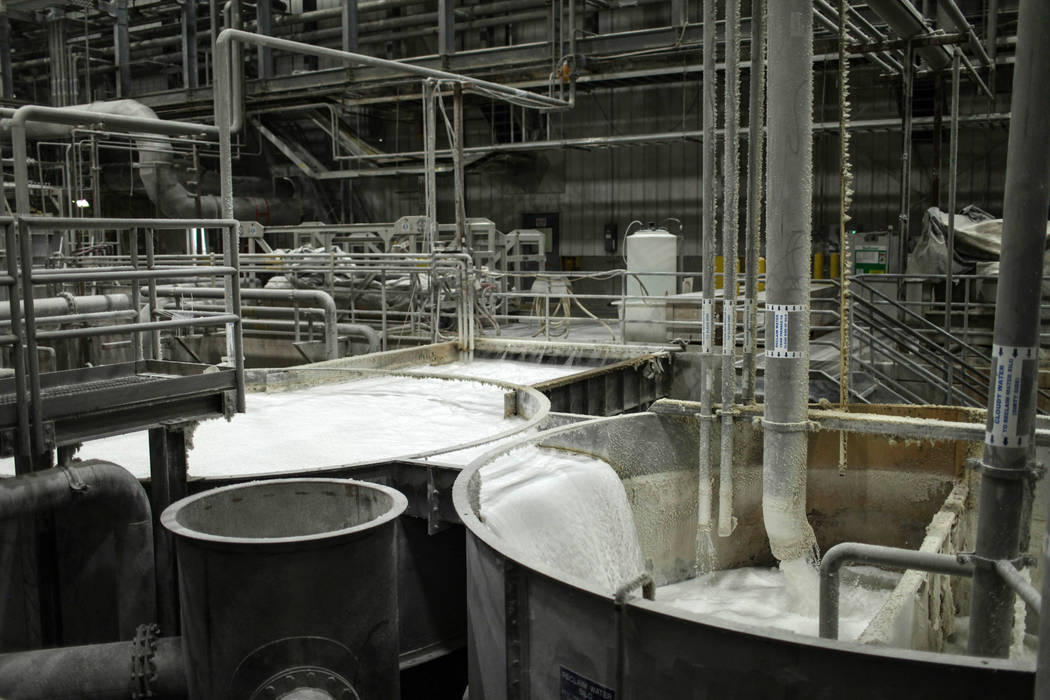 A $150 million, 30-foot-tall machine sits before Steve McSherry every day at the Clearwater Paper plant in North Las Vegas.
After 10 years with the plant, McSherry holds a job monitoring four computer screens that report the health of this machine.
McSherry ensures the machine runs smoothly as it air dries tissue sheets on their way to becoming ultra-premium-grade paper towels and toilet paper.
"It is, in essence, its own breathing thing," the 43-year-old said.
McSherry is one of 260-plus employees at Clearwater Paper's North Las Vegas plant, operational since 1993.
Technology driven
Today, the North Las Vegas plant is among a network of about 15 locations nationwide and the second-most advanced after a plant near Charlotte, North Carolina.
Up to 50 truckloads of paper products, including napkins and facial tissues, leave the plant a day for store shelves. The plant runs 24 hours a day, 365 days a year.
Paper products are delivered to retailers within about 500 miles of the plant. Turn over a roll at a local grocery store, and you might see an "LV" that proves the roll came from Clearwater's local plant.
Decades into its existence, the plant still has room for improvement and investment from its parent company, known as one of the largest makers of tissue sold under various brand names in grocery stores across the United States.
These brands' contracts with Clearwater bar the papermaker from talking publicly about them.
Clearwater, based in Spokane, Washington, completed McSherry's machine in 2004, with upgrades over the years.
The machine produced 34,000 tons of tissue in 2016.
It's so important that a November fire at the plant that downed the machine for about 17 days caused net earnings in the fourth quarter of 2016 to drop about 20 percent year over year, according to filings with the U.S. Securities and Exchange Commission.
Clearwater received a total insurance claim of $3.3 million for repairs and lost profits.
The company continues to add new robots to its facility to aid in transportation of paper rolls that can weigh more than 2 tons around the 750,000-square-foot building near the intersection of Alexander Road and Fifth Street.
Some of the robots are so advanced that they change their own batteries, said Gary Blosl, senior manager of finance for the North Las Vegas plant.
The robots have nicknames
The robots come with nicknames that come from their shape. They include the forkliftlike "elephant" and cranelike "dragon." One forklift robot can cost the company as much as a Ferrari, Blosl said.
"Those robots help protect our employees," he said. "A forklift can result in a real nasty injury."
Employees whose jobs are replaced by the robots are moved into new positions within the company, Blosl said.
In August, two teachers from Southeast Career and Technical Academy studied some of Clearwater's robots, which have the capability to work on car parts as well.
To aid with recruitment, Clearwater has partnered with College of Southern Nevada to train potential employees.
Alongside equipment upgrades, Clearwater Paper has begun millions of dollars of infrastructure investment in the company's North Las Vegas location.
In August, the city issued permits for a 170,000-square-foot tilt-up building across the street to construction company North Fifth Properties. The permits detail about $8 million worth of work on the building, according to city records.
The building will warehouse finished goods and the large rolls that go on to become Clearwater's paper products. It is expected to be completed in the first quarter of 2018.
Clearwater has also acted as a reference for manufacturers, investors and developers interested in North Las Vegas, city spokeswoman Delen Goldberg said.
Employees of the company have spoken to potential recruits about the local workforce, working with the government and other topics, Goldberg said.
"Clearwater is a great business partner and a wonderful success story in our city," she said.
Staying competitive
In Blosl's office is a framed picture of the North Las Vegas paper plant after its completion in 1993, surrounded by dirt. Clearwater's neighbors today include locations for distributor Trepco West and eyewear maker LBI, both based in Southern California.
He is in his final year with the company he has given 33 years. He was part of the group that decided on North Las Vegas as a Clearwater location, choosing it over Reno and Utah. Clearwater needed a new plant to ease work at its Lewiston, Idaho, location.
He has trained his successor, plant manager Sean Krajnik, who previously worked for almost three years as a pulp and paper mill manager with Packaging Corp. of America.
Krajnik said he was attracted to Clearwater for the capital investments and experimenting within the company.
At the local plant, Clearwater is testing bulk packaging of products for grocers to help them compete with warehouse retailers such as Costco and Sam's Club.
"We have to stay competitive," Blosl said.
Correction: This story has been updated to reflect that permits for construction of the 170,000-square-foot tilt-up building were issued to North Fifth Properties.
Contact Wade Tyler Millward at wmillward@reviewjournal.com or 702-383-4602. Follow @wademillward on Twitter.