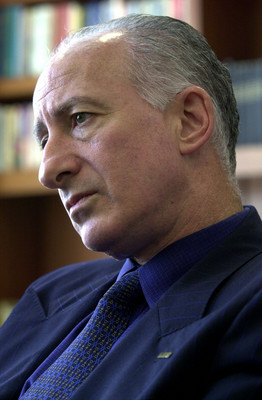 The parent organization of the Culinary Local 226 is staying together, at least for now.
Nearly 62 percent of UNITE HERE's general executive board voted Monday to keep the union group intact, rebuffing an effort to split the UNITE and HERE unions nearly five years after they merged.
The vote was held during a regular twice-yearly meeting.
"I am proud that today a large majority of our general executive board voted to remain unified," John Wilhelm, president of UNITE HERE's hospitality industry branch, said in a statement. "We will not permit (UNITE HERE President) Bruce Raynor to split the union by creating chaos and internal destruction. We will not allow for undemocratic attempts to take over or split our union."
The failed resolution was put forward by supporters of Raynor, who has been seeking an end to the merger between UNITE, a union representing the apparel industry, and HERE, the umbrella group that includes the Culinary and represents hotel, restaurant and casino workers.
Raynor, president of the New York City-based, 400,000-member union, has said the merger has been a failure because of the two unions' inability to mesh, financial mismanagement by Wilhelm's supporters and the inability of the merged group to organize new workers.
Wilhelm, former HERE president and president of the hospitality industry branch of UNITE HERE, said that the merger has not worked for Raynor "because he believes that the union is his personal property and wants to rule it as an absolute dictatorship."
Raynor could try to push his plan to split the union when the group meets again in June at its convention, which is held every five years.
The apparel industry, where the majority of Raynor's support comes from, has seen its membership numbers dwindle as more apparel industry jobs have been shipped overseas.
Raynor recently filed a federal lawsuit accusing Wilhelm and others of using their increasing majority on the executive board and smaller executive committee to undermine his power.
Raynor claims Wilhelm and his supporters want to seize control of the union and its assets, which includes the only union-owned bank in the country, the Amalgamated Bank.
He said the combined union has failed to organize more workers since the merger than it did the year before the merger, while spending has continued to increase.
Wilhelm counters that the "merger has improved our members' lives and has strengthened our union in all our industries."
Edgar Romney, an executive vice president of the union and a supporter of the failed resolution, said in a statement, "It is yet another sign that (Wilhelm and his supporters) are uninterested in seeking middle ground and that reconciliation is not possible."
Contact reporter Arnold M. Knightly at aknightly@reviewjournal.com or 702-477-3893.